Battle Royale (2000) – Film Review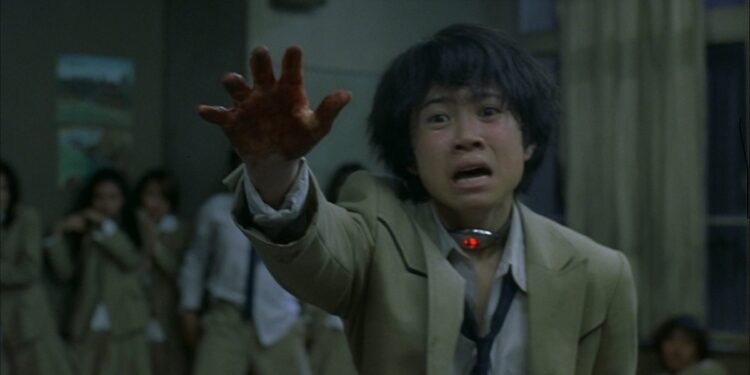 Director: Kinji Fukasaku
Cast: Tatsuya Fujiwara, Aki Maeda, Takeshi Kitano
Certificate: 18
by @Roger Crow
You might not know the name Koushun Takami but chances are you've heard of The Hunger Games. Those young adult dystopian novels were of course essential reading for teens and many adults.
When the blockbuster films came along, the Jennifer Lawrence-led saga only sent sales of Suzanne Collins' page-turners through the roof. And when sublime black comedy thriller The Hunt was released, it also gave a new spin to a well-worn story.
Okay, The Most Dangerous Game had covered similar ground decades earlier, but whether by coincidence or design, there's no denying that Koushun Takami's own vision paved the way for one of the bleakest sci-fi sagas of recent years.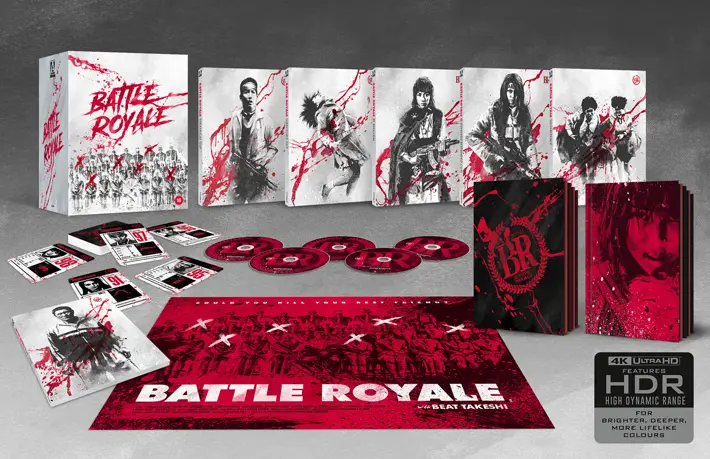 "Disturbing and compelling"
The Battle Royale novel centred on junior high school students forced to fight each other in a programme run by the (fictional) Republic of Greater East Asia. Unsurprisingly it proved controversial from the off.
However, when it was published in 1999, it touched a chord with many and became a surprise bestseller. A year later the comic book version (penned by Takami) and this (re-released) feature film poured fuel on the bonfire.
Battle Royale centres on the kids of Third Year Class-B Shiroiwa Junior High School, who fight to the death in a gripping, disturbing and compelling yarn brilliantly helmed by Kinji Fukasaku (his final film).
Seen now, years after the dust from The Hunger Games novels and films have settled, it's hard not to compare the two.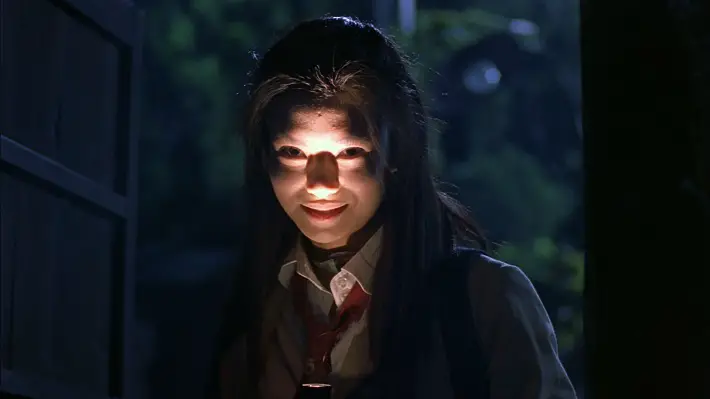 "Bleak on an epic scale"
Battle Royale is a weird mix of teenage soap opera and ultra brutal thriller. Many of the deaths are hugely disturbing, as is the premise. Yes, it's a jet black comedy at times; the bouncy instructional videos giving much needed exposition is a terrifying counterpoint to the miffed boss (Takeshi Kitano) at the heart of the drama and the horrors that unfold.
It's bleak on an epic scale, but has so much energy and class, I'm not surprised it inspired a sequel, and the odd copycat flick.
The score is splendid, and the latest high-def version looks terrific. It has more gory, blood soaked whistles and bells than you can throw a white board eraser at. Not an easy watch, but brilliantly put together and a must for fans of cult cinema.
4K ULTRA HD LIMITED EDITION CONTENTS:
• Brand new 4K restoration of the Original Theatrical Version and Special Edition Director's Cut of Battle Royale from the original camera negative by Arrow Films, approved by Kenta Fukasaku
• 4K (2160p) UHD Blu-ray presentation of both versions of Battle Royale in Dolby Vision (HDR10 compatible)
• High Definition Blu-ray (1080p) presentation of the Battle Royale II: Requiem theatrical cut and the Battle Royale II: Revenge extended cut • Original 5.1 DTS-HD Master Audio and 2.0 stereo audio
• Optional English subtitles
• Original soundtrack CD for Battle Royale [Limited Edition Exclusive]
• Kinji Fukasaku: Man of Rage, an exclusive 120-page monograph on the director by Japanese cinema expert Tom Mes [Limited Edition Exclusive]
• Illustrated collector's booklet featuring new essays by Matt Alt and Anne Billson and archival articles
• Exclusive Battle Royale collectors' Trump Card set [Limited Edition Exclusive]
• Reversible poster with new artwork [Limited Edition Exclusive]
DISC ONE – BATTLE ROYALE: ORIGINAL THEATRICAL VERSION (4K UHD BLU-RAY):
• Brand new audio commentary by critics Tom Mes and Jasper Sharp
• Coming of Age: Battle Royale at 20, an exclusive new 42-minute documentary about the legacy of Battle Royale
• Bloody Education: Kenta Fukasaku on Battle Royale, a brand new exclusive interview with the film's producer and screenwriter
• The Making of Battle Royale: The Experience of 42 High School Students, documentary featuring footage from the shooting of the film and cast and crew discussions
• The Slaughter of 42 High School Students, a look behind the scenes of the shoot
• Behind the scenes footage with comments from the cast and crew
• Filming on Set, a look at the shooting of key scenes from the film
• Conducting Battle Royale with the Warsaw National Philharmonic, archive footage of Masamichi Amano conducting the soundtrack rehearsal
DISC TWO – BATTLE ROYALE: SPECIAL EDITION DIRECTOR'S CUT (4K UHD BLU-RAY):
• Shooting the Special Edition, on-location featurette with footage of the cast and crew reuniting for the shoot of the Special Edition
• Royale Rehearsals, featurette on Kinji Fukasaku directing the film's young cast
• Masamichi Amano Conducts Battle Royale, archive featurette
• Takeshi Kitano Interview, filmed on location with the Japanese star
• The Correct Way to Fight in Battle Royale, instructional video explaining the rules of the game
• The Correct Way to Make Battle Royale: Birthday Version, a new version of the original instructional video made to celebrate Kinji Fukasaku's birthday
• Premiere Press Conference, preceding the film's first public screening
• Tokyo International Film Festival Presentation, with footage from the gala screening at the Tokyo International Film Festival
• Opening Day at the Marunouchi Toei Movie Theatre, archive footage of the Japanese opening
• Special Effects Comparison showing how the film's violent killings were created
• Original Trailers and TV spots
• Kinji Fukasaku trailer reel, a collection of original trailers for Fukasaku's classic yakuza films from the 70s
• Image Gallery
DISC THREE – BATTLE ROYALE II: REQUIEM (BLU-RAY)
• Bloody Graduation: Kenta Fukasaku on Battle Royale II, an exclusive brand new interview with the director and screenwriter of Battle Royale II
• Behind the Scenes of Battle Royale II, on-location featurette during the film's shoot
• Rehearsals footage of the auditions and pre-production rehearsals
• War and Struggle, featurette of the cast discussing their thoughts on war
• Alternate Piano Scene
• The Recording of the Music Score, archive footage of Masamichi Amano and the Warsaw National Philharmonic Orchestra
• Opening Gala with The Orchestra, featuring a public introduction by the director and main cast
• Battle Royale II Premiere, a featurette on the film's first screening at the Marunouchi Toei Movie Theatre
• Trailers and TV spots
• Image gallery
DISC FOUR – BATTLE ROYALE II: REVENGE (BLU-RAY):
• A Tribute to Kinji Fukasaku, featuring scenes of Kinji Fukasaku on the location of Battle Royale II
• Kinji Fukasaku's 73rd Birthday: A Speech by Kenta Fukasaku, paying public tribute to his father
DISC FIVE – BATTLE ROYALE (SOUNDTRACK CD):
• CD featuring the complete score to Battle Royale by Masamichi Amano and the Warsaw National Philharmonic Orchestra
Battle Royale is released on 4K Ultra HD by Arrow, £79.99