Best Games to Host With Friends
We always refer to them as 'phones' but they're not just for calls, are they? That thing that goes everywhere with you these days is really a mini computer in your pocket.
Computers, the internet and smartphone technology have completely revolutionised the world in the last 25 years. They've been the biggest game-changers which turned our behaviour totally on its head.
Just think how responsible they are for so many changes in our consumption and habits. Whole industries, like photographic film for example, have now fallen by the wayside because of how we use our phones.
Everything – even something as simple as ordering takeaway food – is now done online. We have the means to access whatever we want, from wherever we want.
It's natural that this technology has an impact on our friendships and relationships too.
When it comes to socialising, our phones do much more than help us organise events. Instead, they can be the pivot around how we live in the moment with those closest to us.
There's been a lot of opportunities to connect digitally with friends in the last 12 months. Zoom, Microsoft Teams and other video conferencing software have enjoyed an explosion in use as friends stay in touch, virtually.
And as friends catch up using these platforms, they want to play games against each other on them too.
Almost every conceivable kind of game is available in app form these days. Many of them offer multiplayer variants, which suit participants spread over wide areas perfectly.
So what kinds of games are available to play versus your friends, on your phone or in person?
Word Games
If you're the member of your group who swallowed a dictionary and you're desperate to win, this is your category. App developers have very skilfully taken traditional, in-person letter-based games and repurposed them for digital use.
There'll be a whole host of games which you'll remember playing with your friends, sitting around a table. Now, you can play these games as you're all sitting in your own homes and you're connected via the internet.
Alternatively, when you're able to, you can all meet and play the games, like in the good old days.
Scrabble, Boggle and Scattergories are just three of these traditional games which have been electronically smartened up. Be aware, though, that it's harder to storm away from a virtual table in a huff if you lose.
All of these games are available from whichever app provider you use for your phone or tablet.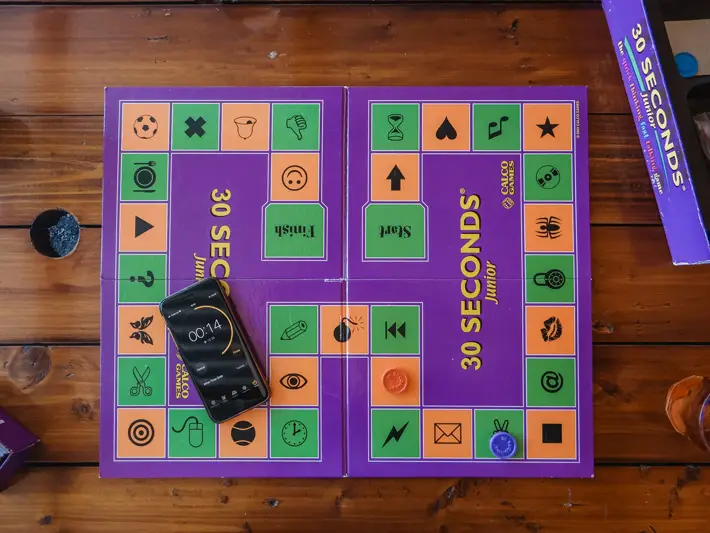 Traditional Board Games
"Who's going to be the banker? Can I be the top hat?" Yes, it's the unmistakable sound of the lid being lifted and a game of Monopoly being set up.
Playing Monopoly on your phone may seem sacrilegious but it's just another step on the game's evolutionary path. Many other games are now following a similar trajectory as they embrace the digital revolution.
For instance, matching the person, the room and the weapon in Cluedo is another new, digital pursuit. Similarly, you can continue being a winner in the Game of Life as well.
Trivia Games
Every group of friends has one person who has somehow acquired the most useless knowledge of which they're obscenely proud. Ask what the capital of Bolivia is and be amazed at how quickly 'La Paz' leaves their lips.
They know instantly that the first episode of Coronation Street was shown in 1960. And that's before we even touch on how they know England's starting eleven in the 1966 World Cup final.
So when it's their turn to choose the web-based entertainment for your next session, they may well choose a quiz. There are plenty to choose from out there, with Random Trivia Generator being a very good starting point.
You'll also find lots more available online, so it's easy to pick the right quiz for you and your friends.
Casino Games
If your friends used to love the thrill of the roulette wheel or poker table, you can recreate it digitally. Online casinos have surged in popularity over the previous 12 months and it's not hard to see why.
For those looking for a flutter, the e-casino brings all the excitement of the live casino but at home. The choice of games is far wider, from a much bigger selection of providers than just one physical venue.
The next twelve months promises to bring many more innovations in online casinos. Virtual Reality will take the digital gaming world to the next level. Games like online slots won't simply be played on the phone, they'll be a fully immersive experience.
Similarly, the number of games offered by casinos will increase. They'll be very specifically tailored to users to ensure maximum 'gamification' too.
Other changes forecast include the payment of prizes in cryptocurrency and a further rise in wagers on esports. A lot of punters' arms were forced into this arena by 2020, but it became apparent they liked it.
Social lives have been lived digitally for some time now but there is light at the end of the tunnel. A digital catch-up doesn't have to involve just sitting in your respective homes and talking.
There are gaming options for everybody, whatever their tastes. And if you've never tried something different before like the online casino, there's no better time than the present.