Where to Drink Coffee – Review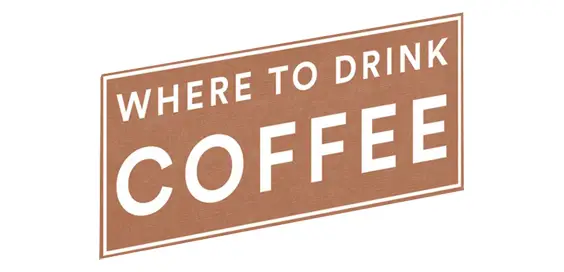 By Paul Howard
Billed as the unfiltered truth about the best brew, Where to drink Coffee is newly published. Authors Liz Clayton and Avidan Ross claim that this is the 'Expert's Guide' to the best coffee in the world. It's one of Phaidon's range of hipster books, with an eye for attractive design and heavyweight paper. Other books in this collection have titles like Where Bartender's Drink and Where to Eat Pizza.
Setting my expectations
All this set my expectations pretty high. After all, I'm a great fan of local and independent artisanal places to get my coffee. That's always in preference to the big corporate chains that have taken over high streets throughout the world. And the book looks good. So it's for readers like me.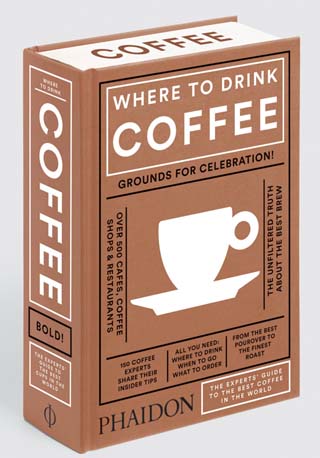 The book's proposition is, I quote: "Where to Drink Coffee is THE insider's guide. The best 150 baristas and coffee experts share their secrets – 600 spots across fifty countries – revealing where they go for coffee throughout the world. Places range from cafés, bakeries, and restaurants to surprising spots – a video store and auto shop. The recommendations come with insightful reviews, key information, specially commissioned maps, and an easy-to-navigate geographical organisation. It's the only guide you need to get the best coffee in memorable global locations."
Blimey.
So, is this book grounds for celebration? Is it the unfiltered truth? Is it, as it claims, all you need about where to drink, where to go and what to order?
No.
This book has its merits, but really, could any book on coffee live up to such hyperbole? And if so, would it be portable?
The good bits
Let's talk about the good bits. First, it's a great concept. I want to know where I can get excellent artisan coffee wherever I am in the world. Second, I trust the entries mentioned in the book. That's because firstly I saw places I've been, for example in the UK, Europe, USA and New Zealand. Second, the contributors are super-qualified.
I also road-tested some unfamiliar entries. Hence on a recent trip to Bologna, I was amazed to find good coffee at an airport. That's Harris and Hoole at Stansted. In Bologna, the terrific Caffè Terzi wouldn't have got on my radar without this book's entry. I was delighted by my visit there, so the book worked.
Coverage
But one of the problems is that while 600 entries is a lot, it's insufficient to cover the whole world. Take the UK. There are 18 entries for London, but hardly anything for the rest of the country. Living near Leeds, it appears that I would have to go to Liverpool to get a great coffee. Apparently, the North of England is a desert. Why hasn't Leeds got an entry for Laynes or La Bottega Milanese?
Elsewhere, make sure you live only in Bath, Cardiff, Edinburgh, Glasgow or Belfast. Continuing the theme of omissions, why London has no entry for the famous and brilliant Monmouth is just beyond me.
Italy is arguably the home of the best coffee in the world. It's certainly the originator of many of its styles. Where would we be without espresso, macchiato, ristretto, cappuccino and many more? Grumpy in the morning, for sure. The entire country has just eight entries, and there is nothing south of Rome. Better not venture to Napoli or Palermo then. Bafflingly, there are no entries for Torino at all. Here I fell in love with the quality and stylishness of its many cafés, like Al Bicerin and Caffè Torino. They ignore the home of Lavazza and Bicerin.
In Spain, there are two entries. Both are in Barçelona; please don't tell Madrid. And nothing for València, where Café Bombón is a brilliant drink.
Lots of entries in the USA though, so that's alright. Not surprising given that the majority of contributors are American. Even there, where is Caffe Reggio in NYC's Greenwich Village? That place has America's first Espresso machine. It's terrific, and it's coal-fired! And the coffee is excellent.
Need I go on? Yes.
Seven entries for Brazil, while other coffee producing countries fare even worse. In Croatia, just don't leave Zagreb. Don't bother with Switzerland or Austria and no entries even for Vienna! For Perth in Australia; you'll have to hop on a plane to Singapore for your nearest cuppa.
Using it
The book includes outline maps, but there's hardly anything on them. Whole countries and regions lay empty, nay decaffeinated.
Then there's the index. The UK has, naturally, entries for cities and towns in Scotland, England, Northern Ireland and Wales. Bizarrely, Scotland and Northern Ireland also appear as separate countries with the same entries duplicated. Do they know something we don't?
Then, while some entries have reviews, others have only address listings. What were the selection criteria? Who was the Editor?
We live in a world of online search, TripAdvisor and free apps like Foursquare. So there have to be compelling reasons to buy and use this book. Also, every travel guide worth its salt contains suggestions like this. I'm not arguing with the expertise of the contributors, many of which are Champion Baristas. Plus, using their knowledge is better than any amount of crowdsourcing. However, coverage and depth are just as essential.
Summing up
For me, despite the good points and two genuinely good new experiences, the book falls well short of its promises. So I can't recommend this book to you, though I wanted to. In the current format, this book is style over substance, especially at the sticker price. Spend your money on some brilliant cups of coffee or buy some quality coffee beans instead.
'Where to Drink Coffee' is published by Phaidon, £16.95 hardback, ISBN 9780714873923