Taste by Stanley Tucci – Review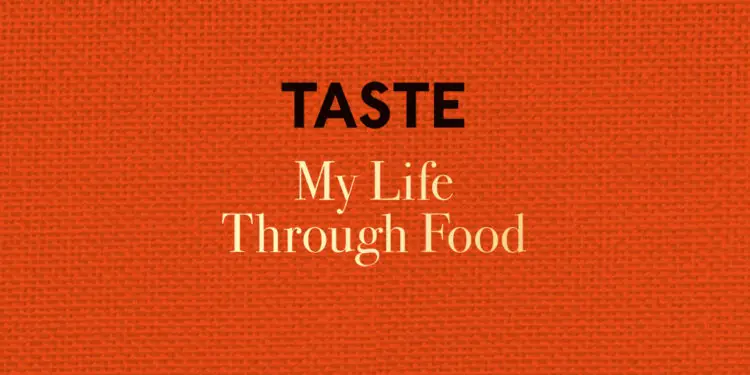 By @Roger Crow
Making movies is a lot like cooking. You gather the best ingredients you can, follow the recipe and the result is either pleasing to the palate or worthy of the bin.
And when it comes to ingredients, it's not always the key stars of the film who linger longest in the mind. In Hollywood and many productions to hail from Blighty, one man is that special ingredient. The guy who turns up and elevates a production to a new level. Ladies and gentlemen, I give you Stanley Tucci.
Years ago I was dazzled by his ability to take a B-movie like The Core and help turn it into something special. And then he was equally marvellous in The Devil Wears Prada, a movie where I instantly fell in love with Anne Hathaway and Emily Blunt. As we discover in Tucci's new book Taste, the Blunt clan would also become a major part of Stanley's life.
After the death of his wife, Stanley started dating literary agent Felicity Blunt (Emily's sister), whose recipe for roast potatoes forms a terrific addition to the volume.
Like many of us, we could all write a book about our relationship with food, especially Italian, but my recollections about pasta growing up in the Midlands would be far less authentic than someone raised in Italy. Tucci has such a rich and diverse knowledge of the region and its produce, it may as well be the foodie equivalent of Cinema Paradiso.
Now I could have bought the print version of Taste, but when you have Tucci himself narrating, it was too good an opportunity not to get the audio version. And no, I'm not on commission for some multi-million dollar company plugging audio books. I pay cash like all those other punters, and some books I devour in a couple of days, and others… less so.
Anyway, Tucci's food-centric memoirs are a work of genius. I feel like I get to wander around his home as he goes about his lockdown routine of spinning assorted plates while waiting for the world to return to some sort of normality. If the pandemic was good for anything, it meant that folks like Stanley got the chance to write books rather than dashing from one movie set to another.
"Compelling mix of styles"
Some tomes just have that certain unputdownable quality, and this is one that I gorge myself on. His recipes are mouthwatering admittedly, but it's his unapologetic name-dropping that is often most rewarding, and hilarious, such as the time he stayed at the Italian home of an actor whose name "rhymes with George Clooney".
Tucci will be the first person to play down the fact he knows famous people, but it doesn't detract from the fact making Martinis for Chris Evans and director Joe Johnston on the set of Captain America: The First Avenger is all kinds of cool.
Since moving to the UK a few years ago, Tucci's mix of Italian, American and British influence is a compelling mix of styles. I never thought for example that he'd be a fan of Keith Floyd, but his assessment of the much missed chef and his epic cooking sketches really touches a chord.
And coping with his daily chores and family during lockdown should ring a bell with many who had to keep kids entertained during that strange hiatus we all shared.
Like many great books, there's a sucker punch. In this case Stanley is diagnosed with an illness that threatens to take away his love of food, taste and everything we love in life. I'm not sure listing every single thing he could eat after extensive ops was essential or just a case of he had to get his word count up somehow, but it hardly matters. The main thing is he survived, and thank heavens for that.
Rounding the book off with an echo of an earlier chapter in which he makes a sandwich for one of his kids will melt the frostiest of hearts.
Having finished the 'book' in a couple of sittings, I consider that rarest of things – I want to begin a second listen straight away. (I may also have to get the print version so I can try and recreate some of the recipes for myself).
You may have savoured Tucci's performances in films like Big Night (the mouthwatering 1996 movie he co-wrote and co-directed), or tentpole flicks like the Transformers or Hunger Games saga. Or you may have no knowledge of one of the acting world's greatest assets. Either way, Taste is a book that like a small bowl of pasta on an autumnal day, warms the heart, nourishes the soul, and leaves you hungry for more.
'Taste' by Stanley Tucci is published Penguin, £13 audio download