Cinema Paradiso (1988) – Film Review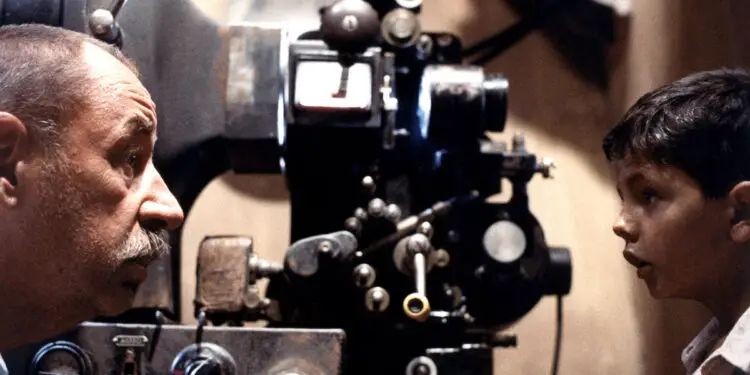 Director: Giuseppe Tornatore
Cast: Philippe Noiret, Enzo Cannavale, Antonella Attili
Certificate: 15
by Sarah Morgan
In 1988, film reviewers and cinemagoers the world over fell in love with a little boy called Toto while overwhelmed by their nostalgia of a more innocent time.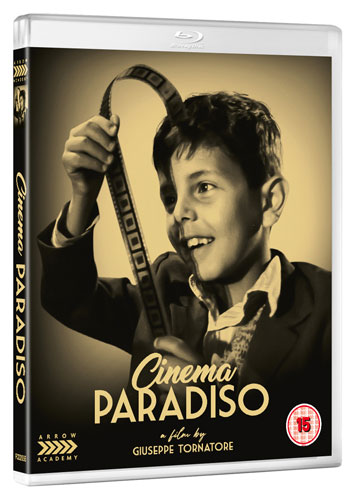 As a result, writer-director Giuseppe Tornatore's Cinema Paradiso won the Academy Award for Best Foreign Film, helping revive the Italian film industry in the process.
But, 32 years on, does the movie still stand up?
"Transfixed by the local cinema"
For the uninitiated, it begins as famous film director Salvatore Di Vita (a play on the name of Oscar-winning director and actor Vittorio De Sica?) hears the news that somebody called Alfredo has died in his home town, a place he hasn't visited for 30 years. As he prepares to return for the funeral, we learn more about their relationship.
After the Second World War, Salvatore – nicknamed Toto – was a mischievous eight-year-old boy who was always in trouble and driving his widowed mother to distraction.
However, he was also transfixed by the local cinema and was taken under the wing of its projectionist, the kindly Alfredo. Toto eventually saved his friend from a fire but, blinded, Alfredo could no longer work. Toto took over and spent the next decade in the projection booth, providing entertainment for the local working-class populace.
But Alfredo had other plans for his protégé so, after Toto completed his military service, he urged him to swap their small town for the bright lights of Rome, where he could fulfil his dream of becoming a director, but only if Toto also promised never to return…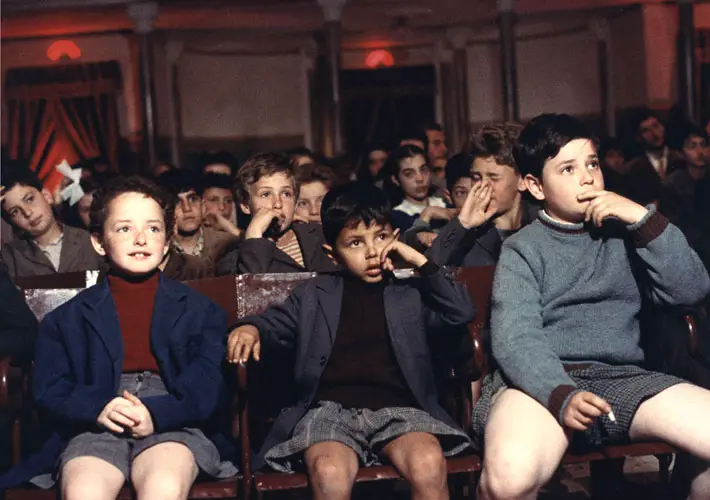 "Incredible montage"
It's a touching tale full of delightful details, from the sight of teenage boys being unable to control themselves at the sight of a naked Brigitte Bardot to the roll of film Salvatore inherits from Alfredo – it turns out to contain all the passionate scenes he was ordered to cut from every film by the local priest; he turned it into an incredible montage of lust and love.
What didn't sit so well was Salvatore himself. Yes, he became successful professionally, but it's clear his private life has not worked out. Is Tornatore trying to tell viewers that to be truly happy, success in one area isn't enough? Maybe, although the idea isn't fully explored.
But it's a small matter; the flashback sequence focusing on Toto and Alfredo's father-son-like relationship is the true heart of the matter could stand alone without the top-and-tail segments featuring the older Salvatore.
BLU-RAY SPECIAL EDITION CONTENTS:
• High Definition Blu-ray (1080p) presentations of two versions of the film: the 124 minute theatrical version and the 174 minute Director's Cut
• Uncompressed original stereo 2.0 Audio and 5.1 surround sound options
• Optional English subtitles
• Audio commentary with director Giuseppe Tornatore and Italian cinema expert critic Millicent Marcus
• A Dream of Sicily – A 52-minute documentary profile of Giuseppe Tornatore featuring interviews with the director and extracts from his early home movies as well as interviews with director Francesco Rosi and painter Peppino Ducato, set to music by the legendary Ennio Morricone
• A Bear and a Mouse in Paradise – A 27-minute documentary on the making of Cinema Paradiso and the characters of Toto and Alfredo, featuring interviews the actors who play them, Philippe Noiret and Salvatore Cascio as well as Tornatore
• The Kissing Sequence – Giuseppe Tornatore discusses the origins of the kissing scenes with clips identifying each scene
• Original Director's Cut Theatrical Trailer and 25th Anniversary Re-Release Trailer
Cinema Paradiso is released on Blu-ray by Arrow, £29.99