Introducing: Dean England
Ambitious Wakefield singer-songwriter, channelling Hendrix…
YOUR NAME: Dean England.
HOW LONG HAVE YOU BEEN PLAYING MUSIC?
I started when I was 13 when I heard a sound from upstairs in my father's house. He was playing guitar with my younger brother and it was the first time I had gone up to look. Another day he showed me a video of Hendrix live at Woodstock and I was hooked!
ANY PAST BANDS OR COLLABORATIONS WE SHOULD KNOW ABOUT?
I was in a rock band, Inamba! We had a deal with a London label and played all over the UK. We split, but the first album is still on Spotify.
GIVE US 3 REASONS WHY WE SHOULD TRACK DOWN, LISTEN AND DISCOVER YOUR MUSIC?
It's a mix of soul, blues, and acoustic rock with brilliantly layered vocal harmonies. I have mastered my instrument and I am as good live as I am on a record. I write everything myself and I am going to be a star! I don't know how many reasons that is but it's enough for you to give it a whirl. If you don't like it after a couple of songs, you can stick to listening to mindless over played manufactured pop music if you like. Ha ha.
WHERE DO YOU SOUND BEST – FESTIVAL, CLUB, BEDROOM – OR SOMEWHERE ELSE?
I love the clubs! The audience is smaller, and you can really feel the energy in the room. I thrive on it. And I enjoy seeing the facial expressions on the face of the crowd.
WHAT WAS YOUR FIRST RECORD?
The Jimi Hendrix Experience, Are You Experienced. Belter of an album.
SO, WHEN IT ALL GOES RIGHT AND YOU'VE GOT A BOTTOMLESS PIT OF MONEY AND A LONG QUEUE OF HANGERS-ON, WHAT WILL BE YOUR BIGGEST MUSICAL INDULGENCE?
Ha ha, great question. I want a farm with outdoor space full of people I can help and a massive music room with a big glass window looking out onto the farmland. I will be playing in there on a Fender Strat with a glass of scotch in my hand. That will be where I will spend most of my days. That's the vision and the dream!
SO, WHEN IT ALL GOES WRONG AND YOU'RE LEFT BITTER AND TWISTED AND CURSING THE MUSIC INDUSTRY, WHAT DO YOU FALL BACK ON?
I don't believe in plan Bs or thoughts that distract from the vision or goal. I have a fire of determination in my soul. There simply is no other way.
WHAT ARE YOUR MUSICAL GUILTY PLEASURES…?
Ha ha, I like this one. Sometimes I like a bit of cheese. For some reason I can't let go of the 90's so I am still a sucker for some 90's dance stuff to be honest.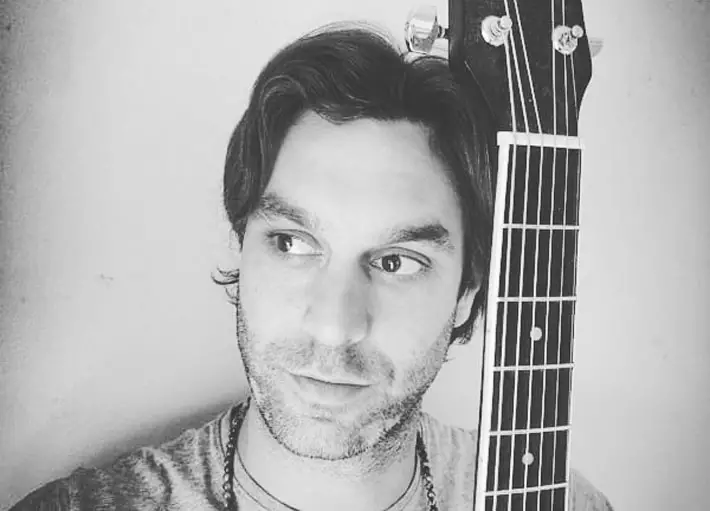 WHO ARE YORKSHIRE'S FINEST IN CULTURE, SPORT AND MUSIC?
Culture in Yorkshire is woven through the county like thread. I wouldn't know who to speak of, but I love the green and farmland and hills of our beautiful land. I don't do sports. And as for musicians, to be honest, I don't follow that many. I wish them well; if I see something I like, I respect it. I give it a like on social or I might listen to it at home, but I play my own game most of the time and I am working on promotions of the new EP which came out this autumn. It's kept me busy lately, so I haven't followed much else.
NAME YOUR SUPERGROUP – WHO'S PLAYING WHAT, WHO'S ON VOCALS AND WHO'S YOUR BEZ?
Hendrix and Stevie Ray on guitar; Jack Bruce on bass; Keith Moon on drums and Chris Cornell on vocals!
GO SEE THIS FILM: Pulp Fiction.
GO READ THIS BOOK: Think and Grow Rich.
GREAT LOST BAND/ARTIST: Jimi Hendrix.
WOULDN'T BE CAUGHT DEAD SUPPORTING: Tom Zanetti.
LONDON, L.A OR LEEDS? Leeds!
AND FINALLY… AS YOU LEAVE THE STAGE, WHAT ARE YOUR PARTING WORDS?
Thanks very much Mo Fo's and cheers to your ears!
The new EP by Dean England, 'Feel Think Do' is out now.
For more info visit: facebook.com/DeanEnglandMusic