Billy Rags by Ted Carter – Review
By Sarah Morgan
Another very welcome reissue of a novel by Barton-upon-Humber's most famous son.
Thanks to the cult movie starring Michael Caine, Ted Lewis will always be best known for penning Get Carter (originally published as 'Jack's Return Home'), and perhaps rightly so. But he wrote several other novels either just as good or even better.
The latest to be dusted down for a new generation of readers is Billy Rags, which celebrates its 50th anniversary next year.
The history of the book's creation is almost as intriguing as the tome itself – it was based in part on the diaries of John McVicar, the armed-robber-turned-author who was then serving a long sentence. He later gained fame in his own right by penning an autobiography and a film version of his own story, which starred The Who's Roger Daltrey.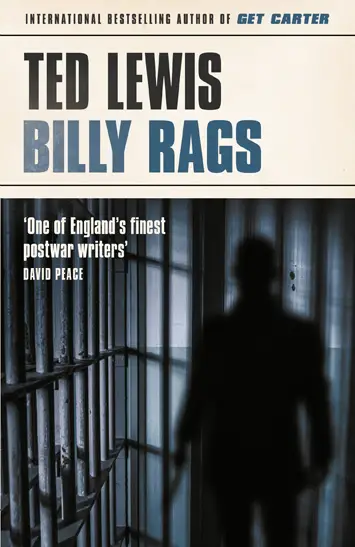 At the centre of Lewis's novel is Billy Cracken, a career criminal who, for the sake of his wife and child, has decided to go straight. He needs to pull off one last job – but is caught in the act and locked up for a considerable stretch in a maximum security wing.
"Trademark spare prose"
The story then paints a dismal picture of life behind bars: the soul-sapping routine, the boredom, the other characters, their views on each other and their interactions with the wardens and governor they hate. It almost makes you understand why they would want to escape.
The main thrust of the story involves Billy's efforts to make it 'over the wall' so he can be reunited with his family, his plan being to ultimately make it out of the country and start afresh elsewhere.
It isn't a spoiler to say he does make it out, and what follows is a tension-filled period in which he goes into hiding, always looking over his shoulder in case a copper might be looming up behind him.
He must also keep a watchful eye on the underworld figures supposedly helping them because, as we learn in no uncertain terms, there is no so-called 'honour among thieves'.
Lewis's trademark spare prose is used well here; the novel is sharp and punchy, just like its central character. He also gives Billy soul via his relationships with his wife and son, as well as flashbacks that reveal facts about his difficult upbringing.
Some have claimed the character is reminiscent of Tom Hardy's version of the man dubbed Britain's most violent prisoner in Bronson, and that's a fair assessment. But while there's an element of caricature in the movie, Lewis's novel offers a far more gritty and down-to-earth insight into a way of life most of us will never experience or fully understand.
'Billy Rags' by Ted Carter is published by No Exit Press, £12.99 paperback