Outside by Ragnar Jonasson – Review
By Karl Hornsey
The rise and rise in the popularity of Nordic Noir that began in the 1990s shows no sign of slowing down, and little wonder with the quality of authors involved and the many successful TV adaptations that have been produced. And in the absolute top bracket of those authors is Ragnar Jonasson, whose novels in the Dark Iceland and Hidden Iceland series have been enjoyed in their millions and, in the case of the former, have been acquired by Warner Bros to turn into some of the most highly anticipated TV series in recent years.
Since the end of Hidden Iceland, Jonasson has turned his hand to standalone novels, the latest of which is Outside, which may just happen to be his best yet. Having read all of Jonasson's previous offerings, I may be a little biased in placing him alongside Hakan Nesser and Arnaldur Indridason as the best of the Nordic bunch, but Outside merely confirms that here is an author at the top of his game, with complete command of his audience, safe in the knowledge that he knows what works in the genre. There's a stripped-back simplicity to Jonasson's work, making his books tight and without filler, and never more has that been the case than with Outside, in which he creates an air of claustrophobia and tight unease right from the off.
"Sense of dread"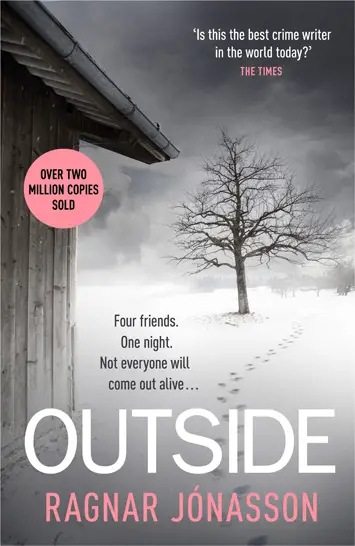 The story is set in a remote part of Iceland, almost entirely cut off from civilisation, and focuses on four friends who have, rather unwisely as it turns out, got together for a reunion of sorts. Jonasson uses the isolated location and the devastatingly inclement weather to set the tone, immediately instilling a sense of dread and anticipation of what could happen next.
While it's easy to describe many novels as page-turners, this really is incredibly hard to put down, helped by the use of very short chapters, each under the heading of one of the four friends – Daniel, Helena, Gunnlaugur and Armann – developing the storyline from their own point of view.
I was close to devouring the whole thing in one sitting (but sadly had to be up for work the day after), so demolished it in two goes instead, and that's something that rarely happens – the last time being for Will Dean's remarkable Last Thing to Burn.
Doubtless Outside will at some point soon be given the big-screen treatment, as it's ripe for an adaptation, and it seems there's no limit to where Jonasson can go, with one of the most telling reviews of his work asking the very pertinent question, "Is this the best crime writer in the world today?" I, for one, am hard-pushed to think of anyone better.
'Outside' by Ragnar Jonasson is published by Michael Joseph, £14.99 hardback