An Interview with Benjamin Francis Leftwich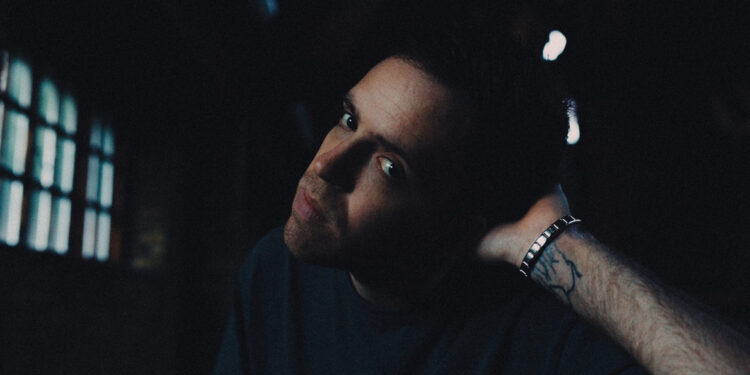 By Jules Boyle
He's never shied away from baring his soul, but Benjamin Francis Leftwich's new album is his most honest and deeply personal record yet.
The 31 year-old singer songwriter has just released To Carry A Whale, an astonishing 10-track collection that comes after a period of huge change and development in his life following a stint in rehab back in 2018. Completely sober ever since, Benjamin has discovered a new love for both music and life itself and the album, produced by Sam Duckworth (Get Cape, Wear Cape, Fly) and Eg White (Adele, Sam Smith) is the result. It's an undoubted career highlight and sees the Yorkshireman at the very peak of his creative powers.
He said: "When I first met Sam Duckworth, we became friends that day and were discussing how I wanted to make a really concise 10-track album, which would also be the first album I've ever made without drugs in my system. The title comes directly from that, as it's what it's like to live as a clean and sober alcoholic, which is a beautiful thing to be in that space, but you are carrying that thing which is really heavy, while being something to take care of. We got rid of a lot of songs from the album, which were big songs, but just not thematically correct.
"Scientific focus"
It's really an album about post-surrender, living awake and the things that accompany that, such as being able to look back with honesty, like on Sydney 2013, which is as specific as you'll get. Being able to do that isn't easy, but it's absolutely necessary for my survival. For the first time in my life I'm being accountable and responsible for my part in things. I drop a lot of names in those songs, which I cleared with everyone who is mentioned obviously. It's just what I have to do, so it's not a pity party. I'm really pleased to be where I'm at and my way is not the only way, but it's the right thing to do for me personally. It can be heavy sometimes, but being able to look back like that and make those phone calls where I can tell people that things have changed, take ownership for my part in things, apologise and ask for forgiveness to move on is really important to do."
To Kill A Whale is Benjamin's fourth album to date, with the previous three selling over 180,000 worldwide, but the whole process of writing and recording this one was a different experience for him. He's rightly proud of what he has released before, but for the first time, he's been able to give every part of himself to making the very best record he can possibly do.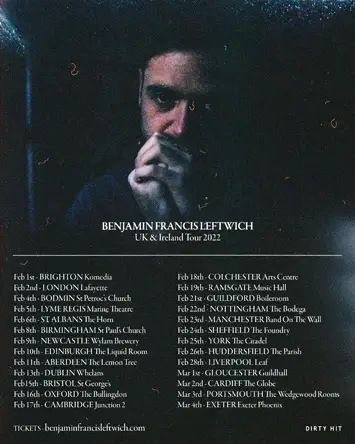 He said: "The biggest difference for me this time around is I have that extra 10% of almost scientific focus in the writing process, all those things I let slide because I couldn't be arsed or didn't care as much as I should. At that time, If I was in a conversation, all I wanted was for it to end so I could go drink or use by myself, so that extra 10%, 20% or even 50% focus, all those twists and turns in the lyrics and not letting anything get across the line if it wasn't honest in terms of feel or content I might have let slide previously just didn't happen.
"That stuff was my solution"
I'm aware that many of my most popular songs and many of the songs I love by other people have been written not in that way, but for me, I think I'm a better singer and a better writer when I don't have stuff in my throat and body.
I have the ability to go in hard on it now, too. This is important, as I want to say things accurately and I'm awake enough to accept that just because I have a song in the bag that's poppy and a good radio song, it doesn't mean anything if it doesn't fit the theme of To Carry A Whale."
The subject of his own addiction isn't an easy one for Benjamin to confront, but it's not stopped him from doing just that, both on the album and in his actual life leading up to it. It's been a hard road, but he's all the better for it.
Benjamin said: "There are millions of people in the world who can drink, use or whatever and it works for them, as not everyone becomes addicted. That stuff was my solution, but the problem is I'm allergic to it. I got really lucky when I was 21 and put out an album that loads of people fell in love with. It took me around the world and gave me a life, a house and all this beautiful stuff, but I also lost my love for music at that time. I was sat in a nice, comfy flat by myself and I was just f***ing sad. That's the truth. There's no arrogance or self-pity there, it's just how it was. When I was in treatment I was really worried if I could ever write songs sober, but I feel more in love with it, more awake to it and more hungry for it than ever before. Maybe I'm getting addicted to songwriting, but it's much better than what I was addicted to."
With a new album in the offing, normally Benjamin would be out on the road touring it, but like every other artist in the world, he's had to approach this one somewhat differently. He has a tour booked, but it's not until next year, but he's counting the days until he can play all these new songs that he is so proud of (as well as the ones fans know and love) to as many people as possible.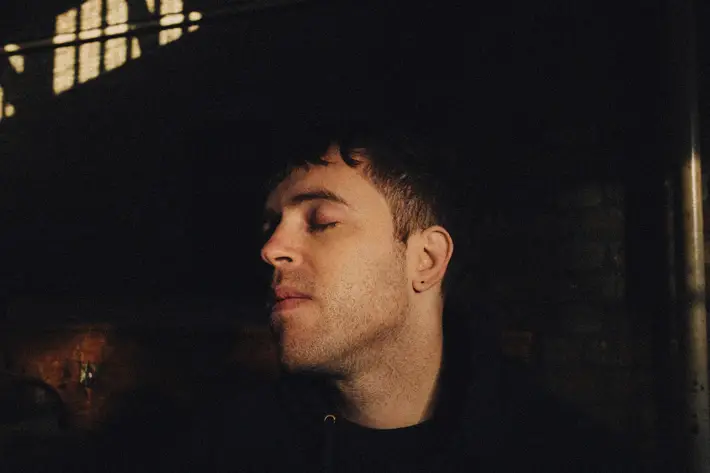 "I'm looking at the positive side"
He said: "It's been a really difficult time for billions of people around the world. I'm very aware that I'm luckier than most and haven't felt the nip as much, but emotionally it's been weird not being on tour and not getting out for the album. I'm looking at the positive side though, as it's giving me an extra eight months to remember how to play these songs!
I'm really, really excited to get back out there for the tour in February, though. I think some of the new songs will work really well live and some won't, but it'll be a really intense setlist, with some of the deepest cuts from the old albums, while dropping in new ones like 'Cherry In Tacoma', 'Tired In Niagara' and 'Full Full Colour'. I think putting them in the set at the right moment will be beautiful. My music is very people-based, emotion-based and romance-based, so I can't imagine there are many people who haven't had major emotional or romantic curveballs during lockdown, so I feel bad coming in and adding to that!
The main thing is I want everyone who goes to shows, not just mine, to be safe, to know that we are getting the right guidance and be willing to change our plans at the last minute if it's the right thing to do. I always get nervous before I go on stage and have to listen to really intense classical music in the dressing room, but I need to do that to actually be able to sing the songs. I'm more nervous now though for my fellow human beings to be safe and ride back into normality in a calm way. When we finally all get together though, that's going to be something really, really special. I honestly can't wait."
Benjamin Francis Leftwich plays Sheffield The Foundry 24 Feb; York The Citadel 25 Feb
& Huddersfield The Parish 26 Feb
For full tour details visit: benjaminfrancisleftwich.com