If you're planning a bathroom remodel during 2022, then you might consider it worthwhile to take stock of the current trends. A bathroom is among the most important rooms in the home – it's here that you want to look and feel comfortable and above all clean.
Let's see if we can't take inspiration from some of the trends that are going on.
Green Bathrooms
Over the last decade or so, green has been an overlooked choice when it comes to bathroom décor. But you might expect to see this trend reversed in the year to come. Houseplants, including cacti, might be installed in the bathroom, where they can help to create positive vibes. But the tiles themselves might also be chosen to match. For the most part, it's subtle shades of green that are being favoured – but you might find a few bolder splashes of colour can help to inject a little bit of character.
Japandi Bathrooms
This interior design term is a portmanteau of Japan and Scandi – it's a minimalist aesthetic that actually shares quite a lot with traditionally Norse sensibilities. Bathrooms which conform to this style tend to be minimalistic, with subtle lighting and earthy tones favoured.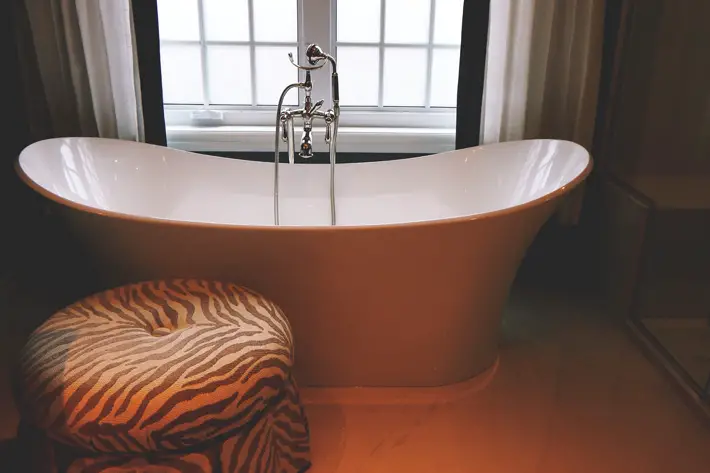 Terracotta
Speaking of earthy tones, you might expect to see a little more terracotta, or at least terracotta-adjacent, materials and hues in the bathroom. If you choose your colours and tiles judiciously, you can create a space that brings to mind Mediterranean and North-African villas. If you can get a little bit of sunlight into your space, then you'll get better results – especially during summer.
Soho Bathrooms
The 'Soho' trend takes its name from the district in London. It's a response to some of the clean, clinical designs we've seen over recent years. Rather than stark greys and clean lines, we're going for dense patterns and colours. Maximalism is the order of the day here, with accent pieces that look as though they might have been scavenged from a marketplace, and just the faintest hint of chaos.
Modern Organic Bathrooms
'Modern Organic' strikes a careful balance between natural materials and curved lines. Sharp edges tend to be done away with, and the furniture you use tends to be made from timber rather than chrome or metal. Matte shades on all of the taps and handles tend to also be preferred to glossy ones.
If you're going to get the most from the time you spend in the bathroom, and extract the most resale value from this important part of the home, then you'll need to invest a little bit of thought into what the overall vibe you create will be. Where possible, try to take inspiration from what's already out there – you'll find plenty of it on websites like Pinterest, and Instagram. Make sure that you also account for the colour of your sealant and other essential items.