A Walk from Malham to Gordale Scar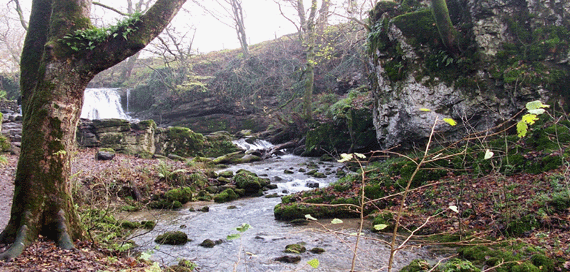 Scar Attraction

by Matt Callard
"I won't know for sure if Malhamdale is the finest place there is until I have died and seen heaven (assuming they let me at least have a glance), but until that day comes, it will certainly do." Bill Bryson
Most impressive sight in the Yorkshire Dales? Leaving aside my one and only pleased-to-meet-you with The Naked Rambler (yes, that Naked Rambler) it has to be the mighty Gordale Scar. Modern cinema, with all its blue screen wizardry, would find it hard to match the sensational 150-foot high gorge passageway that leads, eventually, surprisingly, dramatically to one last hidden turn, which then reveals the great shadowed vault at the scar's extremity. It's an epic sight, straight out of Tolkien, with two crashing waterfalls echoing around the gorge's roofless chamber. As far as entrances, build-ups and dramatic pay-offs go, it is pure Oscar material.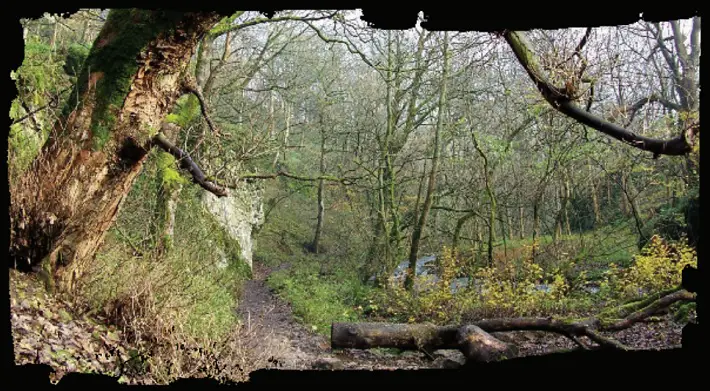 "Micro-climate"
This is a perfect family ramble – easy parking, flat, good paths, a couple of eye-popping sights and a fair amount of myth and legend to keep the children riveted. So, leave the car in Malham's National Park Centre and head back to the road you came in on. Take a left until you see a small iron bridge opposite The Buck Inn. Cross it, turn right and walk downstream. Cross the stile and then follow a clear path across two fields until you find another ladder stile in the corner.
Turn left with the wall and go through the gap just before a barn. Eventually you'll find another stile which leads onto a lane and in about 30 yards there's another stile. Keep going, with the stream on your right, until you find twin ladder stiles and, eventually, a beautiful little dingly-dell with a picturesque waterfall known as Janet's Foss (35 minutes).
This magical little area is protected and hosts a sheltered micro-climate of rare wild flowers and ferns such as wood sorrel, herb Robert, green spleenwort and wall rue. You might also catch yellow wagtails and dippers alongside the gentle stream.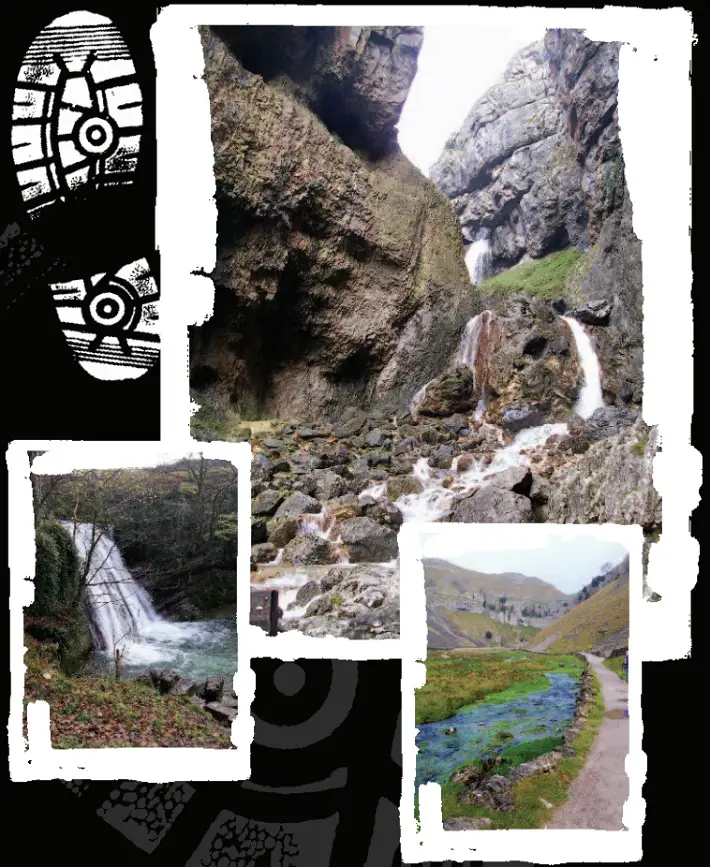 "Awe-inspiring"
It's easy to see how mythical beings have been superimposed onto the area's delicate beauty. Local Queen of the Fairies, Jennet, (the name has been modernised to Janet) is said to inhabit a cave behind an angelic waterfall that comes complete with its own peaceful splashpool. In summer, with sunlight dappling through the trees and bejewelling the water and with dandelion florets floating through the air, the natural really does come close to supernatural.
There actually is a cave behind the waterfall. Not, alas, formed by magic, but by the limestone bedrock being dissolved and eroded by water and re-deposited on the lip of the waterfall. Whatever, the place is lovely. And the kids will be enthralled by the tall tales. They can even pay a visit to the money tree and make a wish with Jennet.
Janet's Foss is, however, but a tingly overture to the magnificent symphony of Gordale Scar. So once you've indulged your playful whimsies, take the pathway uphill and turn right along a road. Immediately after a bridge go through a small gate and the way ahead is now clear.

Let the steep-sided gorge serenade you towards the aforementioned pay-off (60 minutes) around its final turn. You might be surprised to hear that there is a pathway upwards around the double waterfall. But we're turning back, eventually, to head home the way we came. Fully sated by nature at its awe-inspiring best.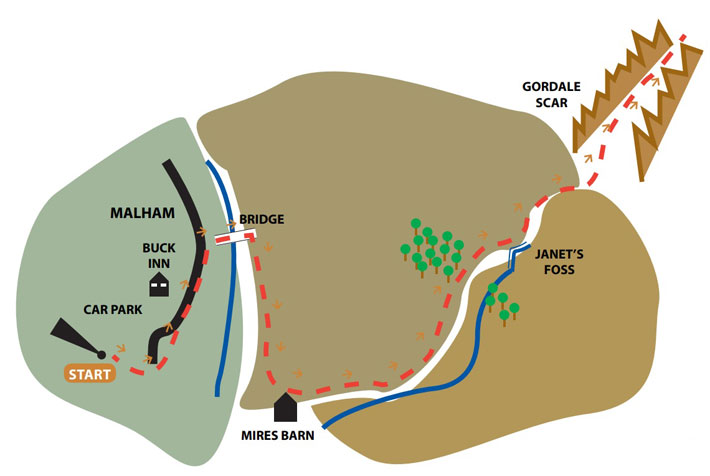 Gordale Scar Walk: Need to Know
DISTANCE: 3.5 miles
DIFFICULTY: Easy
TIME: 2 hours
WHERE: Malham lies on Cove Road, just through Gargrave, after  the A65 trunk road, four miles north west of Skipton.
REFRESHMENTS: There's a handful of good, classic Dales pubs in Malham village.
WHAT ELSE: Gordale Scar is at the northern end of the Craven Fault. This 22-mile geological line runs from the borders of Cumbria into the Yorkshire Dales. It is somewhere around 15-16 million years old.