Scarborough Hotel Landslide Remembered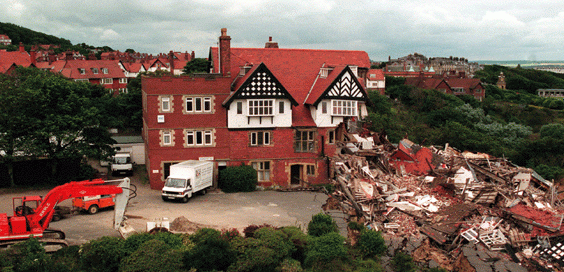 The Hotel That Slid Into The Sea
by Colin Philpott
For several days in early June 1993, the country – indeed the world – is gripped by the drama of a hotel perched on a cliff above Scarborough slipping into the sea. News desks everywhere love the pictures and the metaphors were flowing. For many local people, this epitomises Scarborough's slow slide from its former splendour as a premier seaside resort. Nationally, some commentators manage to turn the demise of Holbeck Hall into a metaphor for the country's decline.
Holbeck Hall Hotel had been built in 1879. Set in spacious grounds on the cliffs above the South Bay, it is regarded as one of the top hotels in Scarborough. At the time of its collapse, it is the only four-star hotel in the town. People still flock there for a genteel offering reminiscent of a former age. The hotel, along with some others in Scarborough, is owned by Barry and Joan Turner, who believe that the Yorkshire resort has the potential to relive former glories and pull in people wanting an elegant place to stay.
"World's media gathered"
On 3rd June, 1993, a landslide began beneath the hotel. By the 5th June, after heavy rain, parts of the hotel had collapsed and fallen into the sea. Later the rest of the hotel had to be demolished. The explanation appears to have been that heavy rainfall in the months before had saturated the cliff side, which had been fissured by two earlier dry summers. The ground was literally taken from under the hotel. Joan Turner said at the time that she had lost her dream. The world's media gathered in large numbers and the images of a part of Scarborough's seaside heritage slipping into the sea transfixed television audiences everywhere. The collapse became a tourist attraction in its own right for a few days.
The Holbeck Hall collapse was just one example of the phenomenon of coastal erosion. It was, and still is, a significant problem for much of the eastern coastline of Britain. Many other parts of the Yorkshire coast as well as the East Anglian and Lincolnshire coasts are affected. Although substantial sea defences are now in place in some areas, the financial reality is that, for many stretches of coastline, it is simply not affordable to provide protection from coastal erosion and landslips.
"Council not liable"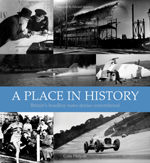 Nevertheless, the collapse of Holbeck Hall led to a landmark legal case in 2000. The owners of the hotel sued Scarborough Borough Council, alleging that they had been negligent in failing to take measures to prevent the landslip. The case was unsuccessful.
The court ruled that the Council is not responsible for the causes of the landslip and is not therefore liable. The site where Holbeck Hall stood remains fenced off and empty over 25 years after its demise.
'A Place in History: Britain's headline news stories remembered' by Colin Philpott.
Published by Ammonite and available now from amazon.co.uk