Manningham Mills, Bradford – A Short History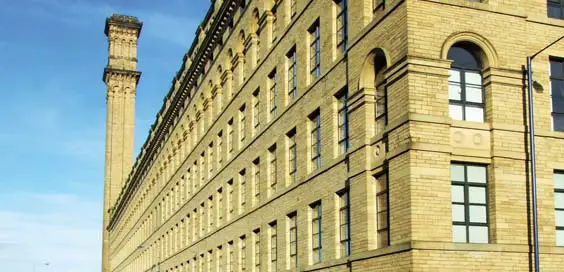 By George Sheeran
There has been a mill on the site of Manningham Mills since 1838. However, the story of how the mill arrived at its present form, how it is tied up with the success of Bradford's nineteenth century textile industry but at the same time is atypical, is a complex one. It is also deeply rooted in the textile fortunes of the Cunliffe-Lister family, especially Samuel Cunliffe-Lister.
The Cunliffes of Addingham had been in textile production since before 1800. Ellis Cunliffe had married Ruth Myers, a niece of Samuel Lister, and from a landed family of Manningham Hall in Bradford. After a series of deaths in the Lister family, Ellis became the owner in his wife's right in 1819 when he added the name Lister to his own. He went to live at Manningham Hall and in 1838 was to build Manningham Mill, a worsted spinning mill.
The business was to be continued by his sons, but on a different scale and in different directions. Instrumental to the success was Samuel Cunliffe-Lister, who is said to have made three fortunes.
"Dominating the skyline"
A man of inventive genius, he had been able to introduce the first practicable machine wool comb; he went on to invent a process for producing silk thread from silk waste; and he was able to apply innovations in textile machinery to the production of velvets and upholstery materials.
After a fire in 1871, the old Manningham Mill was rebuilt and extended between that date and the 1880s, the architects being the Bradford practices of Andrews and Pepper, and later James Ledingham. It became the largest silk spinning and manufacturing mill in Britain, producing silks, plushes and velvets, and employing 5,000 people.
It stands high up in Manningham, dominating the skyline like a hill-side palace above its dependencies. Italianate in style, it is one of the most architecturally embellished industrial buildings in the Bradford district.
"Massive construction"
The entrance makes a bold statement with the arms of its builder fixed above the gateway. But the most remarkable feature of this mill complex is the chimney. This massive construction is 249 feet high, its sides panelled, an elaborate cornice and arches making up the termination. This whole composition probably drew on the campanile of San Marco, in Venice for its inspiration.
On its completion in November, 1873, the Bradford Observer reported of the chimney:
Shortly before twelve o'clock, Mr Lister accompanied by Captain Lepper [the mill manager] the architects, Messrs Andrews and Pepper, and Mr William Beanland, the builder, ascended. The summit having been reached, the baptismal right was performed by Mr Lister breaking a bottle of wine and naming the column 'The Lister's Pride'. The party then partook of a champagne luncheon.
During the 1980s the mill declined, and in the 1990s lay derelict for a number of years until it was eventually restored and converted to apartments early this century.
Extract taken from 'Bradford in 50 Buildings' by George Sheeran, published by Amberley Publishing, £14.99, ISBN 9781445668482