The Vikings (1958) – Film Review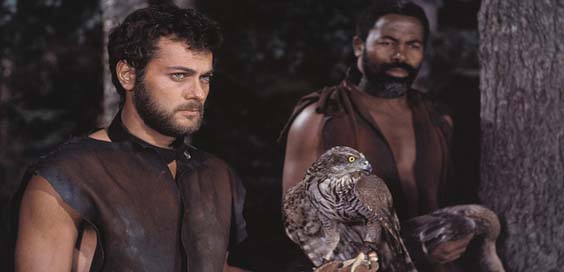 Director: Richard Fleischer
Cast: Kirk Douglas, Tony Curtis, Janet Leigh
Certificate: PG
by Roger Crow
It's been about 40 years since I last saw The Vikings, the memory of a scene involving a cauterised wound forever burned on to my brain.
But of course, in the years since we've had no end of epic historic adventures of differing degrees of quality. Okay, Lee Majors' flop The Norseman is not a movie that's going to challenge Richard Fleischer's epic, nor is Terry Jones's troubled adaptation of his kid's book Erik the Viking (a movie John Cleese agreed to as long as he could spend most of the shoot sitting down).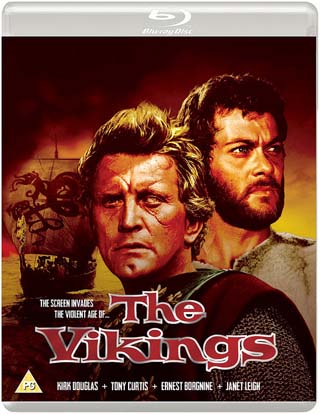 While some love TV offering Vikings, it left me colder than liquid nitrogen, so maybe it's the genre I have a problem with. After all, it's hard to root for 'heroes' whose CV includes pillaging and worse.
What is great about Fleischer's offering is Kirk Douglas and Tony Curtis. The latter spent a chunk of his career sending himself up in offerings such as a The Persuaders, but in his prime he was a force to be reckoned with, while Kirk of course has always been magnetic.
"Sibling rivalry"
The plot: after the King of Northumbria is slain during a Viking raid led by the mighty Ragnar (Ernest Borgnine), his cousin Aella (Frank Thring) takes the throne. (I'm amazed this is the same Frank Thring who has a bit part in 1985's Mad Max: Beyond Thunderdome).
However, the late King does have a son, and he is called Eric. Yes, really.
Cue much sibling rivalry with his half-brother Einar (Douglas), Ragnar's legitimate son. And just to add to the drama, they both fall for Princess Morgana (Janet Leigh, two years before her star-making turn in Psycho; she starred with husband Curtis in five movies in case you were wondering).
The nuts and bolts of the story are as old as the hills, and in centuries from now they will still be employed by filmmakers: wronged heirs to thrones, feuding brothers, and love trysts. Stick whichever stars you like in there and shoot in 3D 4K smellovision and it'll still work.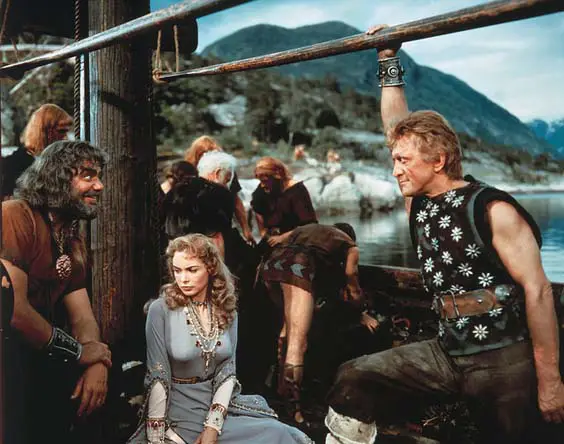 "Missing some levity"
Star-spotters should look out for sitcom staple Dandy Nichols (Til Death Do Us Part) among the supporting cast, and while the Blu-ray release looks terrific considering it's approaching its 60th birthday, I found it hard going.
Thor: Ragnarok is obviously light years away from this 1958 offering, but I'd rather sit through that Odin-centric saga a dozen times more than this revered yawnfest.
Okay, things have changed a lot in the six decades since this was made, so it's easy to be down about it in some respects, but the key factor it's missing is levity. Great movies are all about light and shade, and despite a fine cast, The Vikings is hard work.
On the plus side, Jack Cardiff's photography is superb, and it's great to hear Orson Welles' narration.
It's bound to generate a wealth of memories for those who grew up watching it on the big screen or TV, but I might pop it on next time I have a bout of insomnia.
6/10
'The Vikings' (Eureka Classics) Dual Format (Blu-ray) edition is out now