Aughton Castle – One of Yorkshire's Secret Castles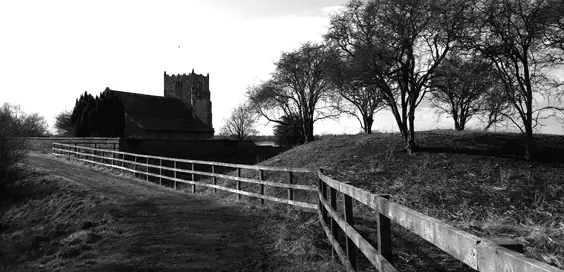 By Paul C. Levitt
The tiny village of Aughton is a quiet backwater overlooking the floodplain of the River Derwent, just seven miles northeast of Selby.
At the western end of the village, the main street terminates in a gated green lane leading to All Saints Church, next to which are the remains of a former motte and bailey stronghold attributed to Nigel Fossard.
As a subfeudary of the count of Mortain (King William's half-brother), Fossard held no less than 95 manors in Yorkshire; as Aughton was not his main capult, the Aughton stronghold might have been built to control a crossing on the Derwent.
"Abandoned"
He died in 1120, but the castle was probably abandoned early in the thirteenth century in favour of a nearby moated site when the lands passed to the de la Haye family. The lands eventually passed by marriage to the Aske family who in turn abandoned the moated manorhouse about 1645.
The roughly square-shaped bailey, located immediately southeast of the motte, has been incorporated into the grounds of the adjacent Aughton Hall.
"Unusual arrangement"
The importance of the site is described by local historian WM I'Anson:
'The motte and bailey castle of Aughton, which subsequently became the stronghold of the Askes, feudatories of the Fossards and Mauleys, stands well above the River Derwent and occupies a site of considerable strategic importance. The motte is placed on a square platform, which is itself encircled by a square ditch – a somewhat unusual arrangement. The bailey, which is completely isolated from the motte, is guarded by a ditch 40 feet wide and six feet deep.'
Notwithstanding the well-elavated site referred to by l'Anson, when this writer visited in February, winter flood water was only a few feet from the site.
"Fine Norman arch"
The Aske family later propelled Aughton to national fame in connection with the Pilgrimage of Grace. In 1536, Robert Aske became the reluctant leader of a vastly superior force of men (some 40,000 strong) from Lincolnshire and Yorkshire who objected to the religious reforms of the Crown (Henry VIII). Aske was tried, found guilty of treason and executed the following year. The uprising is still commemorated locally in an annual pageant.
It is also worth looking inside the tiny, ancient All Saints Church, notable for its fine Norman arch, font and brass effigies of Sir Richard and Lady Margaret Aske. The keys can be obtained from the nearest (end) house in the main street. Nearby Aughton Hall now stands on the site of the original moated medieval manor house.
Taken from 'Yorkshire's Secret Castles: A Concise Guide & Companion' by Paul C. Levitt, published by Pen & Sword History, £12.99