Griffon Forest Lodges, Flaxton, York – Review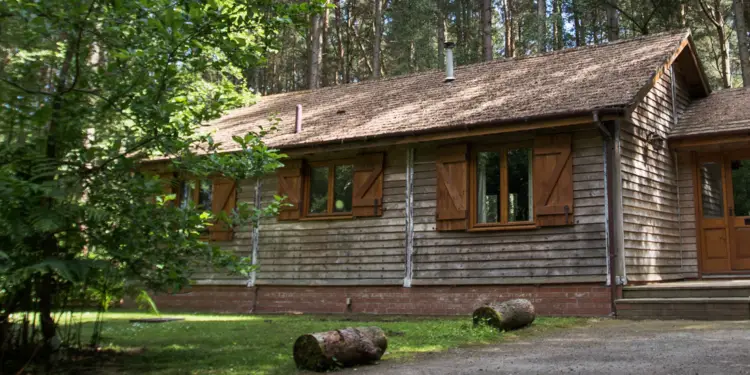 By Matt Callard
COVID-19 might mean the staycation is on most UK holidaymakers' radars for the next 12-months at least, but finding a location that is both away from it all and safe, isn't simple.
Griffon Forest Lodges, an all-year-round 1000-acre site set in lovely managed woodland near York, certainly ticks the first box. You enter via a long and winding private country road, which ends at a contactless key pick up point. From there you're directed to your lodge, passing other lodges dotted along the way, each one discretely placed so that the nearest lodges do not overlook or impinge on their privacy.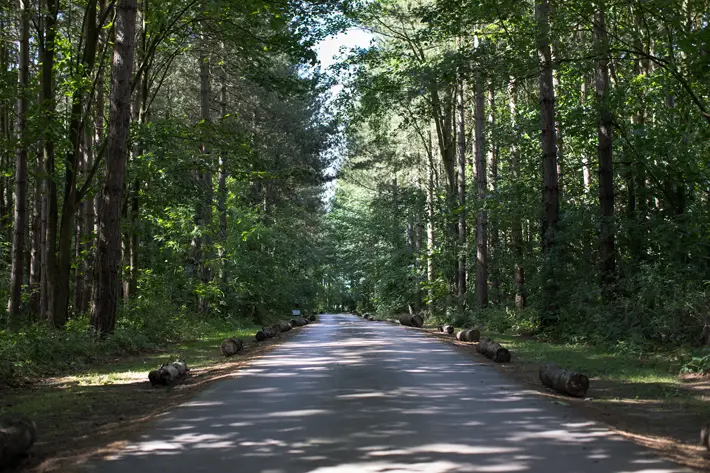 "All mod cons"
When you do find your lodge I have little doubt you'll be impressed. Firstly, this is a proper wood lodge – not an upmarket static caravan with a wood effect outside and rattling interiors. In fact, so authentically rustic and genuinely away-from-it-all are the lodges I couldn't help but flashback to The Cabin in the Woods and The Evil Dead on entering – a fact I probably wisely decided to keep from our three young children.
Inside, there's a genuine wow factor. The open plan living room and kitchen is ample, with a fine wooden dining table and all mod cons kitchen. But it's the sleeping areas and bathrooms that really excel and add a real luxury feel. The master bedroom comes with a good-looking four-poster bed and en suite with walk-in shower and Jacuzzi bath. The other twin room also has its own bathroom and Jacuzzi bath. Both bathrooms are large, with double sinks and large mirrors and well-lit.
On arrival you'll find a couple of bottles of chilled Prosecco and some chocolates to greet you – and to really help you relax and get in the holiday mood. It's a very welcoming fine treat after a long journey.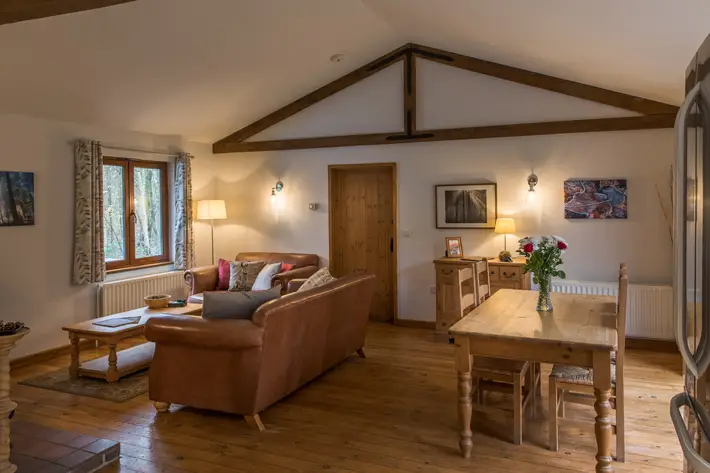 "Adventurous exploring"
The TV is small by today's expectations and the living room seating section is bijou, but the kids were much more interested in the joys to be found outside the lodge than the home comforts within it. And here, for me anyway, is where a stay at Griffon Forest Lodges becomes more than a relaxing getaway in a tranquil location and turns into a genuine country experience for us city dwellers.
Our busy urban lives often mean the educational thrills of the Great Outdoors are too easily missed by our children, replaced by laptops and YouTube and stealing your dad's mobile phone (yes, the free wi-fi worked fine!) – but one look through the window at the pathway snaking through the woods was enough for our clan to immediately don wellies and waterproofs and prepare for a spot of adventurous exploring.
What a joy it is to wind through the woodland, your children investigating every rustle from the undergrowth. You'll pass over bridges, cross clearings and even discover hides from where you can wait in excited silence for the arrival of Griffon Forest's most famous inhabitants – the badgers.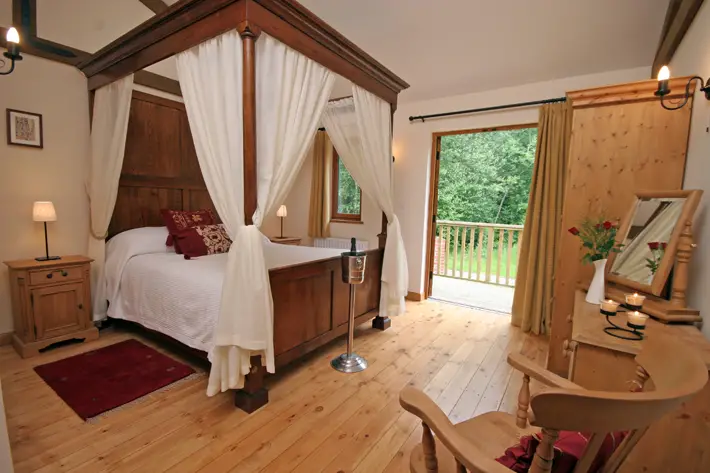 "Great treat"
Now, during our two-night stay we didn't actually see any badgers, despite giving the hides a good few tries and baiting our lodge decking with nuts (the squirrels took them all – which was exciting enough for our kids). But it didn't matter. Even the chance of seeing badgers was exciting enough and I'm reliably informed that it really was just bad luck that we didn't see any – the furry friends really do regularly plod on to your lodge decking and feast on your bait. And anyway, our youngest insisted she saw a whole family of them when the rest of us were looking the other way. She's lucky – up at Loch Ness she once saw the fabled Monster while the rest of us were putting our boots on.
Back at the lodge, and following a good meal and fun Jacuzzi bath for the kids before bed, the adults got to try the Hot Tub. Each lodge is equipped with one and it's a great treat to sit under the stars with a glass of Prosecco in your hand, listening to the sounds of the woods in the night. Bit nippy climbing out, mind – but the supplied robes help keep the chills at bay.
The next morning, with a full day ahead of us, we made the 40-minute drive to the coast. Filey beach was as lovely as I remembered it and fish and chips on the promenade was just the job. After picking up a few provisions (not from the Griffon store, alas – it's currently closed because of COVID) we headed back to the lodge in time for another exploration of the woodland before the kids collapsed into their beds.
"Reassuring"
All of which brings us back round to that other box that needs ticking – safety and hygiene. In these perilous times we staycationers place a lot of trust in our hosts. Every changeover must now be accompanied by a deep clean, social distancing and goodness knows what other measures to ensure guests are as safe as possible. This does mean check-in is at 5pm rather than the normal 3pm, which does eat up time on your first day – make sure you plan to do something before you arrive if that's an issue. And while there is no such thing as complete safety, the impression given at Griffon Forest Lodges is that everything, as far as is possible, was immaculately clean, safe and reassuring as it could be.
Indeed, perhaps the biggest compliment I can give the location at this peculiar point in time is we never really thought about Coronavirus at all during our stay – maybe that should be the new definition of truly 'escaping from it all'.
If you're looking for home comforts with the thrill of the wild literally on your doorstep, I can think of no better place.
Griffon Forest Holiday Lodges, Scotchman Lane, Flaxton, York. YO60 7RG
Griffon Forest offers special short break and holiday packages throughout the year. Best prices are always available via its website or by phoning during working hours.
Telephone 01904 468787, email enquiries@griffonforest.co.uk or visit www.griffonforest.co.uk for more information, online booking and other special offers.