Man Down by Matt Rudd – Review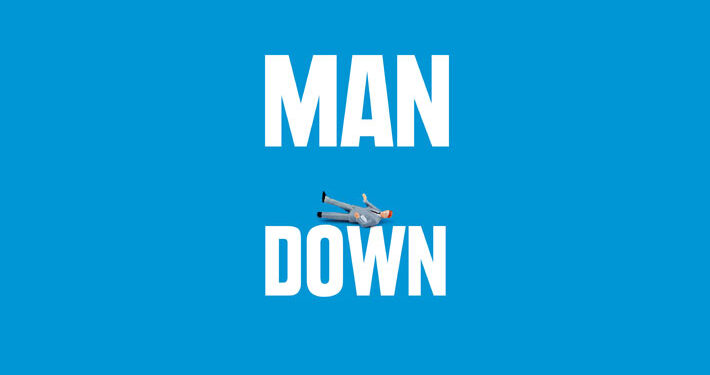 By Helen Johnston
The subtitle to this book is Why Men Are Unhappy and What We Can Do About It and every man should read it – as well as every woman who has a man in her life.
I've long been a fan of Sunday Times writer Matt Rudd and his self-deprecating wit so perhaps I'm biased, but this is surely a must-read for any male heading for a mid-life crisis. Or already having one.
Matt probes the meaning of success in a searching, funny and poignant way and asks if it ever really equates to happiness.
He begins by admitting how he often lies awake in the middle of the night worrying about job security and the mortgage, his mind circling as he becomes more and more unhappy.
Added to this is the feeling that he's being self-indulgent for daring to feel sorry for himself. It's a monotonous cycle of misery.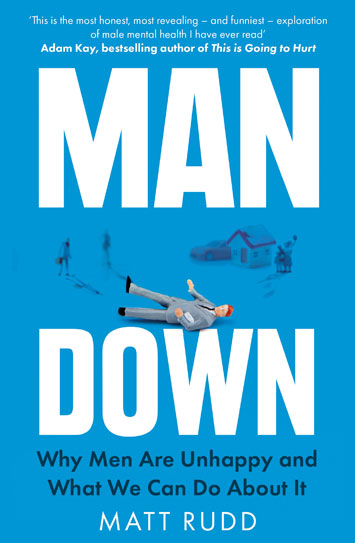 This mid-life malaise caused him to begin researching the problem to find out if other men, who appear to have it all, felt the same way. He discovered they did.
As well as talking to other men he also tried some self-help therapies. He went through various different sports but ended up either finding them boring or pulling a muscle.
"Elusive utopia"
He points out the competitiveness of men who can't even go for a simple jog without downloading an app to tell them how far and how fast they're running, and then comparing their time to other people's. Is it not enough just to run for the simple pleasure of it, like the man he meets who runs through a forest every morning to reconnect with nature?
Matt (a father of three sons) examines where it all begins with the way boys are taught to behave at school, and then takes us on a journey through relationships, fatherhood, health, technology (the devil in disguise), and the search for that elusive utopia Happiness.
He maintains this isn't a self-help book but he weaves in plenty of ideas for how to improve mental health, both from himself and the men he interviews, while never coming across as preachy.
What's refreshing is his honesty. He has tried the meditation, the mindfulness, switching off the phone, the gratitude lists, but acknowledges that they don't always work. Sometimes we just want to write an ingratitude list instead.
The underlying message seems to be that all the trappings we associate with success – telephone number salary, big house, fancy car, etc – are actually just a trap. The more we have, the more pressure there is to work harder to keep it, the more we have to keep going on the hamster wheel.
Read this book and you might not get any grand solution to the male mid-life crisis but you'll have a laugh, and maybe even a cry. And most of all, you'll know you're not alone.
'Man Down' by Matt Rudd is published by Little, Brown, £14.99 paperback