Introducing: King's Horses
Poetic rock 4-piece from Hull with warming electronic fuzz – and added anxiety…
YOUR NAME: Matt.
BAND NAME: King's Horses.
WHAT DO YOU DO/PLAY? Guitar/Vox.
HOW LONG HAVE YOU BEEN TOGETHER AS A BAND/PLAYING MUSIC? 4 years.
GIVE US 3 REASONS WHY WE SHOULD TRACK DOWN, LISTEN TO AND DISCOVER YOUR MUSIC?
Out of curiosity to work out who we're trying to rip off (we really couldn't compare ourselves to anyone, and not in a cocky way!).
We don't write cliched songs with cliched lyrics, so that's nice.
We don't get many listeners, so you guys can be the first to say you discovered us
WHERE DO YOU SOUND BEST – FESTIVAL, CLUB, BEDROOM – OR SOMEWHERE ELSE?
In small spaces. Working out arrangements and then playing to people with friendly faces makes us happy.
WHAT WAS YOUR FIRST…
RECORD? Bobby Brown – 'My Prerogative' (7" single).
CD? Blur – Parklife.
DOWNLOAD? CSS – 'Let's Make Love and Listen to Death from Above'.
SO, WHEN IT ALL GOES RIGHT AND YOU'VE GOT A MANSION AND A SUPERMODEL GIRL/BOYFRIEND, WHAT WILL BE YOUR BIGGEST MUSICAL INDULGENCE?
Buy some Beatles sh*t and just touch it, knowing that one of the Beatles touched it before
SO, WHEN IT ALL GOES WRONG AND YOU'VE ACRIMONIOUSLY BROKEN UP CITING HUGE MUSICAL DIFFERENCES, WHAT DO YOU FALL BACK ON?
Make music in my kitchen in the hope someone somewhere thinks it's alright, then going back and forward for ages whether I think it's ok to release or if it's a steaming pile of chod.
CITE SOME INTER-BAND MUSICAL DIFFERENCES…
Some like Badfinger, some like Leonard Cohen, some like Radiohead and some like Queens of the Stone Age.
WHO ARE YORKSHIRE'S FINEST IN CULTURE, SPORT AND MUSIC?
Michael Palin, Paul Heaton, Damian Hirst, Joe Longthorne (R.I.P).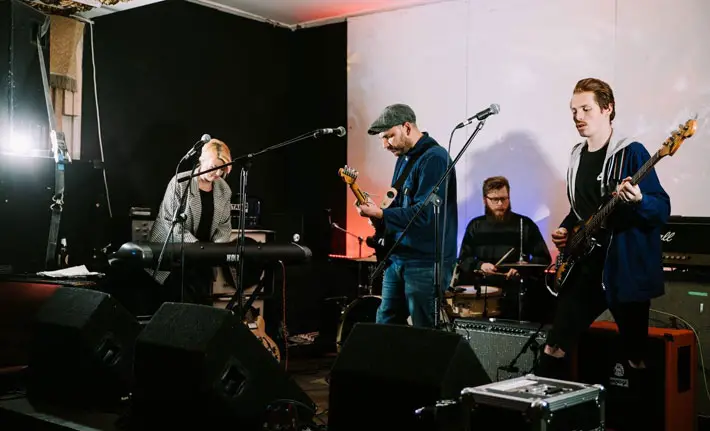 NAME YOUR SUPERGROUP – WHO'S PLAYING WHAT, WHO'S ON VOCALS AND WHO'S YOUR BEZ?
Paul McCartney – Bass
Phil Selway – Drums
Damon Albarn – Vox
Graham Coxon – Guitar
Mac DeMarco – Keys
Régine Chassagne – Backing Vox and Dancer.
GO SEE THIS FILM: Dawn of the Dead (1978).
GO READ THIS BOOK: Freakanomics.
GREAT LOST BAND/ARTIST: Dutch Uncles.
WOULDN'T BE CAUGHT DEAD SUPPORTING: Arsenal, Kaiser Chiefs, Wombats, Pigeon Detectives, Scouting for girls etc, etc.
LONDON, L.A OR LEEDS?: L.A.
AND FINALLY… AS YOU LEAVE THE STAGE, WHAT ARE YOUR PARTING WORDS?
Please can you buy our record.
The debut album from King's Horses, Waveforming is now available on pre-release vinyl.
For more info visit kingshorses.co.uk