Tenerife, Spain & Hovima Hotel Costa Adeje – Travel Review
By Richard Jones
There aren't many tourist destinations left where you can get a pint for €1, or a full cooked breakfast for €2.95.
The weather has always been the main reason people flock to Tenerife – you are almost guaranteed sunshine all year round and daytime temperatures rarely dip below 20 degrees.
Plus, it's just a four-hour flight away from the UK (less if your Jet2 pilot hitches a ride on the tail wind), and when you add all that to the cheap-as-chips factor, it's a winter escape no-brainer.
While the bars and restaurants on Tenerife's southern coast offer astoundingly low prices, I found there can be just as much value at the all-inclusive Hovima Costa Adeje.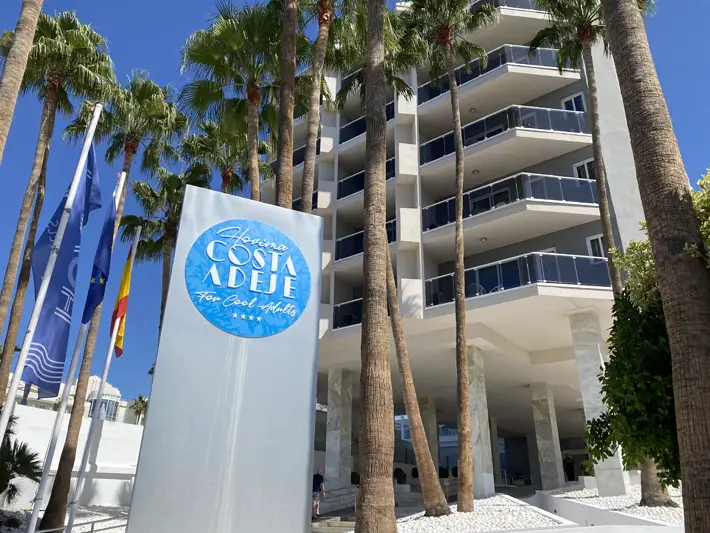 "Quiet, upscale area"
Located just 200m from Torviscas volcanic sand beach, the hotel is in a quiet, upscale area, although you are never far away from streets lined with shops, markets, bars and restaurants.
Most holidaymakers who check in here are happy to just park themselves on a sun lounger by the pool and enjoy everything that the luxurious adults-only resort has to offer.
The size of the 303-room hotel means that it never feels crowded, and while the demographic is mostly over 50s, there were a few younger couples and groups about. The slogan 'For Cool Adults' just about hits the nail on the head.
The hotel has inviting infinity and heart-shaped pools, and for those wanting even more pampering, there is a spa, with treatments starting from €35.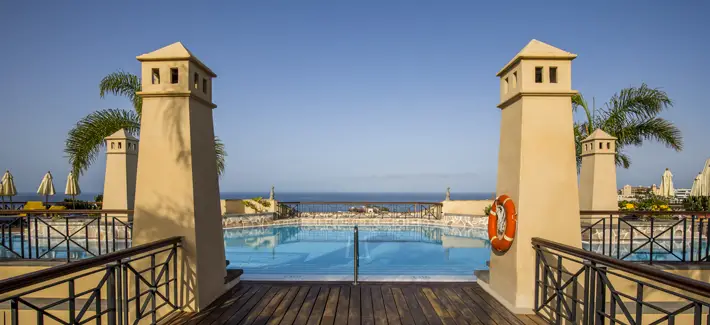 My room for the long weekend was a corner Suite Excellence, complete with two separate balconies with Atlantic Ocean views, two TVs, a Lavazza coffee maker and kettle, and fully stocked mini bar.
When you look at the food on offer in Hovima Costa Adeje, it's easy to see why it's a popular choice.
The hotel's restaurant serves breakfast, lunch and dinner buffets, and there is the Ocean Blue la carte option.
I particularly enjoyed the barbecue buffet on the Monday evening. The mouth-watering steak was cooked to perfection, while there was huge choice of grilled seafood, freshly caught in the area.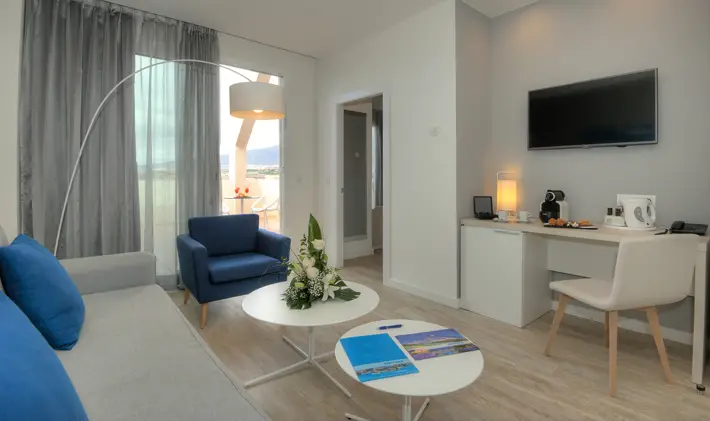 "Charming"
Away from the hotel, there is a lot to see and do on the largest and most populous of the Canary Islands.
Tenerife has no shortage of beautiful beaches, charming villages, golf courses, bodegas, hiking spots, tropical gardens and centuries-old architecture.
And if you fancy seeing some of its well-known attractions, you can book tours at the hotel, or from vendors on the street.
These include trips to the cliffs of Los Gigantes, the natural caves and beaches of La Villa Mariana de Candelaria, Loro Parque zoo, the world-famous Siam Park aquatic playground, the island's capital Santa Cruz and, of course, Spain's tallest mountain, the snow-draped Pico del Teide.
If you are one for exploring, renting a car is essential, as public transport is limited.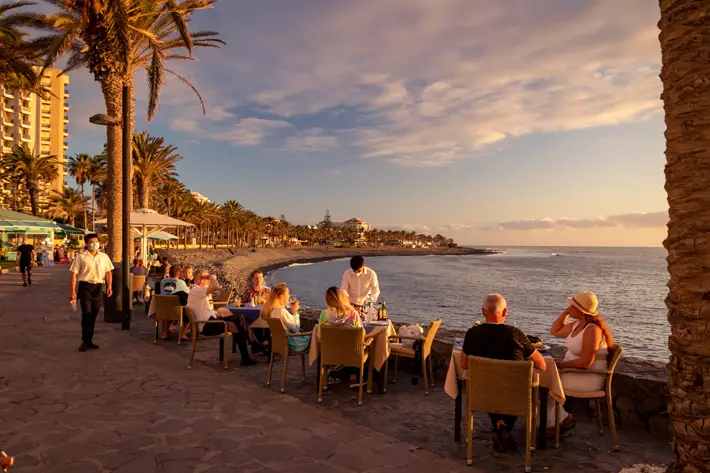 That said, if you prefer to stay around your all-inclusive hotel or go for a beachside stroll and stop off at bars and restaurants, you won't need a car.
It's been 25 years since my first lads' trip to Tenerife, and a lot has changed.
Nowadays, the famous/infamous Veronica's Strip in Playa de las Americas, with its overflowing clubs and swarms of motormouthed touts, doesn't really interest me or my friends, Martin, Chris, Leigh, Jonathan and Paul.
Admittedly, we still partake in the odd boozy session (to put it mildly), but now prefer places suitable for a group in their 40s.
Although the six of us spent our full weekend on Tenerife's bustling southern tip, we still saw plenty of the coastline.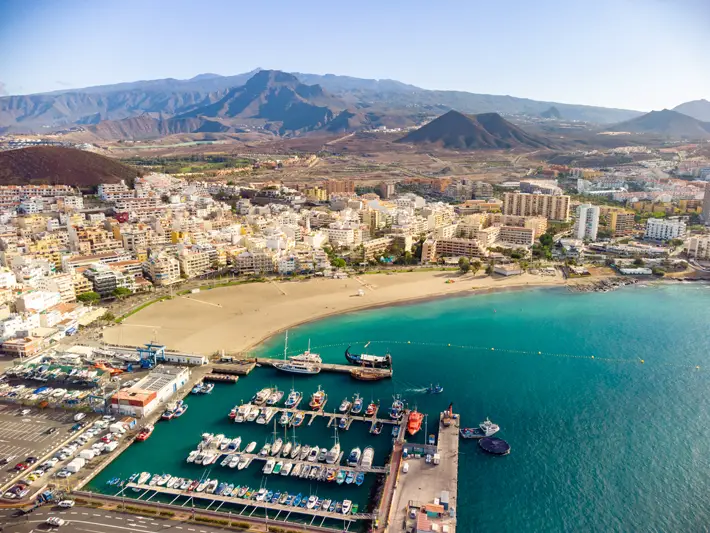 "Surfer's vibe"
Through a combination of walking and cheap taxis, we divided our three days up equally between its three main resorts.
The once sleepy resort of Los Cristianos used to suit the more mature visitor, but now it has much more of a surfers' vibe.
There are no end of cheap bars and restaurants to choose from, including Raymond III on the corner next to Playa de las Vistas, which serves up tasty value-for-money paella, and El Pincho Bar where you can watch the sun set with tapas and a refreshing jug of sangria.
Then at night, there is the Highland Paddy fun pub inland from Playa del Camisón, where resident compere Deano introduces a revolving roster of acts, including drag artist Dame Connie Lingus.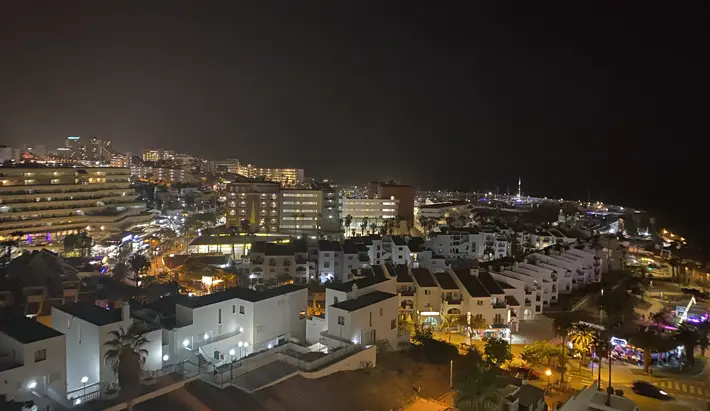 Just up the coast, Las Americas continues to be Tenerife's holiday hotspot.
We met up for a pint off the 'Patch' at The Garrison, before spending a few late nights necking cocktails and Baby Guinnesses in The Dubliner and Gaelic Corner on Av. Rafael Puig Lluvina.
Even here, in the resort centre, a round of six drinks was rarely over €20.
On the Sunday afternoon, we met up in Costa Adeje, and although this area is known for its yachts, five-star hotels and manicured beaches, we found some cheaper fun in the Skybar near the harbour.
Then, in the evening, after a few looseners in the Unique Cocktail Bar over the road from the Hovima, we ended the weekend by pulling up chairs in the Elvis Bar to watch Freddie Mercury tribute act Dave Varley.
Although the moustachioed not-so-Great Pretender wasn't quite on a par with the legendary Queen frontman, with pints less than half the price they are back home, we weren't complaining.
So, another Tenerife lads' holiday Bites the Dust, but it was comforting to see one of my favourite holiday destinations still has a Kind of Magic.
Richard Jones was a guest of Hovima Costa Adeje in Tenerife, where double rooms are available from £160pp per night on an all-inclusive basis. Go to hovimacostaadeje.com
Alternatively, jet2holidays.com offer seven nights bed & breakfast at the three-star Hovima Santa Maria Aparthotel, from £449 per person, including return flights departing Manchester on December 9, a 22kg baggage allowance, and transfers.
Jet2.com offers flights to Tenerife South from Manchester from £65 one way.
Holiday Extras offer a wide range of car park options at all major UK airports. See holidayextras.com
For more information on holidays in the Canary Islands, go to: hellocanaryislands.com