Convenient Luggage Storage Options For Late Flights
Travelling can be stressful, especially when you have a late flight and need to figure out what to do with your luggage. Fortunately, there are now convenient options available for travellers who need to store their bags temporarily until they can catch their next flight or return home.
From airport lockers to private storage companies that offer pick-up and drop-off services, there are plenty of options for storing your luggage so you don't have to worry about it while you explore the city or wait at the airport.
Airport Lockers
Airport lockers provide an easy and affordable way to store your luggage while travelling. These lockers typically require a small fee and come in various sizes so you can find one that fits all of your belongings. The benefit of using one of these lockers is that they're usually located in or near major airports, so you can easily access them when needed. Many airports also have dedicated areas for storing luggage or have staff on hand who can help you with any questions or concerns about finding a safe place for your bags.
Private Storage Companies
If airport lockers aren't an option, private storage companies can provide a great alternative for travellers looking for secure and convenient luggage storage solutions. These companies often offer pick-up and drop-off services so you don't even have to bring your bags with you to the airport if needed.
They typically charge a daily fee based on how much space is required and may even include insurance coverage in case something were to happen to your belongings while in their care. One thing to keep in mind is that private storage companies may not always be as securely located as an airport locker, so it's important to research the company before trusting them with your belongings.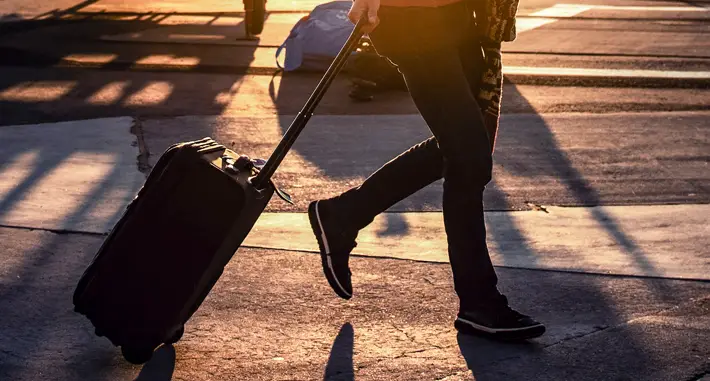 Storing Your Luggage In Kings Cross
For those flying into London's Heathrow Airport, consider using Stasher Kings Cross to find somewhere safe to store your bag. Kings Cross has several large baggage halls capable of accommodating most suitcases and bags along with private locker facilities available for daily hire through.
Furthermore, Kings Cross Station has 24-hour security monitoring allowing customers peace of mind when stowing their items away from prying eyes or theft attempts. With its proximity to many popular tourist attractions around central London and its extensive public transportation network connecting passengers from one part of the city to another, Kings Cross Station provides travellers with an ideal location for short-term bag storage needs whilst exploring England's capital city!
Conclusion
No matter where your travels take you, there are plenty of convenient luggage storage solutions available to make sure you don't have to worry about lugging around extra bags until it's time to catch your next flight. From airport lockers and private storage companies to dedicated facilities for storing luggage in Kings Cross Station, travellers can now rest assured that their belongings will be safe until they reach their destination.