Help to Buy White Goods on a Low Income
Those white goods many of us take for granted – washing machines, cookers, and fridges freezers – are essential appliances for the home. But thousands of hard-up families on low incomes are living in appliance poverty.
For most of us, a washing machine or refrigerator breakdown is a short inconvenience. With lots of online and high-street retailers offering a wide selection of branded white goods with fast delivery times, you could have a replacement appliance within 24 hours.
But for many families across the UK, living with appliance poverty is a daily struggle. Research by turn2us.org.uk found that two million households in the UK are living without at least one of the following appliances: cooker, washing machines, fridge, freezer.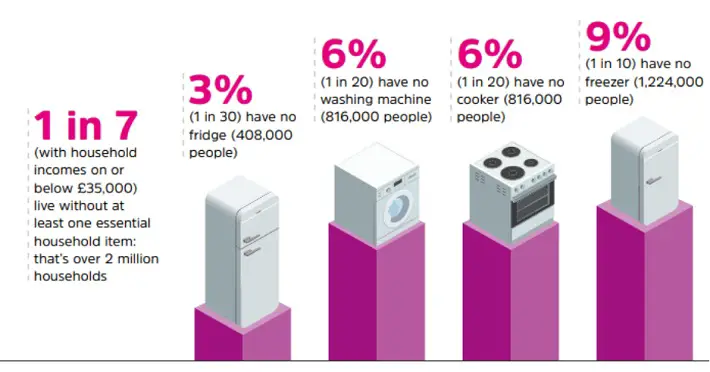 Families and individuals on low incomes or benefits just can't afford to replace a broken washing machine, just like that. And for many, the hefty upfront costs of setting up a new home with white goods is impossible without financial help.
Fortunately, there are a number of local and UK wide charities and government funds available that can help with getting those basic essential appliances.
Who Can Help?
Turn2us is an organisation that helps people gain access to financial help they need. They have set up a handy Search for Grants form that curates a list of charities that can help with supplying white goods, bedding, and home furnishings. This organisation is also behind the #LivingWithout campaign, which highlights the large scale negative impact that living without essential household appliances is having on families and individuals across the UK.
If you live in Scotland, the Scottish Welfare Fund gives local authorities the ability to grant eligible people access to money for furniture, cooking, and washing appliances. These grants are not repayable, so you don't need to worry about incurring any debt. However, the grants are not guaranteed, even if you're eligible. They are awarded by discretion of the local authority, based on the severity of your situation and funds available for distribution. It's a good place to start, and well worth applying for.
Before purchasing an appliance, it's helpful to read over product compassion and review websites. They provide great buying guide resources and information on finding the best quality appliance for those shopping with a low budget. We recommend Picki Reviews for your appliance research, as they have vast in depth information on appliances and provide some best appliance buys for low budgets.
The Price of Appliance Poverty
Too often appliances like new cookers, washing machines, fridges, and freezers are looked at as luxury items. But they are not, they are essential for basic living.
Imagine trying to shop for food without a fridge or a freezer at home to store chilled and frozen foods. You wouldn't be able to buy milk or fresh meats, which would seriously impact your ability to feed your family a healthy, cost effective diet.
Living without a cooker would mean takeaways and microwaved meals, which is not an affordable, or healthy way to eat over an extended period. Being able to store and cook the foods you need should be a basic human right, but many people are living through the financial, emotional, and physical pain of appliance poverty each day.
Not having a working washing machine would mean using a launderette which would put further financial strain on a low income household. Of course, you could hand wash, but hunched over a bath lifting heavy wet clothes is just not practical.
The bottom line – no family or individual should be without good working white goods in their home. Fortunately, there is help out there, and with the information provided in this article, we hope to help you find it.