Top Christmas Market Destinations In Europe
Embarking on a Yuletide journey through Europe's top Christmas markets is a tradition cherished by many. These enchanting markets, steeped in history and festive charm, offer a heartwarming retreat from the winter chill.
Each market reflects the unique culture and crafts of its locale, promising not just shopping, but a rich, sensory feast. From handcrafted trinkets, aromatic mulled wine, to twinkling lights against a backdrop of historic architecture, the journey through Europe's Christmas markets is a magical prelude to the holidays.
Budapest – Hungary
Budapest, with its blend of historical charm and festive jubilance, emerges as a stellar destination for Christmas market enthusiasts. The city dons a celebratory cloak, hosting myriad festivities that captivate the hearts of visitors. At the helm of these celebrations is The Advent Basilica, a gem that has thrice been crowned the Best Christmas Market in Europe.
Nestled in the awe-inspiring square before St. Stephen's Basilica, this market, from 24th November to 31st December 2023, encapsulates the essence of Christmas. The Advent Basilica, with its 12-year tradition, hosts around 120 domestic craft exhibitors, offering a treasure trove of handmade crafts amidst a backdrop of heartwarming programs and gastronomic delights.
Mallorca – Balearic Islands
Mallorca, nestled within the Balearic Islands, transforms into a haven for Christmas market aficionados as the festive season unfolds. The island is revered for its rich tradition of local crafts in Mallorca, with artisans dedicating year-round efforts to create exquisite items. A jaunt to Palma, the shopping nucleus of Mallorca, unveils a plethora of unique finds, perfect for the Yuletide gift-hunt.
Here, the artistry of the island comes to the fore with artificial Mallorcan Pearls, meticulously crafted ceramics and pottery, and delicate glass blown ornaments, which take a whimsical turn with festive baubles come Christmas. The varied tapestry of crafts and the festive ambiance of the markets make Mallorca a cherished destination for those seeking a blend of traditional shopping and Christmas merriment.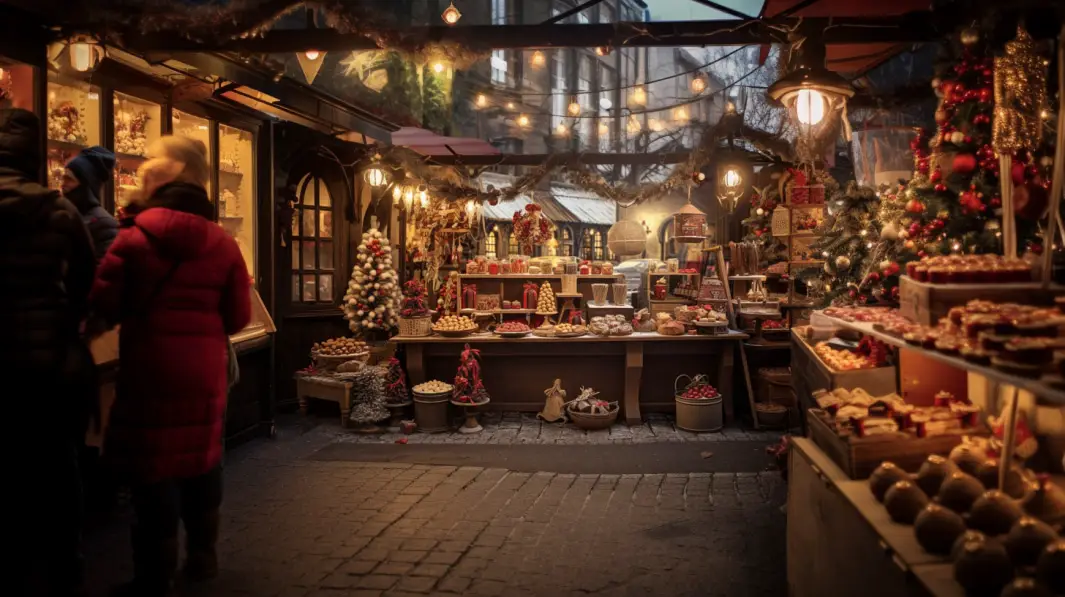 Craiova – România
Making a grand debut on the podium of esteemed Christmas markets in Europe, Craiova, România, unveils a festive spectacle filled with cultural richness and cheerful entertainment suitable for all ages. This Romanian city orchestrates a harmonious festive ambiance, with an array of attractions including an ice rink, charming Christmas cottages, and an extraordinary display of Christmas lights, considered among the most dazzling in Europe.
The meticulous planning by Craiova Municipality ensures a seamlessly enjoyable event, with various Christmas activities, markets, concerts, creative workshops, and food stands thoughtfully distributed across four different locales within the city. A radiant network of magical illuminations, boasting over a million LED bulbs, not only interlinks these festive spots but also crowns Craiova as the best Christmas lights destination in Romania, making it a must-visit during the Yuletide season.
Vienna – Austria
As the chill of mid-November ushers in the festive spirit, Vienna's quaint squares metamorphose into whimsical Christmas markets, their allure drawing both locals and travellers into a warm pre-Christmas embrace. The illustrious "Vienna Magic of Advent" market is a hallmark of tradition, casting a spell of festivity over the city hall square, morphing it into a radiant fairytale realm.
Here, the anticipation of Christmas unfurls with each quaint stall, offering a cornucopia of gifts, ornate tree decorations, delectable sweets, and heart-warming drinks. As young hearts revel in carousel rides and crafty Christmas workshops, the glittering adornment of lights upon the trees in the adjacent city hall park adds a touch of magic, epitomising the quintessential Viennese Yuletide experience.
Montbeliard – France
Nestled in the heart of Eastern France, Montbéliard shines bright on the festive horizon, being heralded among the top five Christmas markets in Europe and proudly holding the title of the most beautiful Christmas market in France.
As the season of Advent commences, the quaint town of Montbéliard, renowned for its warm hospitality, transcends into a realm of Yuletide enchantment, reviving the cherished Württemberg traditions. Housing 140 charming stalls, the market is a treasure trove of authenticity and quality, offering a delightful array of meticulously crafted items.
The enchanting illuminations guide visitors through a sensory journey as they wander the cobbled streets. The aroma of delectable gastronomic delights from Montbéliard and wider France melds with the melodious harmony of choral renditions, inviting one and all to revel in the dance of tradition and merriment that makes Montbéliard's Christmas market a uniquely captivating experience.