Christmas Gift Guide 2023
By Julia Paddon
Welcome to a festive feast for the senses with our annual Christmas Gift Guide! From the food and drink delights to tempting treats, beauty indulgences, and home comforts, this guide is your ticket to finding the perfect gift for loved ones (or even a special treat for yourself). Let the merry-making begin!
FOOD
Indian Spice Tin
A two-time Gift of the Year winner, this tin includes classic Indian spices, plus our award winning garam masala. Contains a mini recipe book and stainless-steel spice spoon and is the sustainable gift that lasts a lifetime, designed to be purchased once, filled time and time again and treasured forever.
£35 from spicekitchenuk.com
Eaten Alive Gut Health Booster Pack
This carefully selected collection of fermented products is specifically intended to promote optimal gut health. The Classic Kimchi is a great way to add beneficial bacteria to your diet. Packed with antioxidants and fibre, the Smoky Pink Kraut is perfect for improving digestion and boosting your immune system. Last but not least, the Smoked Sriracha Hot Sauce, spicy and flavourful, made with all-natural and fermented ingredients, a healthier alternative to traditional hot sauces.
£15 from eatenalive.co.uk
The Christmas Cracker Hamper
The Christmas Cracker Hamper is the perfect gift for couples who love their wine. At the heart of this gift is a bottle of Royal Road Malbec from Gauchezco Estates vineyard in Argentina, with the large signature gift box packed full of luxury treats, including mince pies and panettone.
£50 from hampers.com
Pate Gift Set
Wild and Game's luxury pate gift set contains all five varieties of their top-selling game pates, plus crunchy artisan thins from Popti Cornish Bakehouse and a set of delicious mini Cherry Tree Preserves chutneys. Perfect as a gift to a loved one or to yourself, it makes an impressive addition to a festive feast or boxing day grazing platter.
£27.99 from wildandgame.co.uk
WINE
Cono Sur Organic Chardonnay
This bright and clean Chardonnay made from organically grown grapes has a beautiful lemon colouring. On the nose, notes of grapefruit, lime, orange blossom, pineapple, pear, and quince can be found. On the palate, it is round and fresh, with nice acidity and mineral tones. Pairs best with seafood, white meats, nuts, butter and cream sauces and cheeses.
£10 from tesco.com
Cono Sur Organic Cabernet Sauvignon Blend (Cabernet Sauvignon, Syrah and Carménère)
This organic blend is a bright, clean intense ruby red. On the nose, it has a good intensity of aromas with notes of red fruits, cherry, plum and hints of chocolate, coffee, olives, spices and tobacco. On the palate, it is full, juicy and smooth with good tannins, and a persistent and fresh finish. Pairs best with red and white meats, cheeses, nuts, and sauces.
£10 from tesco.com
Sea Change Coonawarra Cabernet Sauvignon
Originating from Coonawarra, Australia, and celebrated for its Terra Rossa soil and moderate climate, the wine boasts dark berry and chocolate aromas, a full-bodied character, and a persistent fruity finish. Ideal companions include robust, savoury dishes. Each purchase contributes to vital ocean conservation initiatives, underscoring the brand's environmental commitment. This wine is suitable for immediate consumption or can be cellared for up to five years.
£19.49 from seachangewine.com
Sea Change Marlborough Sauvignon Blanc
From New Zealand's renowned Marlborough region, known for its exceptional Sauvignon Blanc this wine is crafted in partnership with a respected viticulture pioneer. It offers green fruit aromas with tropical hints, particularly passionfruit. Versatile and enjoyable now or within two years. Each purchase supports sea horse conservation and marine life protection efforts.
£19.49 from seachangewine.com
Christmas Day Mixed Wine and Prosecco Gift Box
This delightful trio will bring cheer to anyone! There's a celebratory bottle of Prosecco to pop on special occasions, a delicious Romanian Sauvignon Blanc that's clean as a whistle and has crisp citrus and tropical fruit flavours, plus a gentle and elegant Pinot Noir to unwind in the evening.
£44.99 from virginwines.co.uk
Greasy Fingers Wine
The brand-new wine Greasy Fingers is designed to unlock the shameless pleasure seeker in all of us. Crafted to pair with your favourite gourmet fast foods, the chardonnay offers hints of peaches, vanilla, and cinnamon spice with a buttery mouthfeel. It's the perfect wine to upgrade those Christmas Day leftovers.
£10 from Asda and Sainsbury's
BOOZE
Hensol Castle Welsh Dry Gin
The Hensol Castle Welsh Dry Gin is a multi-award-winning, traditional copper pot distilled London Dry gin. Made using a blend of juniper, hand-peeled citrus and a wildflower medly that's grown in the grounds of the Grade-I listed Hensol Castle, it's the perfect balance of spice and sweet botanicals.
£30 from hensolcastledistillery.com
Baileys Original Irish Cream
The famous Irish cream liqueur, flavoured with cream, cocoa and Irish whiskey is down to £10 in ASDA https://groceries.asda.com/product/liqueurs/baileys-irish-cream-liqueur/18882 & Tesco for 70cl and down to £13 in ASDA and Tesco for 1 litre. Plus, the Baileys Deliciously Light ABV 16.1% is a lighter, versatile version of the classic Baileys Original Irish Cream you know and love, but with 40% less calories, the perfect deliciously unexpected treat!
£16.50 from tesco.com
Guinness Nitrosurge
Give the gift of a perfectly poured Guinness to loved ones or even treat yourself with The Guinness NITROSURGE.The handy gadget is activated by clipping the NITROSURGETM device onto the top of a Guinness NITROSURGETM can, before pushing the button and pouring. The resulting pour is unmistakably Guinness, featuring the iconic dark, ruby red liquid, and creamy domed head.
£30 from tesco.com
MacNair's Lum Reek 10-year-old Cask Strength
The whisky takes inspiration from the old Scottish saying, "Lang may yer lum reek", literally meaning "long may your chimney smoke", which wishes someone a long and healthy life. With a hand-drawn fireplace illustration donning the label, this 10-year-old is the perfect whisky for anyone's list for Father Christmas!
£63 from thewhiskyexchange.com
Kahlúa
If you're a fan of Espresso Martini's then Kahlúa is a mixture of espresso coffee, sweet toffee, butter rum and caramel, with aromas of vanilla and dark chocolate. It's the hero ingredient in the Espresso Martini and other coffee cocktails: Baby Guinness, White Russian, and Mudslide to name a few.
£16 from tesco.com
TREATS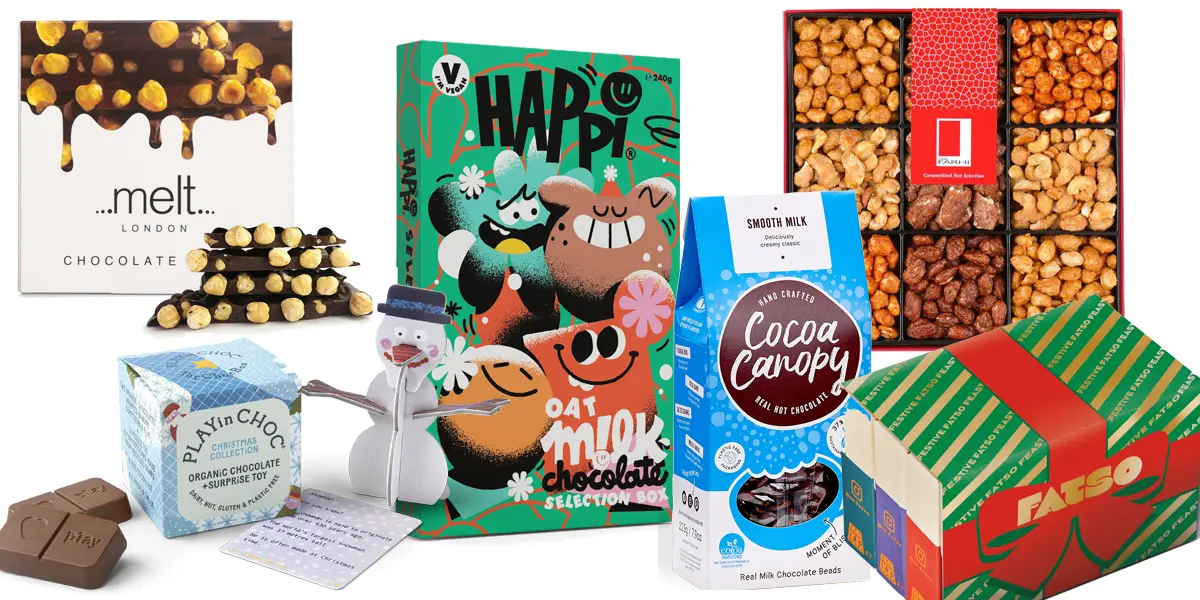 MELT Chocolate
MELT's Dark Chocolate Hazelnut slabs are made with whole roasted hazelnuts and dark chocolate – simply irresistible. Handmade in the Heart of Notting Hill by MELT's master chocolatiers the luxurious slab incorporates the highest quality organic ingredients, and is packed with exceptional flavours, designed to create a taste sensation. Suitable for vegans.
£24.99 from meltchocolates.com
PLAYin CHOC's ToyChoc Boxes
Looking for a fun and eco-friendly gift for the kids this Christmas? These boxes contain two allergen-free organic chocolates, a 3D Christmas card puzzle toy to build, and a Christmas-themed fun fact card. PLAYin CHOC is the 2023 Gold winner of Best Vegan Milk Chocolate for the 3rd year in a row, so you can be sure the chocolate in these boxes is delicious and high-quality.
Christmas Gift Set £13.50 from amazon.co.uk
HAPPi Selection Box
For fans of the traditional chocolate selection box, HAPPi has launched its Happi Holidays Selection Box, a 100% plastic-free treat that is packed full with HAPPi's Oat M!lk Chocolate treats including four delicious flavoured bars and one hot chocolate spoon. A fantastic stocking filler that everyone can enjoy.
£12.50 for 240g box from happichoc.com
Farhi Nuts
A festive treat to enjoy with family and friends is the Farhi Caramelised and Roasted Nut Selection. Presented in a smart gift box and filled with the tastiest assortment of caramel pecans, honey roasted cashews, honey almonds, salt and spicy peanuts and more. It is sure to tantalise all taste buds!
£35 from farhi.co.uk
Cocoa Canopy
Masters of wonky drinking chocolate beads Cocoa Canopy have Christmas sorted with their adventurous collection of gift sets available in 5 varieties including: Rich Dark, single origin Ecuador Dark, Milk & Dark, Salted Caramel and Smooth Milk. All varieties range in cocoa percentage from 35% – 70% and are available to purchase from Amazon or Cocoa Canopy's online shop.
£15 from cocoacanopy.co.uk
FATSO Bundle
FATSO, the rule breaking dark chocolate brand, is shaking up festive traditions with a trio of super chunky, personality-packed chocolate bars (3 x 150g), all wrapped up in one festive treat box for the chocoholic in your life.
£19.50 from sofatso.com
BEAUTY & GROOMING
Moss & Adams Bundle
If you're looking for a gift that will help them relax and unwind, this Bath & Shower Bundle is just the thing. Complete with two 500ml Body Washes and two 500ml Bath Creams, it's perfect for someone in need of a pamper. The two scents include Windermere Lake – exhilarating notes of cedarwood, lemon and spearmint derived from the depths of the Cumbrian waters, and Sherwood Forest – earthy notes of cedar, mandarin and juniper inspired by the pine forest.
£14 from mossandadams.com
GF Fabulosity Elixir
For beauty lovers, let them re-create a lush spa experience at home with this nourishing leave-in Hair and Scalp Recovery Elixir by GF Fabulosity. With ingredients such as rice aminos and Ayurvedic amla, the treatment will stimulate and increase hair growth and scalp health, leaving with you fabulous and nourished hair.
£53 from gffabulosity.com
Ginger & Lime Fiori Handcream
A fresh and zesty fragrance, where the fresh citrus notes of lime meet spicy and energising ginger to create a truly luxury hand cream.
£9.99 from fioribeauty.co.uk
MALIN+GOETZ The Essentials Kit
The brand's best-sellers travel kit is an iconic collection featuring six of their best selling hair, body and face products, conveniently packaged in travel-ready aluminum tubes to keep you feeling refreshed both during and after your travels. This is a perfect set for someone who is always on the go.
£30 from malinandgoetz.co.uk
Moroccanoil Brumes du Maroc
Infused with the brand's signature blend of spicy amber accords intertwining with sweet floral notes, Moroccanoil Brumes Du Maroc Hair & Body Mist promotes a long-lasting refreshing scent. The lightweight formula features UV absorber technology, helping to preserve and protect the hair. Enriched with vitamin E and antioxidant-rich argan oil, the mist seeks to hydrate and nourish your locks and skin.
£21.85 from fragrantica.com
Caviar Anti-Aging Replenishing Moisture Shampoo & Conditioner
Suitable for all hair types, Caviar Anti-Aging Replenishing Moisture Shampoo & Conditioner provide a luxurious cleansing and conditioning system that rebalances moisture while protecting color and improving the appearance of dry, dull hair. The result? Stronger, healthier, younger-looking hair.
£63.85 from alternadirect.co.uk
Dolma Fragrances
Vegan and cruelty-free Dolma Fragrances are a perfect fit for your friends who care about the planet and are obsessed with ethical beauty. Gift the discovery set and they can try all of Dolma's perfumes to find the perfect scents.
£32.95 from dolma-perfumes.co.uk
HOME & GARDEN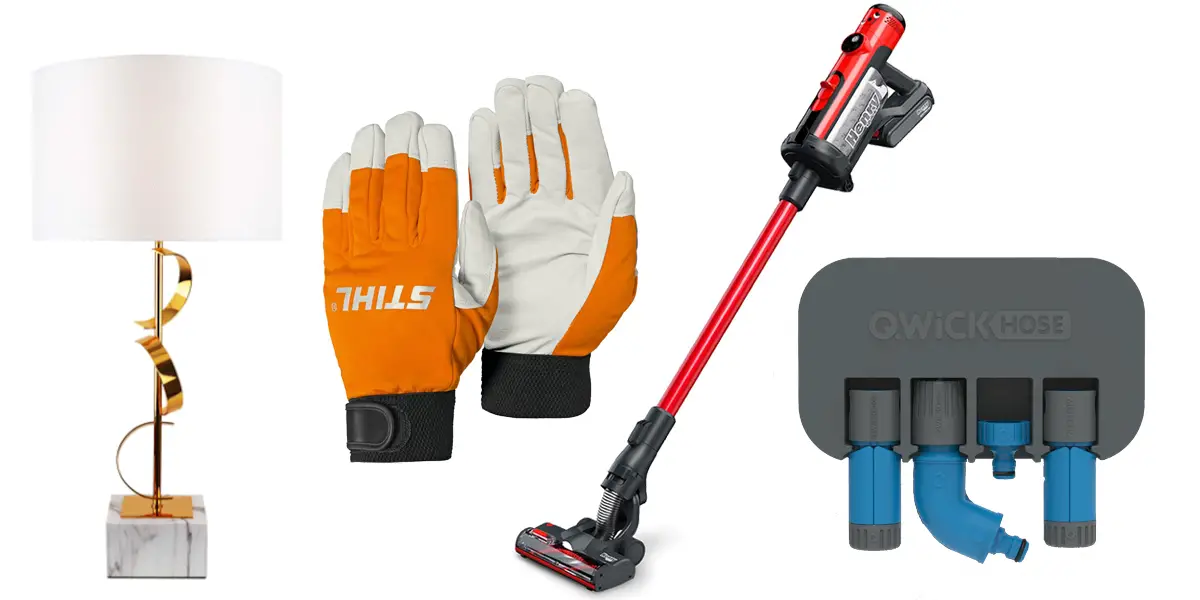 Pagazzi Design Helios Gold Table Lamp
The Helios Gold Table Lamp from the Pagazzi Design collection is an elegant 2 Light column table lamp featuring a curling crescent design in a rich polished gold finish atop a white marble effect plinth and topped with an off-white faux silk shade. Perfect for adding a touch of stylish luxury to any bedroom, living space or hallway.
£55.00 from pagazzi.com
STIHL Gardening Gloves
Perfect for all gardeners brave enough to face the winter weather, the STIHL Dynamic ThermoVent gloves are the perfect protector for a wide range of gardening tasks. Made from goatskin leather, the high-quality gloves offer better grip, and are windproof, breathable and durable.
£26.20 from stihl.co.uk
Henry Quick Hoover
Handy, lightweight, and powerful, Henry Quick is packed full of technology and fuss-free features, including a clever pod system for one-click, for dust-free emptying.
With more capacity than most leading vacuums and up to 60 minutes of powerful cordless performance, Henry Quick makes vacuuming your home easier than ever, with no dust, no mess and no fuss.
£299.99 from myhenry.com
Qwickhose Starter Set
The Qwickhose Starter Set makes an impressive gift idea for any outdoor/gardening enthusiast. Containing two award winning, Wing-Lock hose connectors, a Tap Connector, Nozzle Spray End, and a Wall-Mount, designed to house your accessories in convenient storage slots. Made in the UK and beautifully presented in recyclable packaging.
£39.99 from qwickhose.co.uk
KIDS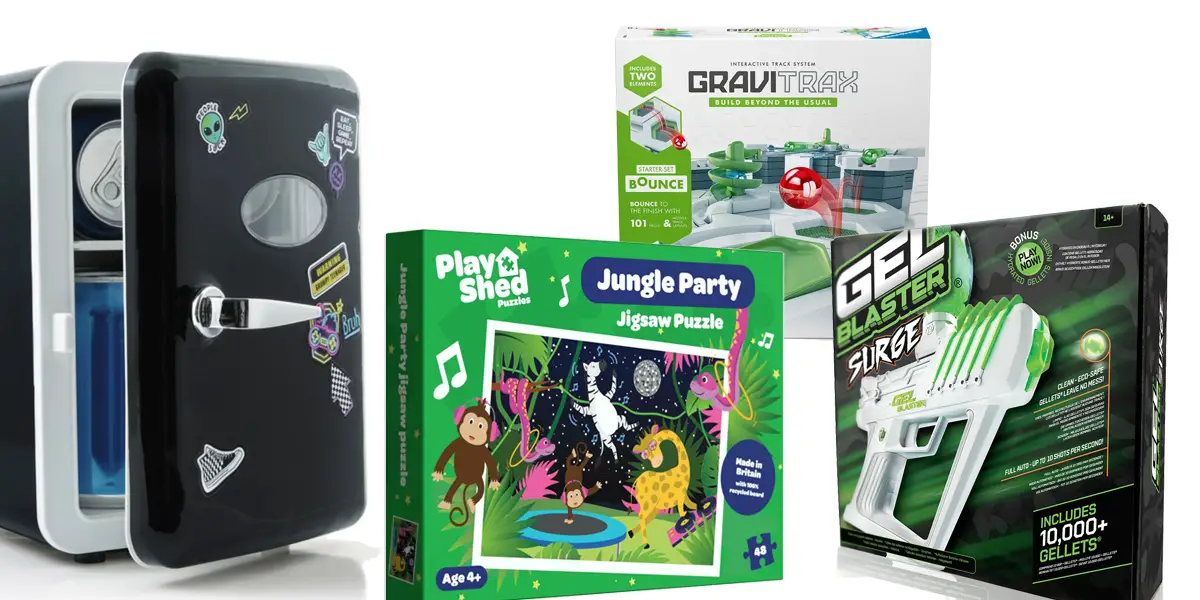 Mini Fridge
For the kid that has everything, cue the So Chill Mini Fridge; the ultimate gadget for every tween and teen looking to kit out their bedroom in style, and to chill their favourite drinks, beauty products and more. Available in teal or black, the So Chill Mini Fridge features a sleek moving handle, a vision window, a removable shelf and a door pocket. Every So Chill Mini Fridge comes with a set of cool, funky stickers so tweens can get creative personalising their fridge, reflecting their unique style & personality! It also comes with a USB power cable, making it the ultimate portable chiller for at home or on the go.
£44.99 from smythstoys.com
GraviTrax Starter-Set Bounce
Construct incredible marble run tracks with this interactive system. The set includes 101 components, including two special action elements – the Spiral and the Trampoline, which add wow-factor to tracks. Children can let their imaginations go wild to construct their tracks. A range of add-ons are also available.
£39.99 from smythstoys.com
Play Shed Puzzle
Jungle Party is a 48 piece puzzle featuring a DJing giraffe, bouncing zebra, hula hooping snake and breakdancing monkey in the jungle. Perfect for animal lovers, this fun and vibrant kids jigsaw is made in Britain with vegan inks, chlorine-free paper and 100% recycled board.
£15 available from playshedpuzzles.co.uk
Gel Blaster
Unbox your Gel Blaster and get blasting! The rechargeable Gel Blaster SURGE shoots water based beads or "Gellets" that burst on impact. This innovative blaster is ready to blast straight out of the box – fully charged with a hopper full of hydrated Gellets. Think airsoft but with no pain, stain or clean up, bring the battle to the garden, park or anywhere else you can think of.
£59.95 from currys.co.uk
WEARABLES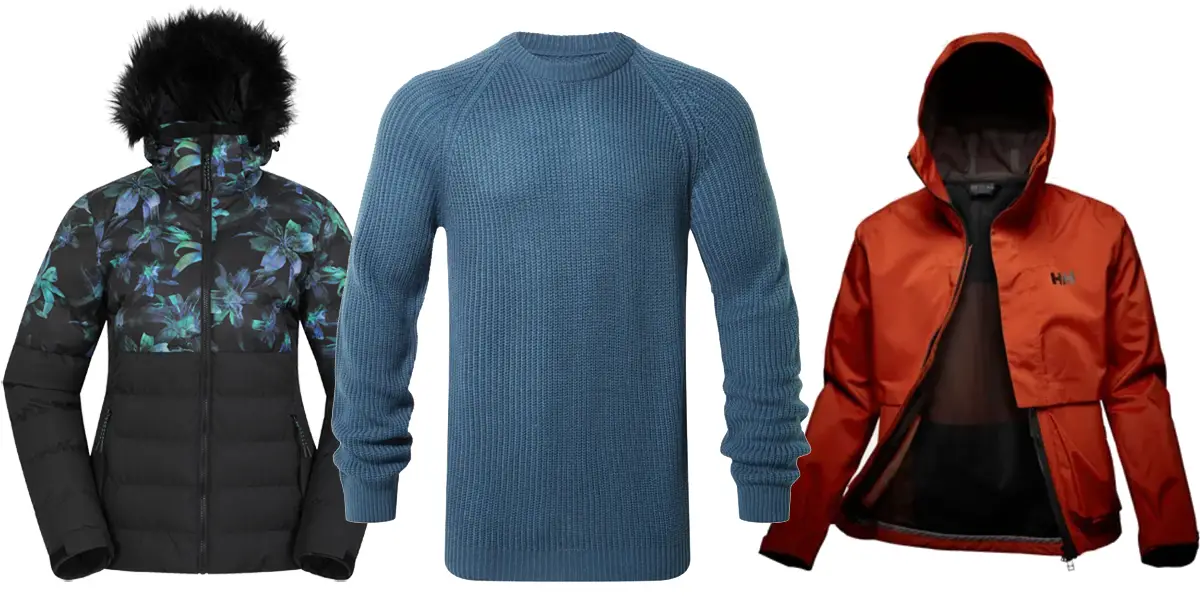 Mountain Warehouse Avalanche Womens Padded Ski Jacket
Hit the slopes in style with the Avalanche Padded Ski Jacket. Packed with features, this jacket is a great statement piece for a ski holiday. Padded for warmth, with a snowproof outer, detachable snowskirt and faux fur trim.
£169.99 from mountainwarehouse.com
Ezio Jumper
The Ezio mens jumper is a stylish addition to your wardrobe that you can confidently wear year-round. Coming in a super soft knitted texture, this jumper feels great against the skin and is a delight to wear. With a ribbed neck, hem, and cuffs, this versatile jumper gives a tailored and smart finish while being casual enough for everyday wear. Ideal for the office, meals out, and relaxing days at home.
£70 from tog24.com
Helly Hansen Jacket
The Flex Modular Rain Jacket is fully waterproof/breathable and windproof. It also strategically adapts to the urban commuter's every need. You can transform it from a hip-length cyclist jacket to a cropped jacket or a vest to suit the weather conditions and your activity level.
£370 from hellyhansen.com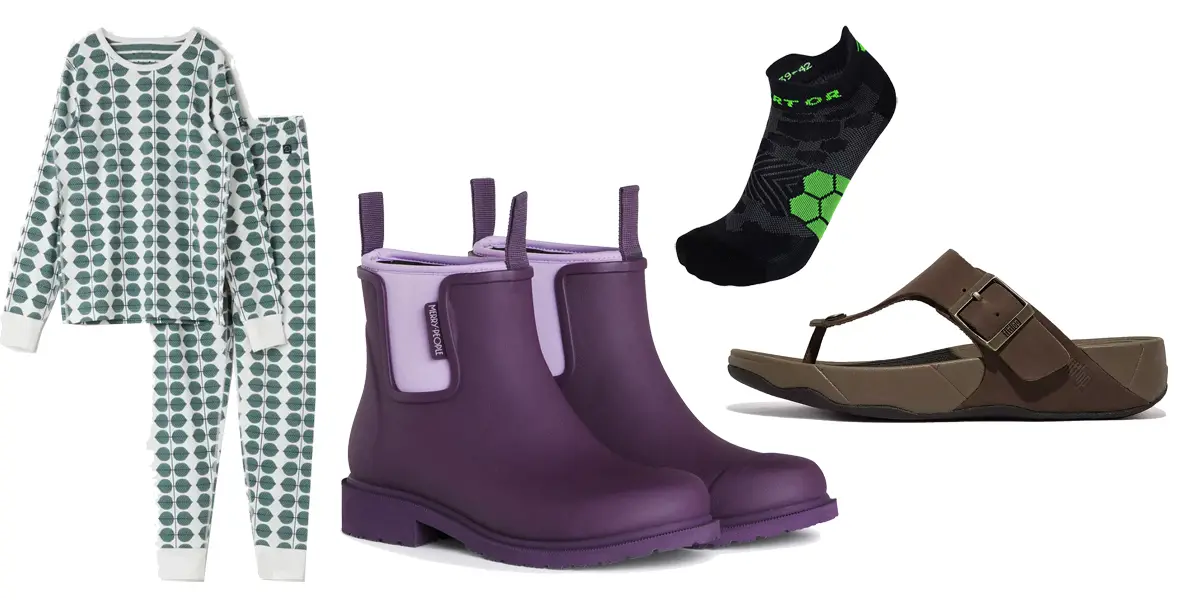 Polarn O. Pyret's Pyjamas
Make sleeping (or just lounging) comfy with Polarn O. Pyret's Scandi leaf print adult pyjamas from the brand's Stig Lindberg collection. The organic cotton fabric is light and extra soft – for relaxing sleep and sweet dreams! The cosy style bottoms have straight legs and elasticated waist while the matching top if finished with a ribbed trim.
£50 from polarnopyret.co.uk
Bobbi Boots
The perfect everyday Wellington boot. The Bobbi rain boot seamlessly blends fashion and function with natural rubber and a neoprene lining. Easy to dress up or down, wear from day to night, the Bobbi wellie is a wardrobe staple. We make our boots available in a wide range of sizes, to fit everyone – both men and women.
£84.95 from merrypeople.com
Enertor Energy Socks
No Christmas is complete without a fav pair of socks for the runner in your life! These are your must-have ultra-light, energy returning, anti-blister socks with a barely there feel. From treadmill to track to parkrun, these socks will keep your feet cool and dry with anti-microbial fabrics. Happy feet step after step. Wash and dry with ease.
£13.99 from enertor.com
Flitflop Sandals
Fitflop's Trakk II toe-post sandals are perennial best-sellers! The Microwobbleboard midsoles aid pressure-diffusion and impact reduction whilst the thick, unlined oiled nubuck feels light, soft, and moulds to your feet, so they get even more comfortable over time. £100, Available in brown or black, sizes 7 – 12.
£100 from fitflop.com
GADGETS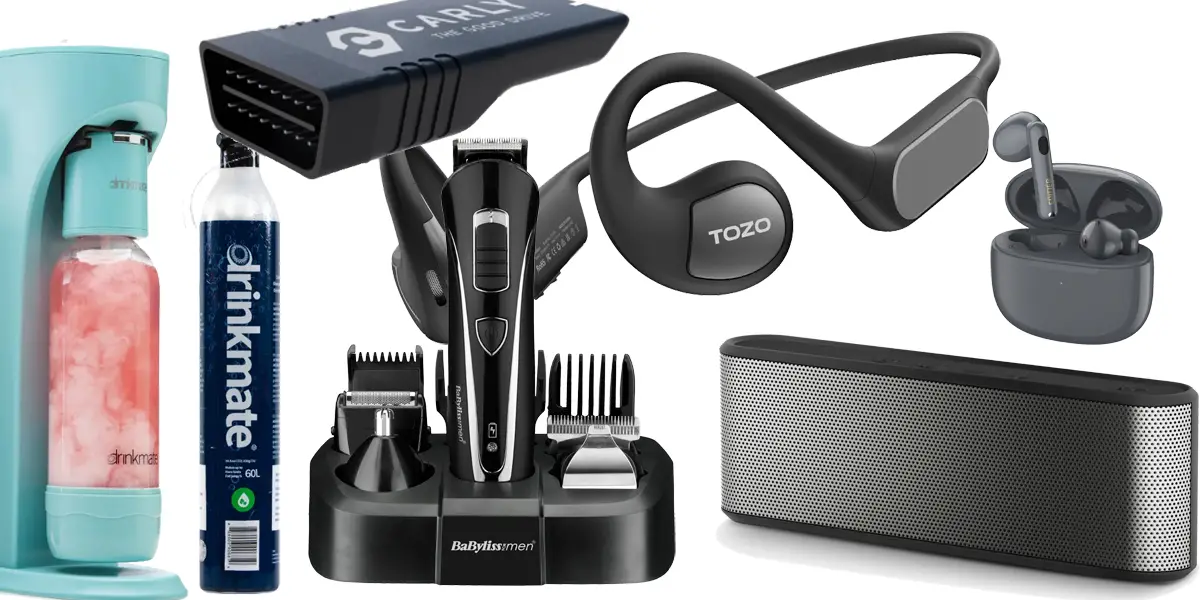 OmniFizz
This innovative carbonation system is a game-changer for anyone who loves sparkling beverages. With the Drinkmate OmniFizz, you can transform ordinary drinks into delightful fizzy creations in seconds. Whether it's water, juice, or even cocktails, this compact and easy-to-use device allows you to enjoy a refreshing burst of bubbles at home or on the go. Give your family and guests the gift of effervescence this holiday season with the DrinkMate OmniFizz.
£129.99 from drinkmate.uk
Pro Mens Shaver
The Babyliss Pro Mens Shaver is cordless with a 40-minute run time, festuring lots of attachments including trimmers, shavers & combs. Cutting lengths between 4 & 23mm – choose your look. Carbon steel blades for great cutting performance and washable blades make cleaning a breeze.
£45 from ao.com
Carly Car Scanner
Perfect for any car lovers and money saving enthusiasts, Carly is a game-changing tech device that allows users to scan their car's "health" with a sleek and simple plug in scanner and app. Likened to a "blood test for your car", the Carly scanning technology will interpret the car's data to alert the owner of any areas within their car that need their attention, which are vital to address to avoid more serious faults (and big bills!). The device can also simply be used as a tool to get to know your car better, with DIY guidance given with the "smart mechanic" feature for those who might be interested in upgrading or repairing their cars themselves.
£74.80 from mycarly.com
TOZO OpenReal Headphones
A good present for workouts in the gym or outdoor activites, the TOZO OpenReal are ergonomically designed for active and everyday use. The OpenReal keep the ear canal open – allowing you to enjoy your favourite music whilst staying aware of your surroundings. The titanium alloy neckband supports 360˚ bending without deformation for a comfortable wear throughout the day.
£41 from tozostore.com
Kitsound Speaker
The Kitsound BoomBar 30 Bluetooth speaker delivers exceptional sound, battery and stereo-pairing at an affordable price. The speaker offers up to 20 hours of listening, dual passive radiators for richer sound, stereo pairing, and TrueBass EQ mode. Available in Black/Gunmetal and Rose Gold.
£29.99 from kitsound.co.uk
The Edifier W320 TN Earbuds
True Wireless Adaptive Noise Cancellation Earbuds with AI Multimodal Adaptive System, Hi Res sound, 27.5 hours battery life and a new open fit design for an ultra-comfortable fit. The earbuds feature an advanced AI Multimodal Adaptive System that employs various sounds and algorithms to provide top notch noise cancellation, superior sound quality and clear calling capabilities and multiple modes for users to customize their audio experiences with the Edifier Connect App.
£99 from amazon.co.uk
More?
Animal Printed Metal Bottle
Stay hydrated with Animal's Printed Metal Bottle. Keeping drinks cool and fresh, it features a leakproof lid and metal lid handle so it's easy to carry around with you. Finished with a stylish print – its adventure ready.
£10 from animal.co.uk
STM Goods BagPack
Perfect for travel lovers, the BagPack is a uniquely ingenious inflatable protective laptop airbag that all stuffs neatly into its own front pocket for compact storage – unlike any backpack you have seen before. Ideal for anyone who needs a reliable, minimal and lightweight carry, it is the perfect gift for anyone who is looking to carry their gear including a laptop securely without the bulk of a traditional backpack. The inflatable laptop airbag fits up to 16" laptop and once you are safely at your destination it can simply be rolled up and stowed until needed again.
From stmgoods.com