An Interview with Simon Rix of Kaiser Chiefs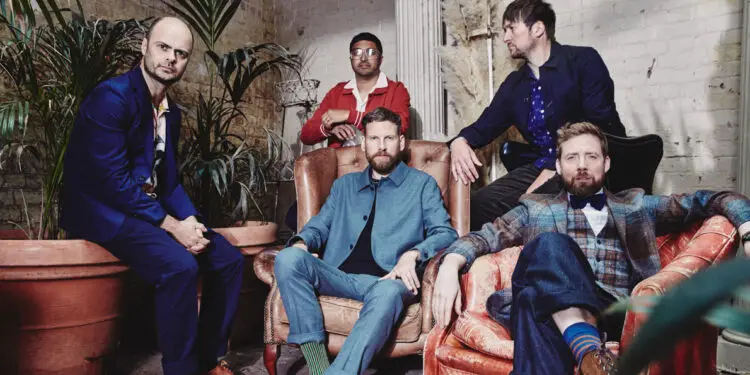 As Kaiser chiefs gear up for one of the biggest Yorkshire gigs of the summer, bassist Simon Rix (pictured centre, sitting with the band) talks to Roger Crow about lockdown, streaming and favourite tracks…
Hi Simon. What can we look forward to when you play Scarborough Open Air Theatre?
Hopefully what you can expect is something like you used to have in the past. We're looking forward to getting out there on stage and playing the songs again and interacting with an audience. That's the big thing; there's been a lot of music played during lockdown, but it's all been down computer screens or in empty arenas, whatever. So yeah, just having that relationship with the audience is going to be great.
It must be strange not to get that instant feedback from fans during a streaming gig.
It's definitely been harder. We did a gig at Brixton Academy in lockdown with no audience, and it was such a weird experience. It was like: 'Finish your song and straight into the next one'. It was actually quite hard work. The weird thing was we walked off stage and the second it finished it was just silence. It was just men undoing (computer) things. It's so weird that there was no moment of joy or whatever at the end of the gig. There was just nothing. So yeah, we are looking forward to seeing faces in the crowd. Hopefully they'll be singing along and clapping and waving and jumping and whatever else they used to do at gigs.
Has lockdown given the band a chance to be more reflective?
It's definitely been interesting for us. We were planning to do a summer of festivals last year, and then obviously that got cut short. But after that we were planning on taking a break as I think we were a little bit 'fried' from various things that happened, and making the album and stuff. So that (break) came a little bit early, but actually everyone was looking forward to taking a bit of time off Kaisers. Although it didn't come in the way we wanted, everyone enjoyed doing something different for a bit, whether that was just being at home with the kids or doing the garden. Some people were doing volunteering. And then come back to it. And we're really looking forward to doing that.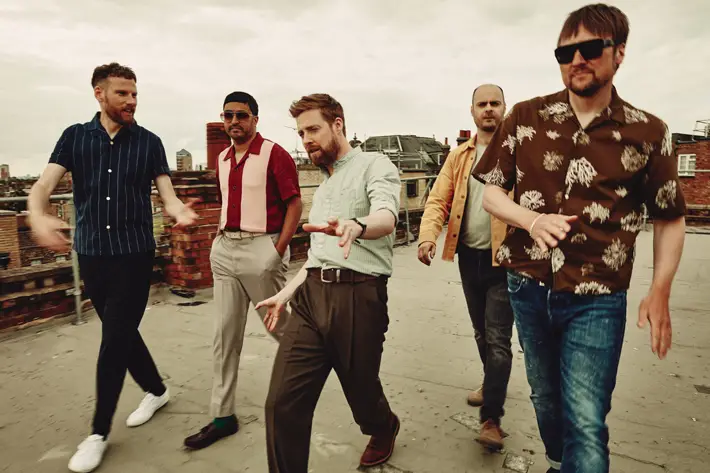 "Everything started to fall into place"
The band have given us so many cracking tracks. Have you've got a favourite?
I would say that 'Oh My God' is my favourite Kaiser Chiefs song for a few reasons. The main one is that though it wasn't the first Kaiser Chiefs song; we'd written a few songs, but 'Oh My God' was the one where we felt like, "Oh that's the blueprint song,". It's got the big chanty chorus; it's a little bit weird; there's cool guitar stuff and piano stuff at the beginning; a weird sounding solo, with slapback delay on it and stuff. We really felt like that was the first song where we were totally happy with it and thought, 'This is what the band sounds like!' And from then onwards it was all good actually. From that stage onwards, every time we did something… a gig, we released 'Oh My God' as the first single, which was a home recording… and got interest. We got a manager. It just seemed like that was the starting point where everything started to fall into place.
Was it weird when you saw those first TV adverts for debut album Employment in 2005?
When we started Kaisers, although we were obviously giving it our all, I don't know that we thought we were going to be mega successful. We started off quite small and even with a song like 'Modern Way', which became a really big song, we were still getting turned down by labels. We got turned down for festivals. It wasn't all good news every day, but we just thought we were on the right track. Finally, about two years after we started the band, for Employment to be massive, and it was proper ridiculously big, it was a shock but it also felt like validation I guess.
Did the band have that 'difficult second album' syndrome in terms of writing fresh songs or were many left from the Employment era?
We had nothing really. All the sort of little songs we had on Employment had become B-sides. At that time in the music industry you were doing like two vinyls, and two CD singles and all sorts of stuff. Every time you released a song you were releasing six B-sides or something crazy, which sadly don't exist anymore, which is sad because I think you can experiment more with the B-side. So when we started writing for the second album, we left ourselves with a bit of a problem, but we quickly wrote a lot of them. 'Ruby' was actually the last song we wrote. We had finished the album, and right at the last minute we wrote 'Ruby', and the rest is history!
I'd love to see your work in other mediums. Would you ever think of working on a film or maybe even a jukebox musical?
I'm not sure really. A musical… maybe that's something for a lot later. We did a DVD that was totally wild called 'Enjoyment', and it's Monty Python sort of weird with lots of gig footage in it as well. We're always interested in doing other stuff, but we've been working so hard on band/gigging or making a record that we don't really have that much time for extra curricular. I don't know how everyone else fits it in.
Kaiser Chiefs play Scarborough Open Air Theatre on August 8