An Evening With Bruce Dickinson – Review – Bradford St George's Hall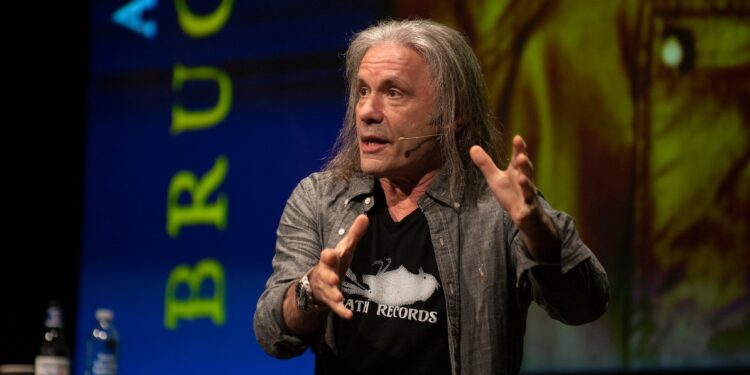 By Victoria Holdsworth, August 2021
It's a sell-out crowd in a rainy cold Bradford on a Thursday night, but I am spending the evening with Mr Bruce Dickinson from Iron Maiden. Tonight's audience is made mainly of gentlemen of a certain age, and there is the distinct smell of a certain aftershave and well-worn Berghaus boots in the air. As the lights dim, there's a short montage of photographs which depict Bruce as an entrepreneur, musician, fencer and pilot.
A bottle of Trooper beer sits on a very wobbly table on stage, as Bruce bounds out to rapturous applause, full of enthusiasm and gusto.
He greets his crowd and tells them a quick tale about the last time he was on that very stage, which involved an acid trip and somebody called Andy.
There is a rather unflattering photograph from Bruce's youth on the overhead projector, with something unsightly smeared across the top lip on the picture. Bruce informs us that is not his hideous bum fluff of a moustache, but blue crayon, drawn over the top, to see what he would look like with a proper tache. He takes us back to his birth, which by all accounts was his first conflict with authority figures, as he was dragged out. By all accounts, his mum was about 16 when she brought him into the world, well…Worksop. Maybe it is his birthplace of Nottinghamshire that lends to the Robin Hood persona that he exudes.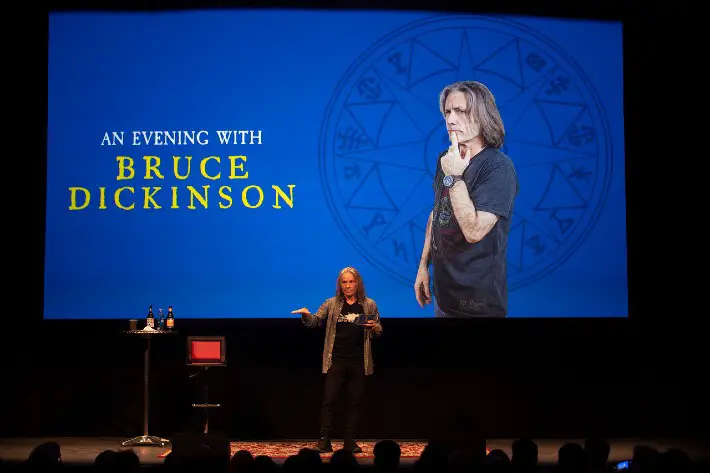 "Life was very unconventional"
He does seem to identify with everything Yorkshire, and it still amazes him that Yorkshire folk know the boundaries of their county to the exact millimetre.
From a young age, his life was very unconventional – especially for the times. His parents left him in the care of his grandparents, as they ran off to join the circus with a performing dog act. It is clear that even though things must have been tough for young Bruce, he realised from a young age the idyllic values of his childhood far outweighed the material, and he was clearly loved.
His grandfather and Uncle John seemingly had the most influence on him with regards to his love of aviation. The enthusiasm they instilled in him is still evident today, as his eyes light up as he talks about the subject.
But it was not long though before this 'perfect' boyhood world was about to be turned upside down again, when his parents returned and announced that they were going to take him and live at Sheffield's Manor Top. Bruce explains that his parents, after giving up the big top life, worked their fingers to the bones to save enough money to send him to boarding school, in the hope it would provide him with more opportunities in life. Bruce says that he found this hard to deal with, and again it was another fight with authority. However, after thinking about it, it did mean that he would be on his own, away from home, so he agreed to go.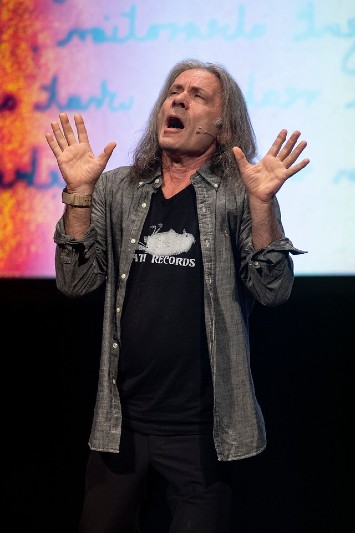 "Fight back"
It is safe to say that Bruce did not really take to life at boarding school, as he describes some fairly horrific sexualized beatings from house masters, and his ever increasing fight back against authority continued, including having two tonnes of horse manure delivered to his house master's front door step. Bruce also urinated in his evening meal, which he ate, and was then finally expelled for.
At school, Bruce had always wanted to be a drummer, and he reminisces about his first ever band, including himself on bongos, a bassist who knew two and a half chords, and a guitarist who had managed to learn half of 'Stairway to Heaven' and a singer from the school choir. Ther first rehearsal saw the singer being sacked off and Bruce emerging from his horrific bongo playing to sing 'Let It Be'. This promptly resulted in him being appointed new lead singer, only to have the band split five minutes later at break time.
Whilst this short brush with singing may have set a blue touch paper smouldering in his psyche somewhere, Bruce did actually go on to complete his schooling at King Edwards in Sheffield and then go to university to study Modern history, a concept he still finds ironic. Whilst living his student days out, he dabbled in a few musical ventures, however it was his performance as entertainments officer for the student union that raised a chuckle, as he explained how he blew the entire entertainments budget to hire Ian Gillan to play there to a small crowd of him and his friends.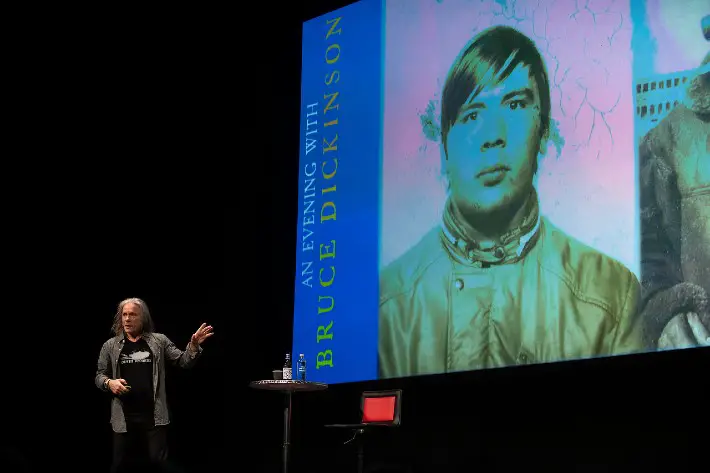 "Countless illegal issues"
It was whilst playing a gig with his band Shots, at a particularly unpleasant gig in Gravesend that he was approached by three guys in a band who were looking for a singer.
They wanted Bruce, making him an offer he couldn't refuse, so he quit on the spot and told them he could attend his first rehearsal, however not for a few weeks as he had to finish his exams to get his degree, to which they agreed and Samson were now complete.
Against a backdrop of some questionable photographs of Bruce throughout the years, he continues to wax lyrical about his days in Samson and each of the unique characters which made up the group.
There are many funny stories about their stolen Granada tour vehicle with a plastic goose gaffer-taped to the roof, crazy gun shop shenanigans in Scotland and countless legal issues, which ultimately led to the demise of the band and the slow destruction of their tour manager Brian, through a drug-fuelled haze.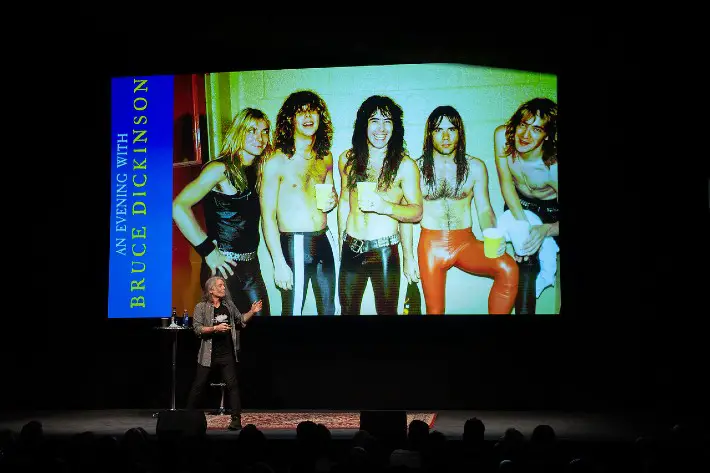 "Darkly funny"
There aren't too many Iron Maiden stories tonight, as most people in the audience know pretty much everything from the first chord they ever struck as a band, but he does tell a few stand out moments for him, from the crazy Polish security guard they had with a thirst for blood, and whatever you do, do not ask for a Blue Danube.
One stand out moment, accompanied by some cracking photographs, was the Rock In Rio gig, which Bruce explains was a sh*t show from start to finish with regards to organisation. Unfortunately for Bruce, he doesn't really remember much of the gig because of all the stress and poor sound, causing Bruce to come off stage and smash his guitar and have an absolute tantrum, resulting in him smashing his axe into his face and spurting blood everywhere.
Some more photographs now, with Bruce trying to explain his fetish for wearing really dodgy trousers, throughout his Iron Maiden career, including an alien lizard jump suit, making him look like a really weird musketeer. The red PVC pants are a sight to behold, and would make anyone blush, including our host.
Bruce knew he had made it though, when he finally met the Queen. Standing in line to meet her, next to Roger Daltrey, she asked him what on earth heavy metal was.
He briefly skips over his work as an airline pilot, and then discusses his Sarajevo documentary, before addressing some darkly funny accounts of how his cancer and treatment affected his life, and through the before and after pics, we can see the struggles that he faced, including his beard falling out in a pub, leaving the dreaded sh*tty moustache behind, much to his dismay.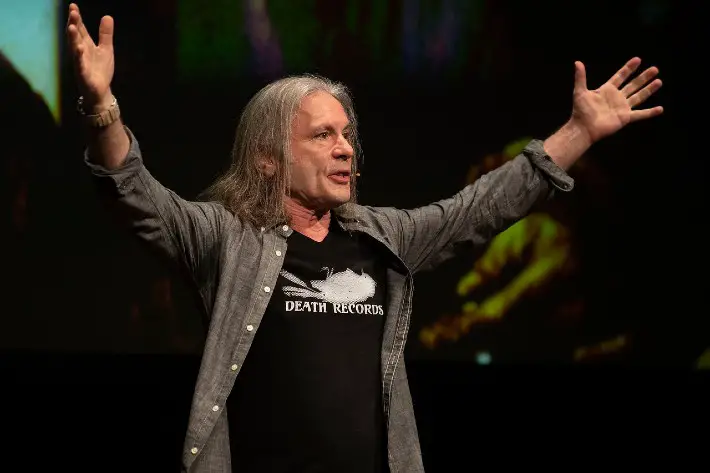 "Completely geeked out"
Before we break for the interval, the large overhead projector treats us to the new animated video for the new single, 'The Writing On The Wall', taking its inspiration from the story of Daniel from the bible, and a Covid binge watched Sons of Anarchy. The whole film is in surround sound and is a masterpiece, worthy of an oscar.
The second half is a Q&A session, from questions placed on cards upon entry. Bruce bounds back on stage, clutching a handful, as he swigs through another bottle of Trooper, which was curiously not on sale at the bar.
Most of the questions fielded at him tonight definitely reflect the age and gender of the audience, with countless enquiries about planes, and flying, and also how he dealt with cancer.
The few stand out questions were, 'Did he think that Iron Maiden could take on the task of Eurovision now, especially after doing the Sarajevo documentary?' 'How big is your cock? Is it as big as Eddie's?' 'Can you do the splits?' to which his reply was, "Once!"
Bruce was asked about his most favourite plane that he had flown, to which he completely geeked out, in amusing fashion, about the Lancaster Bomber he had flown, and what it had meant to him, given the history of the men who had flown it before him, which was very touching.
One of the funniest questions posed to him tonight was, 'Steve Harris once called me a c*nt, when you were there. Was he right?' to which he just fell about laughing.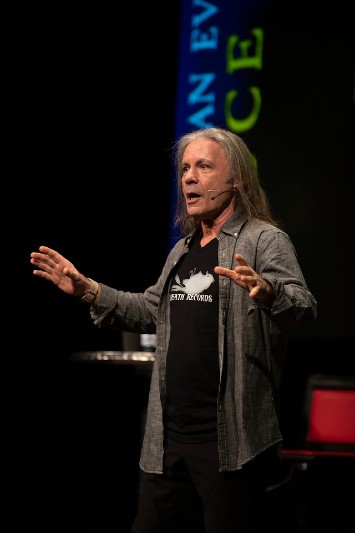 "A desire to no longer waste any time"
It was really interesting to know that their plane Ed Force 1 was used to facilitate flights to and from war-torn countries and to provide assistance of aid where needed alongside the RAF. Bruce explains that sadly he didn't fly on most of those missions, but he does find it funny that people thought he did.
He explains that having cancer has taught him that he has a desire to no longer waste any time, and his approach to singing has also changed since he had it, alongside his voice changing with age. Bruce also warns us that some of the stories of him having cancer will not be pretty, but he will try and make them funny, and you would have to as it involved an impacted bowel and a teaspoon, while watching cricket. A word of warning from the enigmatic frontman is to never eat brown lemons.
When asked about his ultimate fanboy experience, he quickly steers directly to Ian Gillan, and not for the first time this evening. Upon his arrival at the studio, to listen to the album they had just cut; Bruce a little worse for wear saw Gillan and promptly had a beer and weed-induced whitey and emptied the contents of his stomach, spending the next 30 minutes with his head in the toilet. At which point Gillan kicked in the door and dragged him out by the scruff of his neck, threw him in a taxi and sent him home, and as Bruce states, he has never let him forget about it all these years later.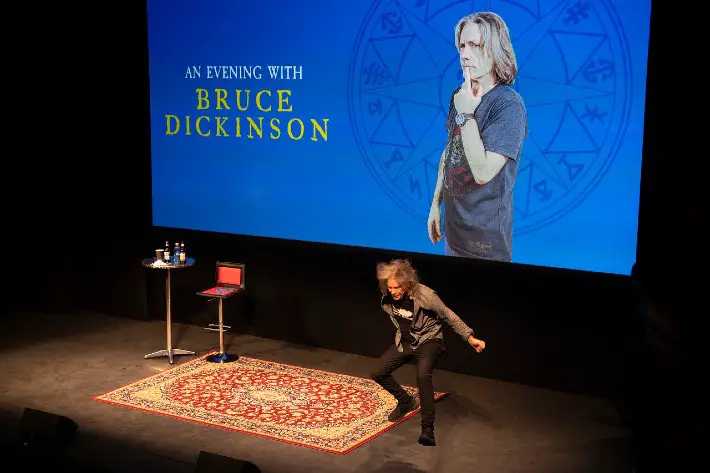 "A thoroughly enjoyable evening"
When asked about his scariest ever moment in a cockpit, he throws his fellow bandmate, Nicko Mcbrian under the bus, and says it was definitely having to fly with him. The story was hilarious and his impression of Nicko is second to none.
Bruce's favourite Iron Maiden tune he has never played live? Who is his favourite Doctor Who? What else does he have in the pipeline? Well if you watch this space, Bruce does have a new podcast coming out, but it's not what you might think. Going down the same route as Ruby Wax, he has teamed up with some noted psychologists, and will be delving into the world of the mind, with one of the episodes asking, 'Is Bruce Dickinson a psychopath?
Leaving us on a mad Maiden moment, he belts out by request a few bars of 'Gates Of Urizen', which really shows his vocal strength. You can feel it vibrating the air in front of your face, and yes his voice has changed over the years, but it has become richer and more refined.
He takes a bow and slips from the stage as Iron Maiden blasts from the sound system in the hall. And the buzz from the audience was electric. A thoroughly enjoyable evening, from a host with the most.
Images: John McMurtrie