Will Any Gentleman…? (1953) – Film Review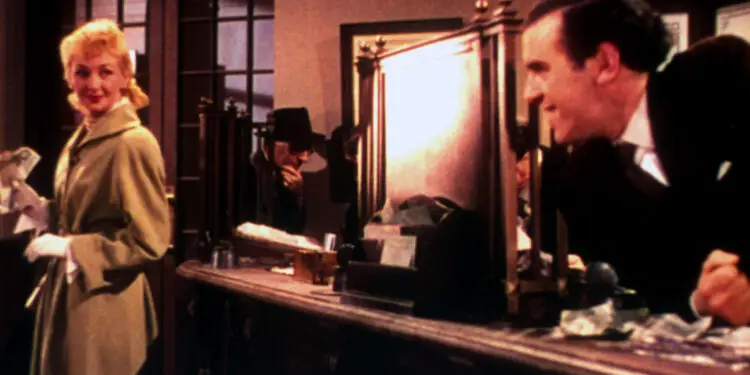 Director: Michael Anderson
Cast: George Cole, Veronica Hurst, Jon Pertwee
Certificate: U
By Sarah Morgan
Mention William Hartnell and Jon Pertwee in the same sentence, and what springs to mind?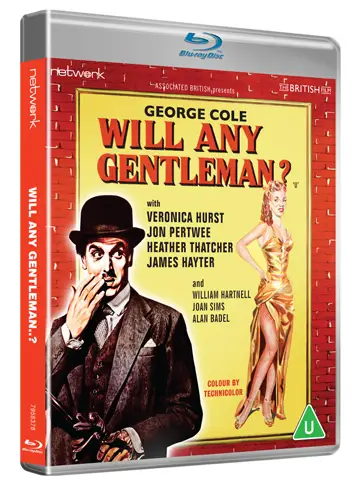 Well, if you're a fan of a certain Time Lord, chances are it's Doctor Who. Pertwee (incidentally, my favourite Tardis incumbent) and Hartnell both played the character and popped up together in 'The Three Doctors', which opened the show's 10th series in 1972.
"Rather stagey"
Almost 20 years earlier, the duo also shared the screen in a very different project, directed by Michael Anderson, who later gained fame by helming The Dam Busters, Around the World in 80 Days and Logan's Run.
Will Any Gentleman…? is a farce based on Vernon Sylvaine's 1950 play of the same name. It still seems rather stagey too, with much of the action taking place in the same two settings – a theatre and the home of the main protagonist, Henry Sterling.
Henry (George Cole) is a mild-mannered bank clerk who appears to spend much of his time keeping his bossy wife Florence (Veronica Hurst) happy or bailing out his troublesome brother Charley (Pertwee).
However, his life takes an unexpected turn after he's hypnotised by The Great Mendoza (Alan Badel). Suddenly, all Henry's inhibitions disappear and before long he's making a pass at a housemaid (Joan Sims) and absconding with a large sum of money from his employer.
"Frantic"
Hartnell pops up as a detective investigating the theft and Mendoza who, it seems, has been playing similar tricks on other poor, unsuspecting folk.
Will Any Gentleman…? is rather dated now, and although Cole, by then a seasoned comedy campaigner, is fine in the lead role, it's the dashing and athletic Pertwee who really catches the eye, particularly during the grand finale, in which he chases around the backstage of a theatre in the hope of finding the one fellow who can turn his brother back to 'normal'.
It's all a bit frantic and very silly, but the film is nevertheless something of a curiosity piece, and not just because of the Doctor Who connection – British comedy fans will be thrilled to see Sims alongside Sid James and Peter Butterworth, who both have small roles here, long before featuring together in the Carry On movies Up the Khyber, Camping and Abroad.
Will Any Gentleman... is released on Blu-ray by Network, £17.99