An Interview with Nigel Barber
by Roger Crow / @RogerCrow
Actor Nigel Barber has spent decades working on stage and screen. He talks about new movie The Host; recovering from Covid–19, and memories of working on stage hit Funny Girl and blockbuster Mission Impossible: Rogue Nation…
Nigel, how are you?
Unfortunately I picked up a bit of the virus, and it took me a while to get back on my feet again. I had one of those 'man flu' things, and it got a little bit out of hand. I had trouble breathing, and I was taken to the emergency (department) where I live. I have the Covid–19 antibodies in me now, so I feel very good about that, so bring it on. I'm ready to go back to work. And thanks for the NHS. Absolutely brilliant.
I enjoyed your new film The Host. What are your thoughts on it?
I really like the 'newness' of it. People say it's a homage to Hitchcock. I think it's a homage to any great storyteller. It was the first feature for the director, Andy Newbery, and working with people from McFly (Dougie Poynter), and Derek Jacobi was great. Plus, the opportunity to work in two incredibly beautiful locations, Amsterdam and London. What eye candy for a film that is.
Presumably on independent films like The Host and Yorkshire-made Mad To Be Normal, there's more of a chance to collaborate than an epic like Spectre?
Yes. One would never go up to Sam Mendes on a Bond set and say "Hey Sam, I've got this idea". But you can do that with independents. They give you a little bit more space for contribution. Which is really lovely from an actor's point of view.
How was it working on Mission Impossible: Rogue Nation?
Writer/Director Chris McQuarrie was very open. He used to be an actor and he knows about the actor's process. The two big scenes I had, the opening and closing scene, is based on my interpretation of the character. So you can't say that all franchises are restrictive. It depends on the meat and potatoes of it. I mean Tom (Cruise) is so open; such an incredible human being. And to be working with Alec Baldwin and Jeremy Renner as well. Those guys are so fantastic, and JJ Abrams co-producing; he is quite an adventure. So I was lucky to fall into that one. I've been on some independent films where you're not allowed to leave the dressing room until you're told to, so there's not really a general paint brush that covers everything.
"I'm not gonna go and sit in my trailer"
I am obsessed with Rogue Nation. Why do you think it worked so well?
There was something about that that had a little bit of everything. A really great cast, the editing was spectacular. I can't believe that Washington scene. We shot that in North London at Warner Brothers, and they made the set for my character. I walked on the set and JJ Abrams said to me: "We rewrote your scene". I said "Okay". (JJ added) "But don't worry about it because we've got these big cue cards for you." I said "O…kay, I don't think so". So I went back to my trailer and I learned the lines. Because they are using these big cameras, you can see when someone's moved their eyeline to read the script. When I'd done my takes, JJ said: "Okay, we're going to do reverses now. You can go back to your dressing room. We'll get a stand-in to give Alec the eye line". I said: "With all respect, this is one of the biggest franchises in the world. I'm not gonna go and sit in my trailer". (Laughs). So I worked with Alec on that. Not that I had any dialogue, but we became best friends on the shoot. I enjoyed the stage production of Funny Girl as well. I'm very lucky to be able to go across the different genres. I was offered an audition to do Ziegfeld on the national tour of Funny Girl opposite Sheridan Smith, and I didn't know Sheridan at all. I hadn't seen Cilla, or Mrs Biggs that she did with Jeff Pope. And I said: "I don't know. A tour at my age?" I was 68 then, I'm 70 now. My agent said: "This will be really special for you". It turned out to be one of the best experiences of my life. It was just incredible going to 22 different theatres. In Ireland, Wales, Scotland, England. It just gives you the reason why you do theatre. Working opposite Sheridan Smith… What a generous gifted performer. Very, very special for me, and I really enjoy the experience.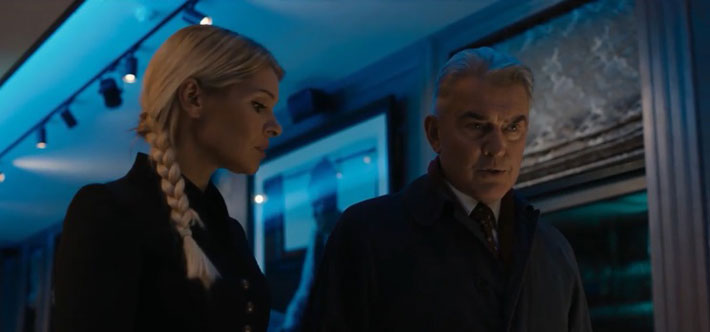 What are you working on next?
Right now I'm waiting. I've got a film called Let Go. I play the father of a young American writer that comes to England to follow a love interest. That's going to be as soon as we get an opportunity to go ahead. I'm also doing a sci-fi called Alien Shadow, that's also waiting for the logistics of filming to go ahead. I did a film last year in Belgium with Joel Kinnaman called The Sound of Philadelphia, and that needs to be released. And I did a 10-episode Swedish drama called 'The Age of Hamilton'. I played the bad guy in that one, and I've been doing a lot of voice-over work. But right now I'm enjoying being in the garden and walking the dogs. It's such a privilege to not only work in this industry but make a living in this industry. And I certainly don't take that for granted.
'The Host' is out now on iTunes, Amazon Prime, Google Play, Sky Store, Apple TV, Microsoft Movies and TV and Fandango Now