Lockdown Fuel Price Crash – Huge Drop in Fuel Prices for the First Time Since 2016
Petrol prices have dropped to the £1 price mark across the country for the first time since 2016.
Scrap Car Comparison, the vehicle price comparison site, has compared average reduced fuel prices nationwide and what drivers can expect as UK lockdown continues.
According to recently published government figures, UK petrol and diesel prices are continuing to decrease. Compared to this time last year, petrol has dropped 19.9p per litre and diesel has dropped 20.5p per litre on average.
The price reduction comes as a result of the coronavirus (COVID-19) pandemic outbreak. Since late 2019, oil prices have fallen as demand dries up across sectors and industries worldwide.
Despite current low fuel prices, the number of drivers taking advantage of cheaper fuel remains limited, due to strict government guidelines in place for when travel in permitted.
At the time of writing, UK road traffic is around 58% lower than February, whilst air traffic is down almost 90% when compared to this time last year.
Fewer vehicles on the road has led to less money spent at petrol pumps. Fuel retailers across the UK have been selling a fraction of the fuel they would have usually sold within the past six weeks.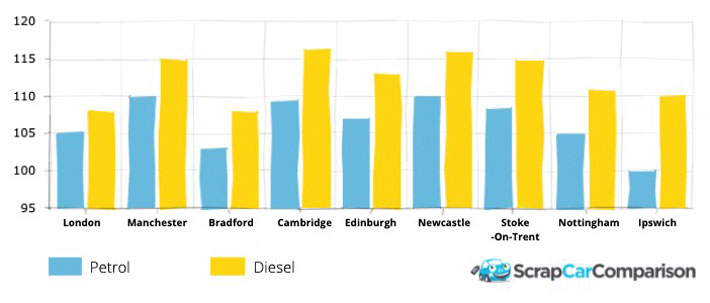 Average fuel prices across the UK compared
Figures from Scrap Car Comparison London reveal the biggest variance in fuel pricing. At the time of writing, the cheapest fuel in South London cost 102.7p per litre and the most expensive fuel in the East End cost 112.9p.
In comparison, the team at Scrap Car Comparison Manchester found tighter knit figures from 102.9p – 103.9p, with fuel prices not dropping below 99.7p.
Dan Gick, founder and owner of Scrap Car Comparison, said, "These are unprecedented times, and with this comes a price crash in fuel which we haven't witnessed for four years.
"This is due to big players such as airline companies, industrial corporations and transportation sectors dramatically dropping their need for oil and fuel, as the majority of flights were grounded and businesses across all industries were forced to close.
"We don't know how long this reduction will last, but our advice to you is to take advantage of these low prices and fill up your tanks on your next essential journey!"
Scrap Car Comparison experts predict it is likely that fuel prices will continue in this downward fashion, with potential for prices to fall even further. If this occurs, petrol could drop to under £1 per litre and diesel could fall to 102p per litre.
This downward trend will depend on the timeframe around the easing of lockdown measures.
Find out more information on lockdown fuel prices across the country here.