An Interview with Dom Joly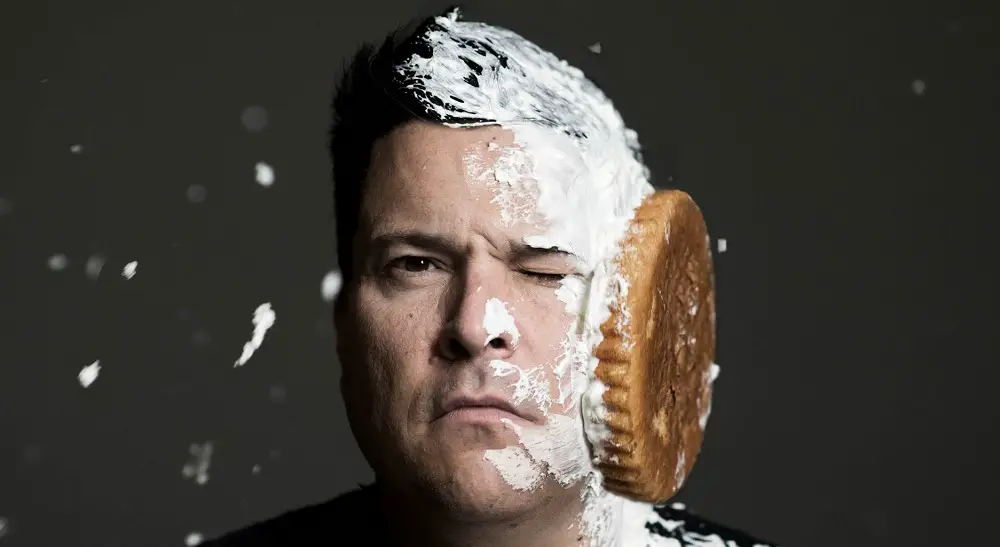 Dom Joly's career so far has been defined by one of TV's most gloriously silly shows, but these days he spends at least half his time as a travel writer and columnist – he talks to Sheena Hastings.
Looking at Dom Joly's most successful TV tricks – pranking the unwary on the streets of London, dressed in a series of animal costumes, as a traffic warden, a Dutch tourist asking nonsensical questions from a bad phrase book, or a giant snail on a zebra crossing – it's rather a surprise to hear that these days he lives a bucolic life in the Cotswolds.
The star and co-creator of Trigger Happy TV, a hidden camera urban guerilla show that took television (in 70 countries) by storm back in the 90s, has for the last 12 years been settled with his Canadian wife Stacey and two children in a leafy Gloucestershire village. He loves being the country squire.
Joly has just acquired a rescue pig called Wilbur. "Someone living in a flat thought a piglet stayed small, but it grew. He hangs out with our dogs thinking he's a dog. He's quite grumpy, and some people say he's me but in pig form.
"I'm still an incomer in the country and probably always will be, especially as my kids sound like they come from East LA because of the kind of TV they watch," he says.
"I hated the BBC"
While the family gets on with life, these days Joly spends around half the year globetrotting, making travel shows for TV or writing about far-flung places for books and newspapers.
Being an outsider suits him. He feels all creativity is quashed by being sucked into a huge corporation by like the BBC. He landed a lucrative three-year contract at the Beeb off the back of THTV. But it didn't work out and the two parted company.
"I hated the BBC," he says. "I'm good at puncturing, kicking and having a pop at big organisations. By accepting a deal with them I became an insider and couldn't 'have a go'. I'm much happier when I'm outside all of that and hungry. It makes you sharper."
The world may think of him first and foremost as a funny man. But comedy didn't come into his life until he was 30 (he's now 47). Before that he studied politics, was briefly a diplomat, then a political journalist.
Born in Beirut and sent to boarding school in England, Joly has a great interest in Middle Eastern politics. He recently popped up on Sky News discussing the plundering of Palmyra. His newspaper columns graze across subjects as disparate as the state of comedy and the death of the Amazonian rainforest. He's also a Save The Children ambassador.
"It was frightening and I just wanted to get away"
He says he's only ever looked upon comedy as a means of bankrolling the writing and travel TV shows, such as Dom Joly's Happy Hour.
Looking back through a varied and sometimes disastrous showbusiness career in his entertaining new volume of autobiography Here Comes The Clown, Joly recounts how the show that 'made'  him almost didn't reach the screen.
While out and about in London, filming sequences in the guise of the Dutch tourist character, he was suddenly seized by a terrible anxiety attack. He'd had milder attacks since his teens, but this was much worse.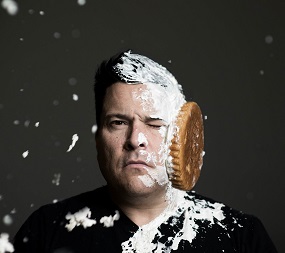 "It was a difficult experience to describe, a sort of floaty feeling, almost a disassociation with reality, an out-of-body experience. Like having a really bad, paranoid trip but without having taken any drugs.
"It was frightening and I just wanted to get away. To run away and hide in my flat where I felt safe."
A doctor diagnosed clinical depression and advised him to go to hospital. But Joly refused and was prescribed antidepressants.
He hid under the duvet for a couple of weeks. Filming ground to a halt. Channel 4 were about to pull the plug on the series when he dragged himself out of bed. He's still on a very low dosage of the medication, and hasn't suffered an attack since.
"The plan is to have a go at life in modern Britain"
He says he's off to re-conquer America (having done it once before, when THTV took the world by storm). He's hoping to make a travel show in the US based on his book The Dark Tourist: Sightseeing In The World's Most Unlikely Destinations.
"I'm known in the States for Trigger Happy, but I'm not pigeonholed by it," he says. "Comedy is interesting, but it's not what gets me up in the morning."
Maybe not, but he has an undeniable and inescapable gift for it. He's not quitting the UK, and fans of the madcap world of Trigger Happy TV will be delighted to know that a new series has been commissioned by Channel 4.
"This time the plan is to have a go at life in modern Britain. Rather than weird and silly sketches like before."
While all of this is in the pipeline, Dom Joly may be seen floating above the Cotswolds in his new toy. It's a hot air balloon. It's the perfect way for an outsider to observe the world.
'Here Comes the Clown' by Dom Joly is published by Simon and Schuster, £18.99.