Valley Gardens Art Display a Must-See Attraction in Harrogate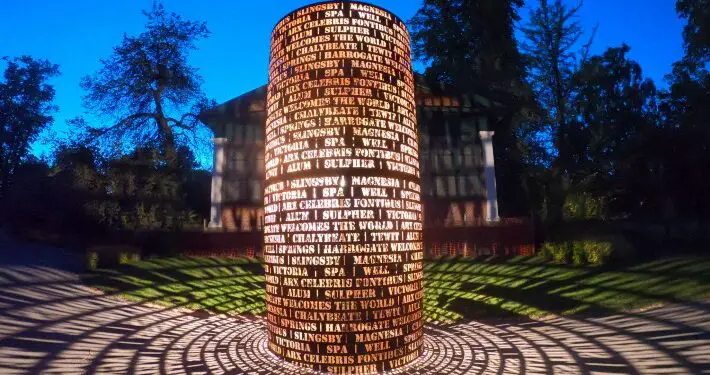 A dazzling art display unveiled last September to celebrate Harrogate's spa heritage, is once again proving a must-see attraction within the town's Valley Gardens.
The steel roundel, was commissioned by Harrogate Borough Council.  It was delivered by Harrogate International Festivals and unveiled ahead of the arrival of last year's UCI World Cycling Championships.
Made by Eddie Roberts from Cult-Ore and brought to life by Yorkshire lighting expert James Bawn, from Element 3 Design, it formed part of spectacular three-night, 3D art installation. That saw 36 wells within the town centre park – together with Harlow Hill Water Tower – lit with light shafts.
"Celebrate"
Called Harrogate 1571, the work was the culmination of a programme of cultural events to celebrate the hosting of the world's biggest cycling event.  It also celebrated Harrogate's history as the home of events which has its foundations built on the water of these unique spas.
Harrogate International Festivals chief executive Sharon Canavar said: "The minute the structure flickered back into life, it immediately began attracting the attention of those enjoying the beautiful surroundings of the Valley Gardens.
"The role of Harrogate International Festivals is to deliver a year-round arts programme; one that is exciting, fun, inspirational and surprising. And equally as important, one that makes the mediums of literature, music and art accessible to all.
"Whilst the Coronavirus pandemic may have cast a dark shadow over the world, and forced the cancellation of much of our 2020 calendar of events, this sculpture is now a beacon of hope, and one that continues to shine a light on Harrogate's spa and cultural heritage."
Whilst over 100 wells are set within Bogs Field in the Valley Gardens, it's the source of 36 unique mineral springs. A natural wonder of the world, where a greater number of unique mineral springs come to the surface than at any other known place on earth. The waters are Magmatic or Plutonic in origin. They never existed as rain, flowing deep beneath the earth for 20,000 years before surfacing through vertical shafts in the strata.