Rejuvenating Your Garden and Exterior
When the weather begins to warm up and spring begins to knock on the door, it is natural to begin looking at your garden and the exterior of your home and seeing how you have neglected it during the winter months. Many people find that they have a lot of work to do to their home's exterior when this time of year rolls around and it can be overwhelming if you don't know where to begin. If you are looking for inspiration on how to make your outdoor area look rejuvenated, then you have come to the right place.
Getting the right tools
This is a really important aspect of rejuvenating your garden and home. Trying to use tools that you don't know how to use or that are not suited for the job at best will only give you a short-term fix and at worst can set you back months of hard work. When it comes to soil, find the right one that will work in your garden. When it comes to a lawnmower make sure that you get one that is the right size for your home. If you need help finding the right tools, then you should check out ApplianceHunter.co.uk in order to find the right tools for your garden.
Outdoor storage
When you have space in your garden or even if you don't, one way to make it look better is to tidy it up. To do this, you should explore your outdoor storage options. There are plenty out there that can give you space to store all of the excess stuff that pollutes your garden. From shelves and storage boxes to smaller sheds, there are lots of stylish ways to organise your stuff. One great example of this is a potting bench which can encourage you to use your space efficiently.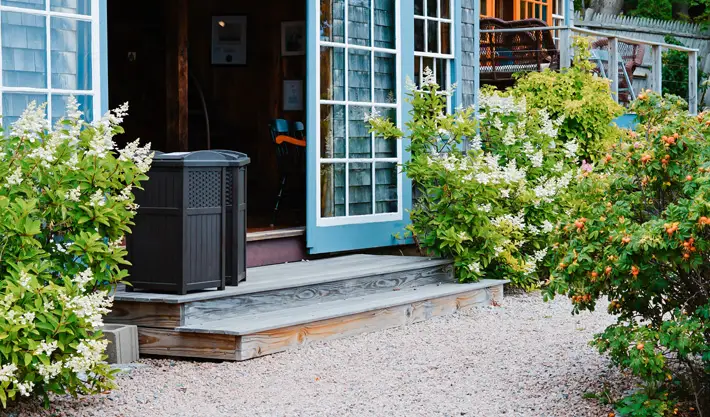 The use of gravel
It can be difficult to deal with a large space when there is no organisation. One way you can begin to divide up your garden is to use gravel to dictate where people can walk over and to create spaces where you can decoratively grow your plants. Gravel is low maintenance and extremely affordable. It can give your garden a sense of harmony if you pair it up with stone rustic walls. You can combine these with lovely flowerbeds to add color and interest to your garden.
Furniture
When you take control of your garden, you can begin to get the furniture to make your garden look welcoming and neat. You can get basic tables and chairs that match your décor in order to create coherence throughout your garden. Also, you could go quirkier and try and implement other pieces of furniture like a hammock or a water feature.
Rejuvenating the garden
This is no easy task and the very fact of this can turn you off the idea of doing it. However, if you put in the hard effort at the beginning, it will help you in the future. Once you have organised it, all you need to do is maintain your garden after that.