Garden Decorating Ideas for the Autumn Season
If you are lucky enough to have your own garden, then you want this area to look well-groomed and beautiful. To do this, it is not enough just to remove fallen leaves and remove weeds. There are many amazing creative ideas to make your autumn yard area look cozy and stylish. You might think that decorating a garden is all about choosing stunning garden planters and unique plants. But this is not always the case; your yard can be made luxurious with the help of flowers, lighting, statues and other elements. We have selected the most interesting ideas for decorating the autumn garden, which include various solutions and materials.
7 creative ideas for autumn garden decoration
Autumn has arrived and garden cleaning awaits you. It seems to you that plants and flowers are losing their colours ahead of the winter season. But autumn is a unique season when you can create stunning compositions using autumn flowers that will fill your garden with new bright colours. Study plants that will produce flowers until the first frost and this will inspire you to develop your own authentic decor. Or you can implement the decor ideas that we have chosen for you.
1. More bright colours
If you prefer not only plants but also trees, then choose Japanese maple. In autumn, its leaves become multi-coloured and they will beautifully fall to the ground creating a bright carpet. Along the border you can add dogwood, which also looks beautiful in the autumn. Such period is not only yellow or gray; this season can become bright and positive to create a warm and comfortable atmosphere in your garden.
2. Think about vegetable beds
There are many vegetables and herbs that can grow in the autumn. For example, land cress, mustard leaves, lamb's lettuce, and winter gem lettuce. They need a little warmth and light to produce fruit before the first frost. Any garden will look cool if there is a small vegetable garden that bears fruit. Of course, this depends on the climate in your region, but if the autumn is mild, then look for vegetables and herbs. This is a plus for you – fresh vegetables for eating and aromatic spices to prepare for the winter.
3. Use old things as pots
This is a very popular way to style a yard when you take household items and make flower pots out of them. For example, your shoes, an old bowl, a bucket, and so on. There are flower pot designs even made from regular jeans. Study your house or barn, perhaps there is something there that you can transform, add a few elements, soil and plants. Find old clothes, cut strips and weave hanging planters. If such things are in your garden, it will attract attention with its exclusivity.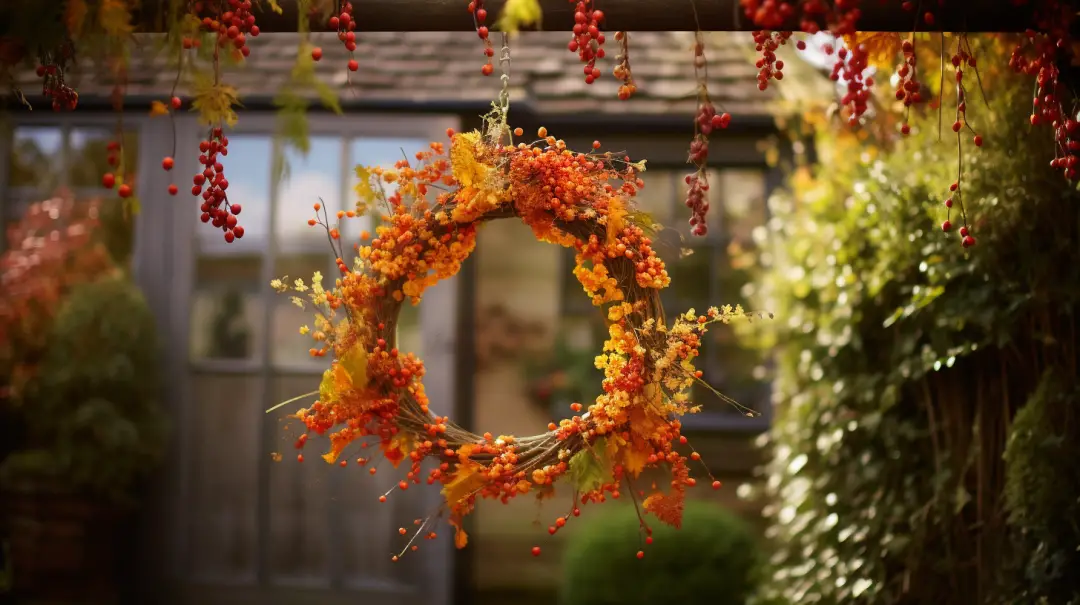 4. Change the colour of the pots
Most often, gardeners take ceramic flower pots of natural colours or they can be plastic models. Update the colours of your pots with paint. You can also use fabric to wrap the pot in the fall and remove the fabric in the spring. If you decide to change the colours of the pots, it is better to use warm autumn shades: brown, burgundy, orange, red, yellow, and so on. If you don't want to change the colour of the pots, use wrapping paper. The thickness of this paper can last through the rainy season; at the beginning of winter, you will remove the paper.
5. Make a fire pit
The fall season is cold and you will love a cozy warm place near the fire. This could be a simple brick grill or a beautiful barbecue area with a table and chairs. The ideal solution is a full-fledged patio area with a canopy. Decorate this area with beautiful elements (flowers, lanterns, etc.), add warm blankets and pillows. Gather the family or enjoy the quiet with a cup of aromatic herbal tea. Even a small garden can be complemented by a small fire pit.
6. Think about the birds
In autumn, there is less food and birds often look for something tasty in the gardens. Help them by making bird feeders. Use available materials and your imagination. Your reward is the singing of birds that will fly to your feeders. Add a chair and a warm blanket to enjoy the birds singing even in late autumn. This is not just a beautiful decoration; it is also a useful contribution to nature.
7. Autumn wreaths
Many trees and bushes have already begun to lose their leaves, leaving bare branches. Use them as material for making wreaths. These can be simple weaving with the addition of multi-coloured ribbons, berries, holly or autumnal flowers. Wreaths can be hung in the yard and on trees, or you can add a few on the doors of your home. This decor lifts your spirits and can be an excellent decorative element for the autumn holidays. For Halloween, add some pumpkins.
While in the garden, you will feel what elements need to be added to create a pleasant and comfortable atmosphere. Use your own imagination and available materials. Even simple boxes and bottles can become cute containers for growing herbs.