4 Ways to Furnish Your Outdoor Garden House
When you own a garden house, it's important to furnish it in a way that makes the most of its potential as a second home. Not only does this mean ensuring that it has all the essentials like light fittings and electricity, but also making sure that it has pieces of furniture that are not just functional but will also stand out as aesthetically pleasing. Your outdoor garden house should be somewhere you can relax after a long day at work or school, leave your worries behind and feel like you're on holiday every time you step inside.
1. Add Colour and Light to Your Garden House
Light is a crucial element in any home, whether it's a log cabin or a wooden gazebo. If you're furnishing a garden house that doesn't have electricity, you can use alternative lighting sources such as candles or oil lamps. You can also incorporate coloured lights into your garden house decor, which will bring colour to your space and a sense of drama to the decor. If your garden house has no roof and walls, you can use coloured fabric to create a more enclosed and cosy look. Coloured lighting is a great way to add colour and light to any space without drastically changing the architecture.
2. Add Greenery and Plants
While you can use greenery in your indoor garden house to keep it fresh and clean, outdoor greenery is a great way to add colour and life to your space. If you're worried about your garden house lacking greenery, you can use indoor plants, pots, and baskets to bring life to your outdoor space. Plants and greenery are a great way to make your garden house feel cosier and more homely. It's also a great way to bring colour and life to your space and create privacy if you don't have walls around your garden house.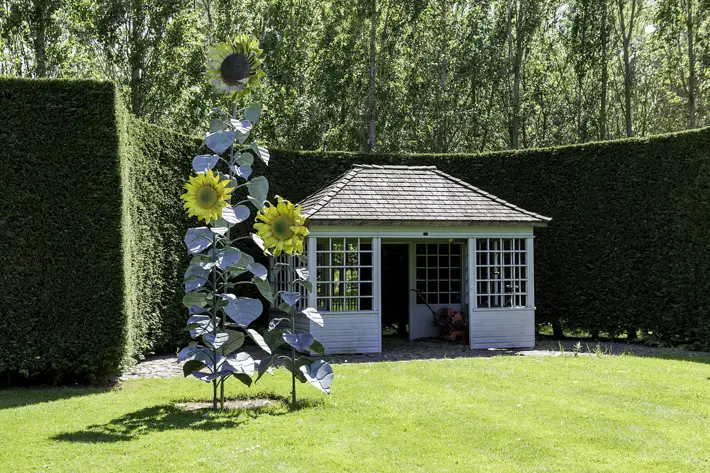 3. Mix up Textures and Materials
Mixing textures and materials is one of the best ways to make your summer house stand out. Consider using fabrics and soft materials and hard materials like wood and metal. This will ensure that your house is visually appealing and practical for everyday use. If you're using wood for your garden house furniture, make sure it's treated with a water-resistant sealant to be suitable for outdoor use. You can also use different materials to create a layered look that gives your garden house a cosy aesthetic.
4. Use Pieces of Furniture with Storage
It's important to consider the amount of storage space you have in your garden house and what you'd like to store there. Whether you're furnishing your garden house for relaxation or entertaining, you'll want to ensure enough seating for guests and enough storage to keep your things organised. You can use furniture with storage as a functional way to add more storage space without taking up visual space in your garden house.
Conclusion
A garden house is a great addition to any home and can be used for various purposes. Whether you're using it for storage, as a guest house, or even a studio, garden houses can be used in various ways. When you're furnishing your garden house, you have the opportunity to create a space that is both functional and aesthetically pleasing.