Wagamama Harrogate – Restaurant Review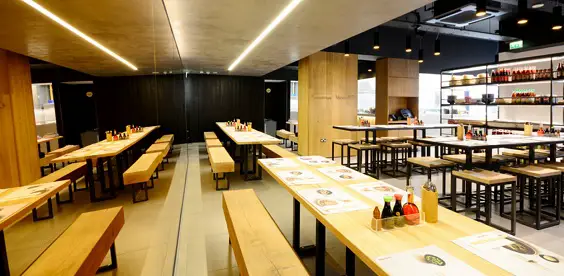 Wagamama, Harrogate
Restaurant Review
by Jen Grimble
Today you would struggle to find anyone who hasn't stepped foot inside a Wagamama. The Asian fusion chain has a solid reputation for simple dishes with mass appeal. Now a staple of the British high street, the noodle bar has dominated its sector of the market for almost 25 years, after first opening its doors in London's Bloomsbury in 1992.
Like a true child of the nineties, Wagamama seems much younger than it actually is. Its youthful appearance is the result of founder Alan Yau's focus on the Japanese philosophy of 'Kaizen', a lifelong quest for improvement. It's an attitude that shows in Wagamama's desire to keep up with modern food trends and meet dietary requirement needs in exciting ways. This approach has allowed the chain to expand to over 100 dining rooms in the UK and 18 countries worldwide, despite hard economic times.
"Watch yourselves fight over them"
It's easy to see why when you step inside any Wagamama outlet. You're met with a sense of warmth. There is something familiar and comforting about their long sharing-tables and open-kitchens. They eliminate fuss. Food is delivered to the table as and when it is ready, so your ramen avoids the dreaded hot lamp. It's the sort of place where broth slurping is acceptable, where you go to relax with friends or colleagues, where Japanese ramen bar meets Asian street food.
To complement the cold season Wagamama has brought comfort food to the forefront of its menu, with a focus on vegetarian dishes and meeting the UK's craving for Hirata Bun. The latter, a treat that has been likened to a Taiwanese burger, has gained popularity since they found a place on the Wagamama menu.
Imagine two pillow-like steamed buns encasing spicy meat or crunchy vegetables. The two new bun offerings are Mixed Mushroom and Panko Aubergine (V, £4.95) and Tori Kara Age (£4.95). The first sandwiches crispy aubergine with Japanese mayonnaise and coriander in this surprisingly exciting veggie option. The second encases spicy coated chicken drizzled with a peppery red sauce, accompanied by sliced tomato. Both are perfect for a light snack or as a sharing plate. Watch yourselves fight over them because moreish doesn't quite cover it.
"Consistency is what makes this brand so very easy to love"
Another vegetarian addition to the menu is the Bang Bang Cauliflower (£4.45), a bowl of wok-fried cauli arranged in a sticky-sweet sauce with red onions and thin slices of fresh ginger. This bowl packs a punch but brings out the best in the much undervalued cauliflower. With an almost chargrill taste, and a fresh warming finish, you simply must try this veggie side.
On the mains front, Wagamama introduces a classic Japanese dish, Shiitake Donburi (£8.95). Imagine a large bowl of nutty brown rice in a sweet teriyaki sauce, sitting beneath a shiitake mushroom and broccoli omelette, garnished with shredded carrots, spring onions, fresh chillies and pea shoots. This dish may sound a little unusual, but the blend of flavours and textures, and that underlying spice and sugar from the teriyaki, makes for a hearty crowd-pleaser and another fantastic addition to the Wagamama menu.
Whether you go to Wagamama for a classic Katsu, or to guzzle down ramen, you are sure to find something to satisfy. Their new enhanced menu, with a focus on modern food trends and vegetarian dishes, proves Wagamama's boundless adaptability and creativity. Their consistency is what makes this eaterie so very easy to love. This is Asian soul food at its most honest. It is contemporary without being pretentious – traditional without feeling old fashioned. This is the very heart of the Wagamama brand and the reason why the chain continues to tempt customers.
Wagamama Harrogate, 13-15 Parliament St, HG1 2QU
01423 506 313
Tuesday 11:30 am-10:00 pm
Wednesday 11:00 am-11:00 pm
Thursday 11:30 am-11:00 pm
Friday 11:30 am-11:00 pm
Saturday 11:30 am-11:00 pm
Sunday 11:30 am-10:00 pm