The Fox, Menston – Restaurant Review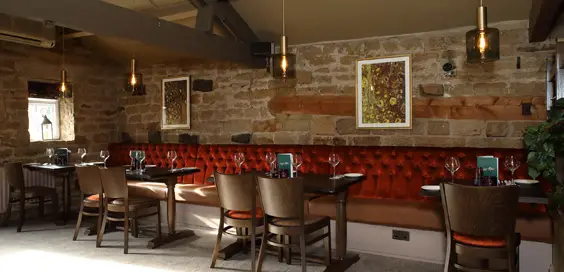 By Katie Leon
I attended the preview event for The Fox pub and restaurant in Menston, along with three guests. My guests, having been long term lovers of The Fox, were really keen to see the results of the refurbishment. They were pleased to see that the gastropub had kept the same atmosphere while making it look more fresh and modern. As a first-time visitor, I found the venue to be a cosy and attractive balance of rustic and modern. I loved the exposed stone in the dining area and the large roaring fire.
We were directed to the bar where I was intrigued by the Gin station! The station had a large array of garnishes and the idea was you selected your gin size and your tonic and then you helped yourself to whatever garnish you want. It was a nice feature and demonstrated the venue has a good knowledge of the importance of a good garnish – it's a shame it's not a permanent addition to The Fox.
We were treated to some canapes while we had our drinks. This arrived as a large plate with a selection of goodies for us to try, including a burger, falafel and parfait on toast. Each morsel was delightful in its own way and made us more and more excited for the meal to come.
"Great balance of flavours"
We took our seats in the dining area, which was well lit in order to create a cosy and relaxed atmosphere without being too dark. A waitress visited the table and told us about the specials and took a drinks order. I couldn't resist another gin and tonic, while my guests had gin, wine and beer.
Most of my table opted for the special 'scallops of the day' starter which was scallops with celeriac puree topped with bacon bits (price of the day). My friend opted for Thyme-roasted Portobello mushrooms (£6.75). The scallops were divine, cooked perfectly with a great balance of flavours and textures.
For main, I ordered fillet steak which came with an ale-glazed shallot and stilton tart on the side and chunky twice-cooked chips (£23.95). I also asked for peppercorn sauce on the side (£1.95). The steak came rare as requested and was very tasty. I particularly liked the shallot tart on the side and it went really well with the steak. The chips were huge and plentiful and the peppercorn sauce was delicious, really peppery. The portion sizes are very generous so I did struggle a bit towards the end but really enjoyed it.
"Generous portions"
One guest ordered the rib-eye steak (£20.95) which also came cooked to order and was very tasty. Having tried both his steak and mine, his thoughts were that the ribeye was slightly fuller flavoured than the fillet. Another guest ordered chicken, leek and crème fraiche pie (£14.50), which was an old favourite of his from the previous menu. He said it was as tasty as ever and was very pleased!
Our other guest had the salmon fillet which came with chorizo mash (£14.95). She commented that she thought the chorizo would be diced into small pieces but was pleasantly surprised to see larger chunks in the mash. All dishes were thoroughly enjoyed and came in generous portions.
Staff came over at intermittent points to check that everything was okay and at one point we were told about the cocktail menu and couldn't resist giving those a try! Two of us ordered pornstar martinis, one ordered an old fashioned and the other ordered a Tom Collins. All very thoroughly enjoyed! The drinks list is very extensive and we felt spoilt for choice over what to go for.
"Fantastic time"
Despite being quite full we all managed to fit in dessert! Three of us chose the option of a mini dessert and a hot drink (£4.95), where you can choose from warm chocolate brownie, apple and blackberry crumble or baked vanilla cheesecake. Our other guest opted for the full size warm chocolate brownie (£6.50). There were lots of sounds of enjoyment coming from the table throughout the mean and this was no different at dessert time!
All in all, we had a fantastic time sampling the new menu. The food was delicious and there is plenty of choice for both food and drinks. The pricing is reasonable considering what you get. The atmosphere is lovely and is a great place for friends, family and couples.
I have heard that the Sunday lunch is one to try, so here's at least one guaranteed booking for the new-look Fox.
The Fox, 129 Bradford Road, Menston, Ilkley, West Yorkshire, LS29 6EB
Open Monday-Sunday from 12pm
01943 873024
thefoxmenston.co.uk