Oxo's on the Mount, Mount Royale Hotel, York – Restaurant Review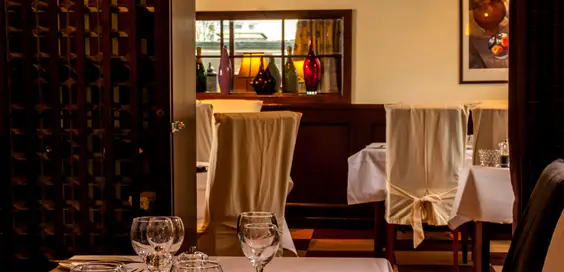 By Roger Crow
Joanne Froggatt towers over The Mount Royale Hotel & Spa, like another remake of Attack of the 50-Foot Woman. Sadly one of the best actresses of her generation has not been filming a York-based version of the classic B-movie (and its comedic remake), as much as I'd love to see it. Thanks to Photoshopping, she's one of the key focuses of a glossy magazine review which makes her look gigantic.
Joanne is one of many celebs who have visited over the years, and given the fact it's a short walk into the heart of town, I'm not surprised it's a haven for the stars (of all sizes). Everywhere I look, the reviews for said hotel and restaurant are great. Impressive write-ups win me over so much, I'm considering checking in for the night. That will wait for another time, because on this winter Sunday, my partner and I are here for lunch.
Getting here by car is relatively easy, and in a city with some car parks charging a fortune, it's a bonus that there's on-site parking. However, as the sat nav takes us round the houses, I have to execute a couple of 90-degree Tron-style turns in quick succession.
It's quiet when we rock up at 1pm, which seems odd for a Sunday, but we're clearly early. Julian, the master of ceremonies, gives us a warm welcome and shows us to our table. He's a terrific host who soon puts us at our ease and ensures every element of our two-hour stay is catered for.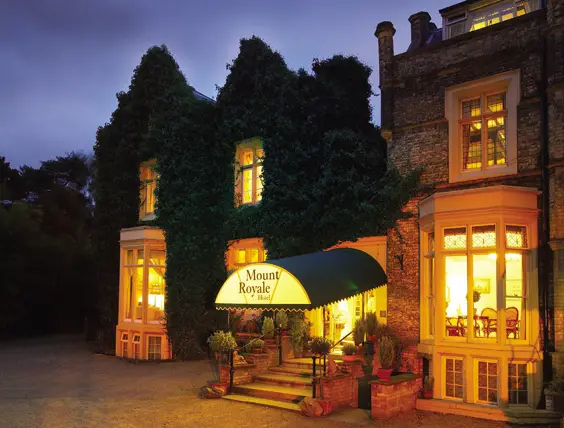 "Flavours complement"
Imagine if Alan Titchmarsh had added waiter and Maitre'D to his ever expanding list of skills, and you get the idea. (I don't compare many to the mighty Titchmarsh, but Julian has that same mix of charm, warmth and wit which is hugely appealing).
The menu is full of traditional fayre, as you'd expect for an eatery in the heart of York. We begin with the excellent home-baked bread with artisan butters. With two courses at £19.95 or three at £23.95, you certainly get a lot for your money, as I discover when my crayfish cocktail arrives.
It's a tasty alternative to the beloved prawn cocktail. Delicious chunks of fish in Marie Rose sauce with more excellent bread. As I've not had breakfast, I enjoy every mouthful. Rachel wisely opts for Yorkshire Blue Cheese and Poached Pear Salad, with beetroot, candied walnuts and port reduction. I'm impressed, especially as pear with anything for a starter is my idea of a nightmare. The flavours complement one another beautifully. We're off to a good start.
While waiting for our main, the restaurant begins to fill up, and I take in the surroundings. It's an eclectic mix of eighties neon and tiki bar raffia in places. At one point I feel like Sonny Crockett dining in a Hawaii-themed Miami restaurant. And as someone who loves something out of the ordinary, that's right up my street.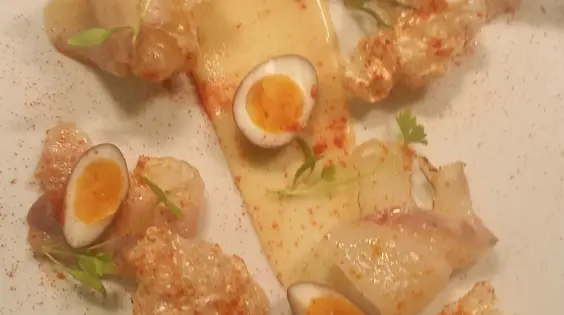 "Tastes as good as it looks"
There's an eclectic mix of styles that prove engaging. In one section a video screen of a roaring fire, and in the next we get the real thing, which makes me wonder if it's footage of the neighbouring snug's fireplace.
The spacious grounds look terrific for weddings and the like. A shame the day is 50 shades of grey, but it's a good excuse to pop back in the summer. (The fact it's just down the road from the new Everyman cinema means that's a real possibility).
My main is a feast of roast rump of British beef, Yorkshire pudding and seasonal veg with red wine jus. The staple for many great Sunday lunches, though as I usually opt for a small portion, there's far too much for me. The meat is a little rare for my palate, but I'll opt for a medium version next time.
With one figurative eye on my waistline and the other on the dessert menu, I admit defeat early, though the huge Yorkie pudding and fine gravy is nicely prepared. Rachel's Garlic Roast Tomato Risotto with mozzarella and truffle also gets the thumbs up. It tastes as good as it looks.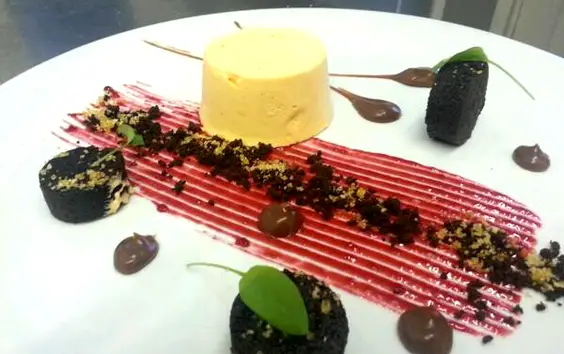 "We reflect on a great meal"
Dessert is a triumph, though again very generous portions mean we're struggling to finish. The Lemon Posset is a great palate cleanser, with pistachio nut granola, charred oranges and honey ice cream a treat for the tastebuds. (I'd recommend sharing one). The Dark Chocolate Tart ticks every box on my list of fave dessert items, from the obvious element, to the roasted peanut ice cream and salted caramel.
Over cappuccinos we reflect on a great meal in fascinating surroundings with fine company. In a perfect world I'd happily spend the rest of the afternoon, sat by the roaring fire chatting to our host about life and food, but that can wait for another day.
A wise man once wrote: 'The tradition of the Sunday feast accomplishes more than just feeding us. It nurtures us'. Which is partly true. Add some great company to the equation; staff who make you hungry for a return visit, and that's a truly great Sunday feast. Highly recommended.
Oxo's on the Mount, The Mount Royale Hotel & Spa, York, YO24 1GU
Opening times:
Mon-Sat 6-9:30pm
Sunday 12–9pm

01904 619444