Gary Delaney – Live Review – Halifax Piece Hall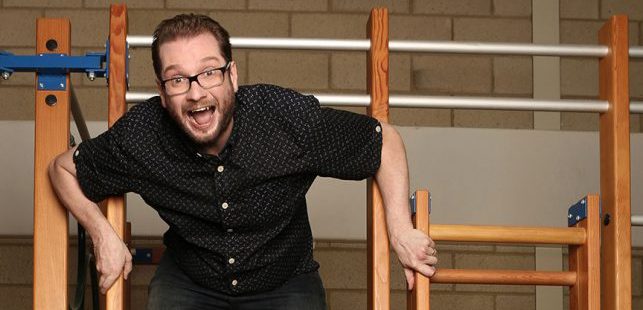 By @Steve Crabtree, December 2017
The one-liner has always tickled me in ways that it perhaps shouldn't. I love the speed and wit of a succinct funny, or a brief but murderous put down. And with Gary Delaney in town tonight, I'm looking forward to a night of mischievous, and sometimes childish laughs.
It's a Saturday night and he brings his act to the Speigeltent at the Piece Hall, Halifax. The unreserved seats are pretty much all taken, and Delaney takes to the stage in a chipper mood.
He likes the surroundings, but not as much as we like him kicking off the show with a chunk of brand-new material. He's testing it out on us, and reading from bits of paper. There's stuff that he's literally written hours before tonight's show and although he seems coy with some of it, he throws it out to us anyway and we lap it up.  He's impressed at how quick we are too, occasionally getting the joke and laughing before the punchline's delivered.  Us Yorkshire folk aren't just hat-racks, after all.
"Delivering that killer one-liner is all about the timing"
Delaney is a fuss free, fast paced kid of guy. Delivering that killer one liner is all about the timing, and it's clear we've got an expert here in front of us.  He's a bit of a one-liner king, and I guess you don't become a Mock The Week regular if you're anything less.
But he's no one-trick pony.  He mixes his act up nicely with a laptop and big screen as he introduces us to his pastime… being a Wikipedia terrorist.
Some of his amends to the pages of the online encyclopedia are incredibly clever. Some are plain daft. Others ridiculously childish – but each and every one of them are equally as hilarious. He gets a kick out of it, and so do we.  I can't think those very serious Wikipedia updaters will agree.
"Laughing along the way"
The laughs are coming at a thick and fast pace. Energetic animated and upbeat, Gary Delaney loves his own jokes as much as we do… he's laughing along the way too. That's something they say you should never do, but for me that always adds to the act. If you don't find your jokes funny, can they really be that good?
Delaney then spruces the show up again by taking us back to the laptop. We get a tour of some of the things he's seen and photographed around the country this time. Of course, there's a comedic twist on the photos. The one that tickles me is the shot of the Hoover Building in London, Delaney professing that someone's left a massive note on the building for the cleaner.
After a bit of light-hearted interaction with some of the audience, he fires in to the back catalogue of tried and trusted one liners that he's famed for. And with an array of top-notch jokes on tap, it's clear that Gary Delaney is up there with the best.
People might not be turned on to this kind of comedy, but there's a tent-full of us who've really enjoyed having another high-calibre comedian such as Gary Delaney at the Piece Hall tonight.