Justin Moorhouse – Live Review – Halifax Piece Hall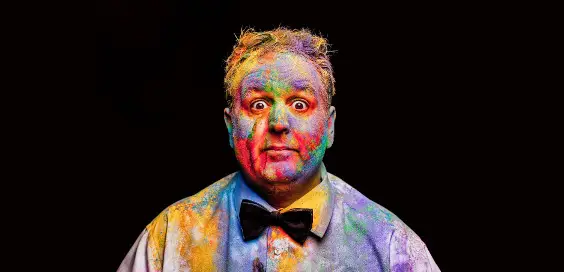 By @Steve Crabtree, December 2017
As a fan of good old northern stand up, I was really pleased to hear that the Piece Hall had managed to attract Justin Moorhouse to my hometown over Christmas.
The very Mancunian, upbeat actor and storyteller is well known for his parts in Phoenix Nights, feature film Looking for Eric, and regularly pops up on Sky Sports' Soccer AM.  I really like the guy from seeing him on screen, but I've never seen his stand up act. That's shocking. So tonight I'm righting a big wrong.
The 'People and Feelings' show is what it says. It circles around growing up and the people around you. His jokes are about the depressing signs of getting older, along with regular references to anecdotes about his childhood.
"Doesn't rely on being cocky or sarcastic"
And early on he brings the house down as he talks to the audience about our mums. The warnings you used to get from her when you went out at night. "Don't get got" is what she used to say. Moorhouse reminding us that was her way of warning us about paedophiles that might be out and about. The way he takes the edge off a serious subject without being crass is fantastic. We howl more when, almost immediately, he finds out there's a 16 year old in the audience who's come to this 18+ gig with his parents.
One thing you get with Justin Moorhouse is that he doesn't need to rely on being cocky or sarcastic to deliver his act. Throughout the show he's just naturally engaging and funny. He tells his stuff with a down to earth excitement, and you relate to him. He's like your mate.  If you're not laughing, you've got a beaming smile on your face, waiting for the next funny.
"Here in Yorkshire we appreciate the northern humour"
I've done four comedy gigs at The Piece Hall in a week leading up to tonight's gig. And Moorhouse by far outshines the rest. Here in Yorkshire we appreciate the northern humour – it's very personal to us and we've all loved this show for that very reason.
Myself and Moorhouse are both huge Manchester United supporters, and they were playing away at Leicester tonight. I was lucky enough to have a few quick words with him at the end of his gig, and I'd already checked the score. We hadn't won. We drew, thanks to them scoring a 94th minute equaliser. I thanked him for a brilliant gig, and told him about the 2-2 result. "What happened?" he asked, and we shared a moment of disappointment before I said it was a good job there was something decent to watch tonight instead of watching the match. He was genuinely appreciative of the thanks, which is part of why he's such a likeable comedian.
We've just seen an amazing gig, which perfectly sets us up for Christmas. We hope that Justin Moorhouse makes the journey down the M62 to see us again very soon.