An Interview with Dave Spikey
Comedian Dave Spikey is celebrating 30-years in comedy with a new nationwide tour called 'Juggling on a Motorbike'. We speak to him about comedy memories, his 'lost' science career, TV highlights and dressing up as a berry…
Can you tell us about your 30th Anniversary tour 'Juggling On A Motorbike' and what audiences can expect?
Something old, something new, nothing borrowed, nothing blue. I tell the story of my thirty year journey in comedy, from my first gig in 1987 to this current show in 2017. But more than that, a look at the years before – my formative years – that helped mould me into that person, who, when given the opportunity to make a massive jump from Biomedical Science to professional comedian, embraced and took that chance.
So expect stories of my working class childhood, living in that idiomatic world that kids do where I "needed to pull my socks up" in order to do better. Where I shouldn't be impatient because "a watched kettle never boils" – it does, I tried it. The great influence that my parents and grandparents exerted on me, especially my crazy grandma who warned me that if I burped, hiccuped and farted at the same time I'd turn inside out. My passing the 11 plus and going to Grammar school and meeting my great friend Derek Rigby who was, according to my Grandma, "Daft as a Brush". He was.
"Dressed as a giant berry singing 'Walking on Sunshine'"
My hospital life from Junior Technician in Microbiology to my time in Haematology,. Mixing emergency on-call cover, with hospital pantomimes, with marriage along the way. First steps into stand-up in talent shows and at working men's clubs in Yorkshire. Overheard in the Gents toilet: "What do you think of the comedian?" "He's alright if you like laughing".
Then, of course, the leap into full time comedy. Meeting and collaborating with Peter Kay, Phoenix Nights, my own Dead Man Weds, Bullseye, Eight out of Ten Cats, The Royal Variety Show and Parkinson and all points along the way to this, my sixth national tour. And a moment's reflection that if I hadn't won that first 'Stairway to the Stars' in Torquay, I might have jacked comedy in and concentrated on my haematology career. That if the great Larry Grayson hadn't told me that I clinched the title with my routine about a juggler on a motorbike I wouldn't, in the year 2000, have switched my microscope off for the last time and found myself the following week on a windy rain-swept car park down the road dressed as a giant berry singing 'Walking on Sunshine'.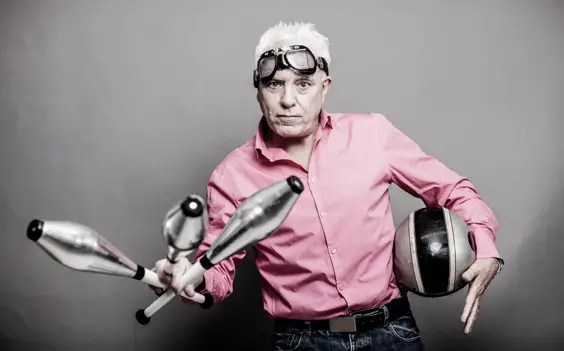 "I had to leave school and get a job"
What are your earliest memories of comedy?
My late dad was a self-employed painter and decorator by trade – no job too small, estimates free. He had no academic qualifications and yet he was, and still is, the most well-read and knowledgeable bloke I've ever met. He loved literature, art (Renoir is his favourite), classical music (he used to sit in his chair and conduct the Berlin Philharmonic on our gramophone with a knitting needle), philosophy, psychology. My dad wrote poems and short stories and painted and drew but most importantly he loved comedy. We would sit together and listen to Round the Horne, The Navy Lark, and The Goons on the radio and later fell off our chairs in hysterics while watching Phil Silvers or Morecambe and Wise. I grew up surrounded by laughs and competing daily with my dad as to who could come up with the funniest remark.
What made you decide on biomedical science as a career?
Like a lot of things in life, I didn't decide; fate lent a hand. I'd just started the sixth form at school. I was studying Maths, Physics, Biology and Chemistry and had a vague idea that I'd like to go to university to study medicine. A vague idea was as far as it got – because my dad had an accident at work and, as a result, I had to leave school and get a job. My dad had noticed, while he was at the hospital, a sign in the Department of Pathology advertising a job vacancy for a Junior Medical Laboratory Technician and he suggested that it might be an idea to apply. Once he was fully recovered, I could return to my studies and the pathology laboratory experience might prove valuable if I pursued the medical career.
"I made the mistake of lying to impress"
And so it was that I presented myself for interview at Bolton Royal Infirmary in September 1968. The interviewing panel was daunting and comprised Mr Parker the Chief Scientist, some bloke from Personnel and Dr Manning, a very grand, old-school-type consultant pathologist, immaculately turned out, right down to the flower in his buttonhole; think James Robertson Justice. He was also very shrewd and a great judge of character, which is why, when I told the lie in the interview, he knew immediately.
Rather than challenging me on it directly, he played me like a fisherman plays a trout, allowing me just enough line to keep running while he slowly, inexorably and painfully reeled me in. The interview had actually gone pretty well and we were up to the easy bit at the end where they try to find out what makes you tick. Hobbies, interests, sports, that sort of thing. I made the mistake of lying to impress when Dr Manning asked me about my hobbies. It went something like this…
Dr Manning: So, David, what do you do in your spare time? Do you have any hobbies?
Me: Stamp collecting.
Dr Manning: Philately?
Me: (Hesitates) Probably.
Dr Manning: I'm a great philatelist myself.
Me: (Smiling on the outside, but on the inside thinking, 'Oh sh*t.') Really?
Dr Manning: Yes. I specialise in United Kingdom and the Commonwealth. Which country do you specialise in?
Me: China.
Dr Manning: China! That's unusual.
Me: (Ohmigod.) Is it?
Dr Manning: Yes, so why China?
Me: (He knows I'm lying.) Because my uncle lives there and he sends me them.
Dr Manning: Whereabouts in China does he live?
Me: (Eyes pleading: 'Please let me off.') Err . . . (Why didn't I do Geography?) Saigon.
Dr Manning: That's in Vietnam.
Me: (Sweating now.) Is it? Shanghai, then? Yes, that's it definitely, Shanghai. I'm always getting them confused.
Dr Manning: What does he do in Shanghai, your uncle?
Me: (Oh, please be merciful.) He's an engineer.
Dr Manning: What sort of engineer?
Me: A marine engineer.
Dr Manning: A marine engineer in Shanghai?!
Me: Alright! I don't collect stamps!
I got the job!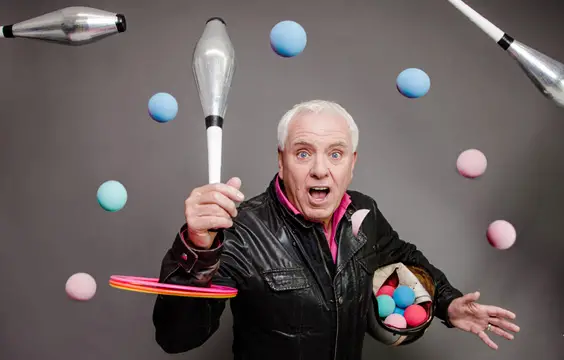 "We took bad advice and changed our act"
How did you start doing comedy?
I was never much of a joker but always found that if a funny situation cropped up, I was always first in there with a line. People said that I should try stand up but I didn't have the bottle. I got involved with the hospital revue society panto. After contributing to a panto script they asked me if I would write it the following year, which I did. Then I was asked to co-write a revue which was quite ambitious. I ended up performing too and got quite a buzz out of it – it was sold out for two weeks.
Then I got asked to provide comedy support at gigs for a music duo Intaglio. So I wrote some routines for a friend called Rick Sykes and myself and formed a double act. We called ourselves 'Spikey and Sykey' and we did about three gigs and then the producer of New Faces saw us and asked us to go on to the show. Problem was that we took bad advice and changed our act at the last minute. We wrote a routine in which we were a Russian double act on a cultural exchange with Little and Large who were currently playing Leningrad British Legion. It was quite a good idea and Barry Took loved it but the other judges weren't thrilled!
"He has that almost unique gift of making you laugh no matter what he says"
My partner Rick got a bit bored with it after that. We had a talent contest to do in Scarborough but he didn't want to go. So I did it myself and won the heat, the semi-final and the final and got £800! It was the first time I had done stand up on my own. I did the same in Torquay and won the 'Stairway to the Stars'. Then I discovered the burgeoning 'alternative' comedy circuit which was just taking off and went down to the Buzz Club in Chorlton run by the brilliant Ahriman (The Human Anagram) and found the sort of comedy I wanted to do.
What comedians inspired your earlier work?
Billy Connolly. My all-time favourite stand-up comedian is a special performer. He has that almost unique gift of making you laugh no matter what he says. It's his voice, his accent, his timing and the emphasis he uses on certain words and phrases. You can tell he is instinctively funny and has natural 'funny bones' and it's because of this that he makes you feel as though he's talking directly to you, if you know what I mean? That you and a few friends are in the pub having a laugh as we all do and he's the really funny mate who makes you laugh just by giving you his take on life. That's what suits my style and it's what I've always tried to do.
"Life's a comedy-drama"
Is that where you get your material from. Down the pub?
Some of it, yes. My local is a very small terraced local pub. Its friendly, it's welcoming and it has a fantastically varied range of customers ranging from company directors to printers to labourers and the great thing is that as soon as you come through the pub doors it's a level playing field. This eclectic mix of age, sex, profession provides, on most nights, stimulating banter on an incredibly wide range of topics from European pallet sizes to Basque Terrorism to Donald Trump. You can't trust him as far as you can throw him – so that's not far – is the consensus.
Most of the facts and opinions offered are wildly exaggerated or frankly unbelievable but as my best mate Paul says: "Hey, making it up, doesn't make it wrong." I've been going in to meet my mate's early doors since I moved into the village long before I became a professional comedian and I've garnered so much material from there. But more than that, it's the world around us that provides most material; observing people, hearing people sharing life experiences but also from newspapers, TV, radio. Life's a comedy-drama.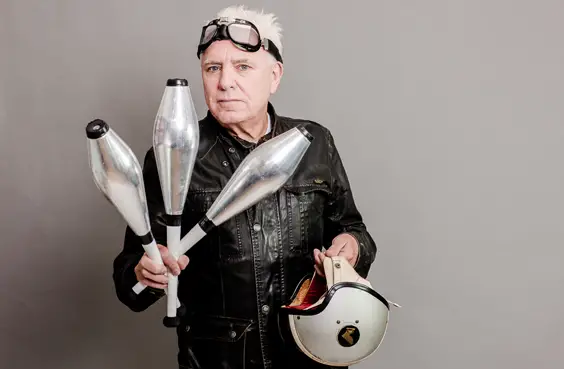 "Peter Kay was taking part in the same year as Johnny Vegas"
Funny stuff happens every day – it happens to us, to people we know or strangers. We laugh, we tell other people about it at work, at play, down the pub then generally forget it. It's a comedian's job, his skill, to embellish and exaggerate that event into a bigger, better comedy moment. Then, after putting his or her own spin on it, reminding people of it. Because the bottom line is that if I've seen it or it's happened to me, sure as eggs are eggs (and they are) it's happened to everybody else. We're not unique, so they'll laugh because it's the comedy of association and also because you put your unique spin on it and bring it to life bigger and hopefully funnier.
Where did you first meet Peter Kay?
I won the 'North West Comedian of the Year' title which was and still is a prestigious thing up here – Steve Coogan, John Thomson and Caroline Aherne won it in the years before I did. It was a tradition that winners compered the competition in subsequent years. Peter was taking part in the same year as Johnny Vegas. Johnny was hot favourite and went on about seventh out of ten acts and stormed it. Peter was on last and was a relative unknown. I think he'd only done a handful of gigs.
"He changed my life"
Anyway it was late, the audience was well drunk and noisy and he always reminds me that I introduced him by calming down the loud and unruly crowd by saying something like: "Settle down, there's only one left – ladies and gentlemen – Peter Kay". So he came on, had them in the palm of his hands in minutes, took the roof off the place and walked away with the title. We became friends, discovered we shared a lot of common ground in comedy ideas and influences and he wrote links for me when I hosted Chain Letters on ITV and then we continued to write together. The first comedy we wrote was Mad for the A6, then I contributed to The Services and on we went with Neil Fitzmaurice to write That Peter Kay Thing and of course Phoenix Nights.
Was Phoenix Nights your first stint at acting?
Apart from amateur hospital productions, yes it was. I had to audition for the part of Jerry because I had no acting experience, but I was happy to do that because I wanted to prove to them and me that I could do it. I had a head start obviously because I really knew Jerry having had a major hand in creating and writing the character. Much of his story was based on me – especially his hypochondria! But I'm so glad I got it. I love Jerry, he's a gem. He changed my life.
"One of the most surreal experiences of my life"
Did you enjoy dressing up as a berry?
I'm not sure "enjoy" is the word. It was very heavy and it was a cold miserable day and it rained all the time and it took all day to film so I was glad to get it off. Having said that it was a great idea and when we were trying to think of something for Jerry to dress up as the kiddie's mascot we soon came to the conclusion that only "Berry" rhymes with "Jerry" so it had to be done. Standing on an outdoor stage in the pouring rain singing 'Walking on Sunshine' with a giant c*ck inflating behind me has to go down as one of the most surreal experiences of my life.
You went on to write Dead Man Weds for ITV. Where did that idea come from?
I was driving home from work at the Royal Bolton Hospital and outside the newsagents at the bottom of Minerva Road there was a Bolton Evening News hording with the headline "Dead Man Weds". I nearly crashed and I thought: "That's mad. I've got to see this." But then I thought: "Hang on a minute, it is Bolton, and he could be dead." I had this vision of the reception and someone saying: "Your Billy's very quiet" – "He's dead" – "Is he?" – "Yeah but we'd paid the deposit on the buffet and Molly Bentham does a cracking spread."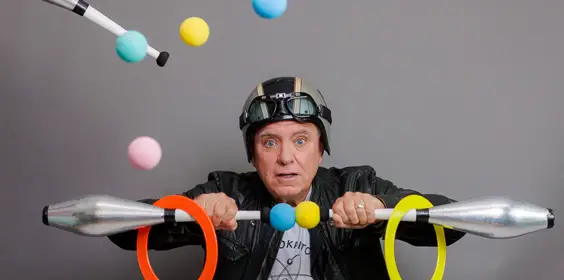 "One of my most treasured possessions"
As it turned out it was just a misleading headline. Someone had missed the inverted commas off the 'Dead'? I had this idea of a small newspaper in a small town where the staff got all the local news from local gossip Joan at the cake shop and spent much of their time writing horoscopes, problem pages and health advice – 'Know your body with Doctor Snoddy'.
You were one of the first team captains on 8 out of 10 Cats for four series. How was that?
It was a brilliant time. Jimmy Carr is a fantastic bloke in every sense; as a comedian, as a presenter and as a person. I admire Sean Lock so much because he is so sharp and original and surprises you all the time, which is the secret of a great comedian. I also met some fantastic people on the show. The highlight being Joan Rivers, one of my comedy heroes, who was on my team twice. I sat next to Joan Rivers! I took my copy of her autobiography to one show and she signed it in between rounds with a lovely, flattering message. Needless to say it is one of my most treasured possessions.
"I seem to attract a fantastically diverse audience"
What have been highlights of your comedy career to date?
Writing and co-starring in That Peter Kay Thing and Phoenix Nights, winning the 'Overall Best Show in Town' award from the readers of the Manchester Evening News for my first ever stand-up tour show, 'Overnight Success Tour' after ten years plugging away on the circuit; then receiving a Gold Disc for DVD sales of that same tour. Playing the Royal Albert Hall and the London Palladium then Appearing on The Royal Variety Show in front of HM The Queen and later in the same week guesting on the iconic Parkinson show with one of my absolute greatest heroes Paul McCartney. Writing and co-starring in my own sit-com Dead Man Weds for ITV and Magnolia for BBC1 Comedy Playhouse. I've been so lucky; 32 years working in the NHS then this amazing second career.
Who is your comedy aimed at?
Everyone who likes to laugh. I mean proper enjoys laughing. I am really fortunate and proud in a way that I seem to attract a fantastically diverse audience from teens to senior citizens. Some will be fans of Phoenix Nights and other stuff I've written and appeared in, some will be fans of 8 out of 10 Cats and Bullseye. Others, generally the older generation, may have seen me on Countdown or Loose Women or Titchmarsh or the various panel shows I do. It's a great mix which has helped me grow as a comedian.
"Three words: emotional roller coaster"
Could you tell us something about the work you do for animal charities?
Actually I am proud and privileged to be a patron and/or active supporter of several animal charities; the unique Paws for Kids who help victims of domestic abuse, Pet Rehome and Animals Asia, to who I'm donating all proceeds of my Chorley show on 10th February. I have supported the latter two for many years now and was able to get out to China and Vietnam to see the fantastic work that Animals Asia do with Moon Bear Rescue first hand.
The visit was incredible. Three words: emotional roller coaster. There were highs, but also many lows. In Vietnam, the cruel, evil practice of extracting bile from these beautiful bears to treat conditions as random as haemorrhoids and conjunctivitis is now supposed to be illegal. But many farms still exist under the guise of tourist cafés and restaurants – 'The Black Bear Café' etc. – where customers can have a drink and look at the 'lovely' bears. This is, of course a front.
On a positive note a group of bears were recently freed from a farm in Vietnam and the charity asked if they could name one after my wife Kay. We received the photos of her just after her release and she was a complete mess, most of her fur missing, anxious, and terrified after years in the cage but recent photos show her well in the enclosure with two new friends. I hope to go out and see her.