Manahatta, Greek Street, Leeds – Restaurant Review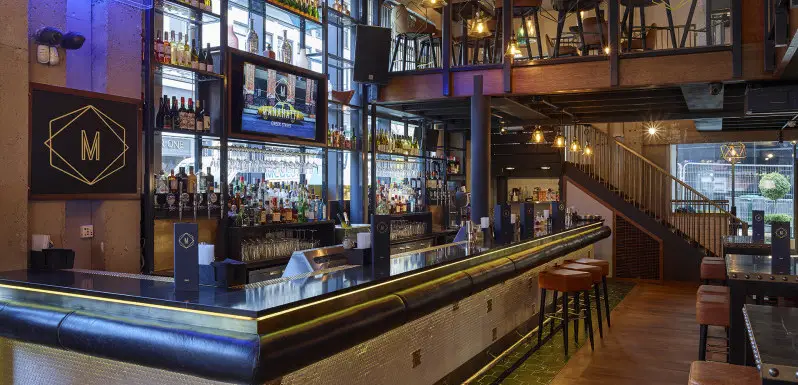 A Friday night in Leeds, with a touch of Big Apple inspiration is enough to get anybody's weekend off to a great start. And tonight we're booked in to Manahatta on lively Greek Street for food, drink, and anything else that this well talked about place can throw at us.
It's the second Manahatta bar in the city. As my friend and I arrive, we're welcomed in to an open plan lower floor, with a bar area on our left. There are tables and booths on the right, and with a glance up you see an eating zone situated on the balcony that runs the length of the bar area.
We're in a low lit, modern and stylish venue, and Megan has greeted us. With a smile, she asks how we are as she leads us over to our booth in the corner. We can see the entire bar from a this comfortable, leather, spacious area – and after a long week at work, what a lovely, comfortable way to begin our weekend.
Alice is our waitress for the night. As she takes our drink orders (a San Miguel and a Shandy), she hands us the menu. She's pleasant and friendly, with a sound knowledge of the dishes Manahatta has to offer. She explains that a couple of options aren't available tonight, but with the nice amount of choice laid out before us, that isn't going to be a problem.

"The integral go-to bar on the whole street"
It's just after 7pm, and there's a good amount of people in here. This Manahatta is situated at the bottom of Greek Street, so the canapes and blue neon on the outside, together with the stylish touches, and well presented staff inside doesn't just make it look the part in this area of town, but cements it as the integral go-to bar on the whole street.
And Manahatta is picking up a reputation for serving fantastic food – just listen to word of mouth and the world of social media. And that reputation appeals to us right now, as Alice comes back to us so that we can place our order.
I'm torn between the Crispy Duck Moneybags with Sweet Chilli and Cucumber Dip (£6.95), and the Salt and Pepper Calamari with Garlic Aioli (£6.95) to start, but decide on the former. My friend jumps straight in for the Yakitori Beef Fillet Skewers with Spring Onion and Soy Glaze (£7.95).
The Crispy Duck Moneybags are four parcels of duck, in a nice crispy pastry. The duck meat is incredibly tender and perfectly cooked. The Sweet Chilli and Cucumber Dip is the right accompaniment to this bitesize starter. My friend is enthusing about his Yakitori Beef Fillet Skewers too. They're great starter portions, and we leave two plates completely clear.

"Somewhere I could spend an entire evening out"
So far, we're having a great night. A modern city bar, serving up cocktails, and cool and laid-back dance music. It's got a friendly, upbeat vibe and it's somewhere I could spend an entire evening out. It's the kind of place that's great for the city professional and the group-of-friends-on-a-night-on-the-town mix.
For my main course, I'm attracted to the Miso Marinated Cod, with Creamy Wasabi Mash and Asparagus (£15.95). The Katsu Chicken Curry with Fluffy Rice and Kimchi (£12.95) is my friend's choice.
Alice is taking good care of us this evening. She furnishes our table with water, replenishes our drinks, and makes sure we're ok just before our main courses arrive.
The Cod is served up in a bowl with a more than decent amount of very creamy mashed potato. The generous amount of sauce makes the dish look attractive, and it looks like I've got one hearty bit of food. As I take my first bite, it's tantalising. A lovely blend of flavours, with a very tender, thick fillet of cod. The creamy description of the mash is no lie, and the portion size justifies my decision not to order a side dish.
My friend's Katsu Curry looks fantastic, and he describes it as perfectly crispy on the outside and tender in the middle. The sauce comes in a pot to pour yourself, however with quite a lot of rice, a bit more sauce would have been nice.  But that doesn't take anything away from our main courses which, once again, we've completely finished.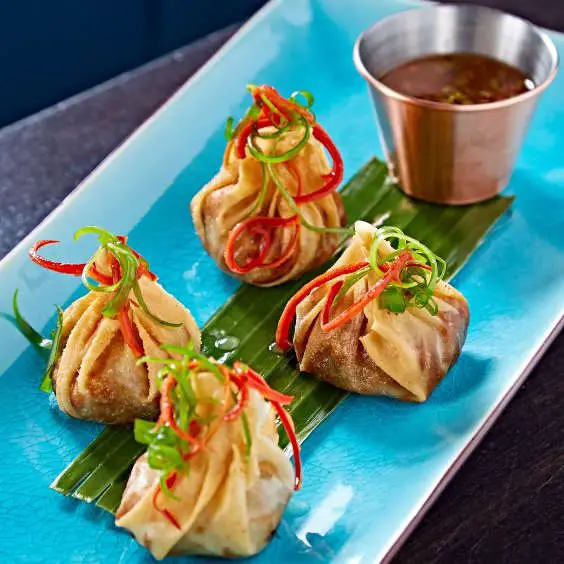 "Perfectly balanced"
My friend and I can't help but like where we are. We agree that you have the feel of being in a nice modern restaurant, but you're aware that you're in a late night bar too. But thanks to great design, there is enough separation so that one section doesn't encroach on the other. And the music is just right for both groups of customer.
After two great courses, with mains of a good size, we're not stuffed. Because the food feels so freshly made, it sits easy on the stomach. And that's great, as it lets us order a couple of desserts without hesitation.
Alice explains that the Banana Foster had sold out just minutes before. It's a shame because the white chocolate, shortbread biscuit crumb, banana ice cream, crispy banana and hot rum caramel sauce that makes it up sounds divine. So instead, I choose the Trio of Brownies with Raspberry and Pistachio, Chocolate Orange and Salted Caramel flavours; plus Vanilla Ice-Cream (£6.50). My friend goes different, and picks the Lemon Cheesecake with Lemon Curd Ice-Cream (£6.25).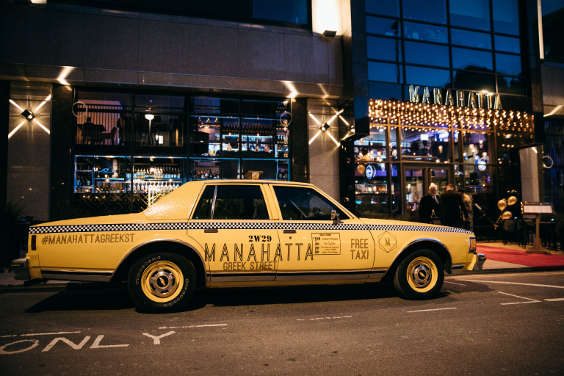 "The two hours have passed by quickly"
Our desserts are very nicely presented. The ice-cream had softened somewhat, but by now the bar has so many bodies in it, we firmly put that down to the increase in body heat in the building.
My moist brownies are delicious and again, not heavy. And as for my friend… I'm not getting a word out of him! That in itself says a thousand words about how his cheesecake is going down. He does eventually mention that it too is light, and a perfect way to end a great meal.
The two hours have passed by quickly tonight. We've had a fantastic catch up, enjoyed the atmosphere and really enjoyed the food.
Manahatta on Greek Street has a vibe. The atmosphere, music, food, people and service all tie together perfectly and make this place what it is. We've had a superb night, and if we didn't have our cars, we'd stay much longer and sample the cocktails.
Whatever you want from your evening in Leeds, pay a visit to Manahatta on Greek Street.  It has what you're looking for.
Manahatta, Greek St, 29 East Parade, Leeds, LS1 5PS
Opening Times:
Monday – Wednesday: 11am – 12am
Thursday: 11am – 1am
Friday – Saturday: 10am – 3am
Sunday: 11am – 12am
0113 2435118
arcinspirations.com/manahatta-greekst