Eat Leeds Food Trail – Review
By Rachel Howard
Leeds is fast becoming known as one of the UK's top foodie hotspots. Over the last few years, new restaurants seem to have popped up on what seems like a weekly basis, but like many other sectors, the hospitality industry has taken a battering over the last 18 months.
This summer, in an effort to not only bring tourists in, but also to support local businesses, Eat Leeds and select participating restaurants are giving diners the mouthwatering offer of 2 or 3 courses for £10, £15, or £20 or free children's meals, between Sundays and Wednesdays exclusively.
I was invited along on the Eat Leeds Food Trail to sample a few of the restaurants taking part, and see exactly what you can get for those fantastic offers.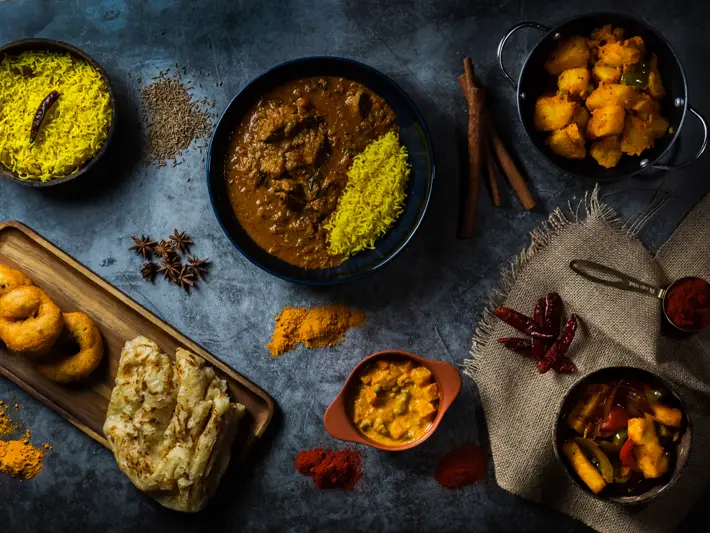 1st stop for starters – Tharavadu, Mill Hill, LS1 5DQ – 2 courses for £10
Leeds' first authentic Kerala restaurant provides a great start to our culinary expedition. Don't be fooled by the basic, no-frills decor – the food here is packed with flavour, beautifully presented and really sets us up for the night. We choose from the following dishes:
• Chilli Paneer
• Kidilan Kozhi – chicken cubes cooked in ground spices
• Thakarppan Kozhi – marinated chicken slices
• Kidilan Erachi – lamb cubes
• Padipura Mix Seafood
• Masala Dosa – fermented pancake that is traditionally eaten for breakfast
My personal favourite is the Thakarppan Kozhi – marinated chicken slices that have been grilled and served with the chef's special mint flavoured sauce. Our version packs a punch but it can be made milder on request.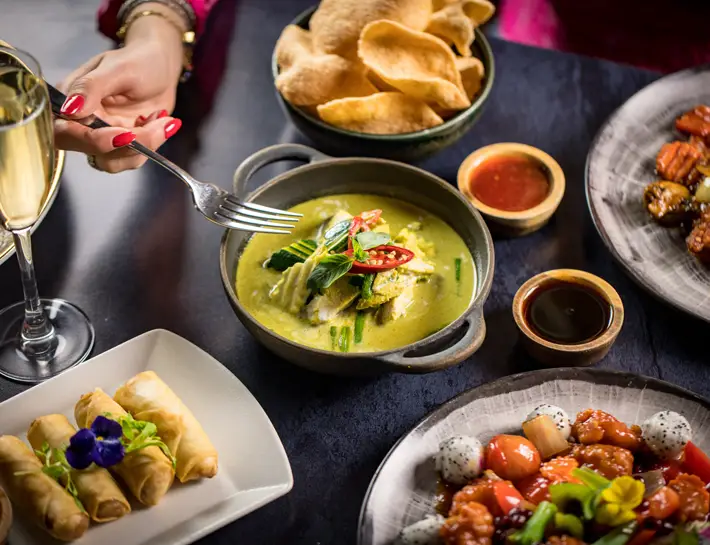 2nd stop for starters – Chaophraya, Blayds Court, Swinegate, LS1 4AG – 3 courses for £15
Chaophraya is a stylish, contemporary restaurant specialising in classic Thai cuisine alongside modern signature dishes. From the moment we walk in, we know we're in for a treat. The delicious aromas wafting through the dining area get everyone's juices flowing, the cocktails are devoured with gusto and the service is second to none. We tuck in to the following appetisers:
• Moo Ping marinated pork skewers with a tamarind chilli sauce
• Por Pia spring rolls – chicken or vegetable with a sweet chilli sauce
• Thai Tacos – chicken or vegetable in a red curry and coconut milk sauce, served on soft tacos
• Tord Man Khao Pohd – sweetcorn cakes deep-fried with red curry and kaffir lime leaf served with sweet chilli sauce
• Goong Choop Pang Tod Tempura – prawn or vegetable with a sweet chilli sauce
Honestly, it's hard to pick a favourite from these offerings – they are all fabulous. The presentation is next level too – edible flowers garnish the dishes and it is almost a shame to dig in and ruin the aesthetic… but dig in we do! I can't wait for a return visit to this gem of a restaurant – it never fails.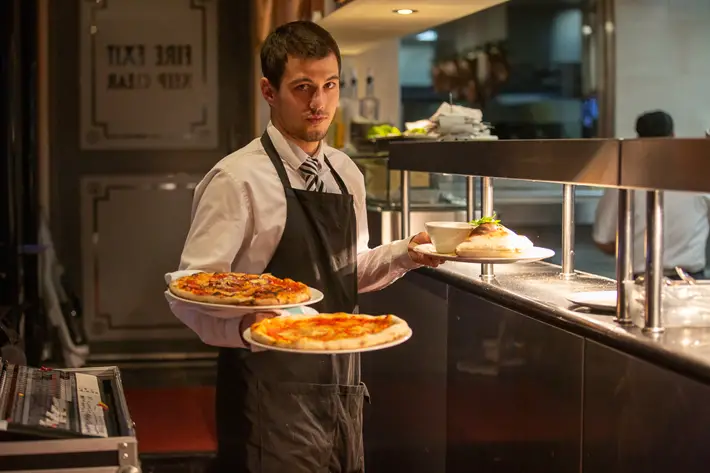 3rd stop for main courses – Bibis, Sovereign St, LS1 4AG – 2 courses for £15 (specifically from the Eat Leeds menu)/Kids aged 10 or under eat free from the Bambini Menu
Bibis is something of an institution on the Leeds restaurant scene. It has been on the go since 1974, and having moved location three times, it remains one of the city's most popular and best loved establishments. Known for its swanky Art Deco styling, the restaurant offers top class authentic Italian cuisine, not to mention a fantastic cocktail menu. Bibis and Eat Leeds have created a special menu for this summer's offer, featuring:
ANTIPASTI
• Calamari Croccanti – crispy calamari rings & courgette, house made tartare sauce
• Pate Di Anatra Al Rabarbaro – duck & port parfait, apple & rhubarb chutney with artisan bread
• Pancetta Di Maiale Alle Mele – crispy pork belly with honey glazed apple & chilli
• (V) Cannelloni Al Caprino – filled with ricotta, spinach, glazed goats cheese sauce
SECONDI
• Linguine Alla Carbonara – crispy smoked pancetta bacon, cream, egg yolks, parmesan cheese & black pepper
• (V) Pizza Regina Margherita – pomodoro & fior di latte mozzarella with basil
• Tortellini Bolognese – filled with beef, bolognese ragout & parmesan
• Pizza Americana – pomodoro, mozzarella, pepperoni sausage, red onions, jalapeno peppers, sun dried tomatoes & chilli olive oil
• (V) Penne Bufalina – San Marzano tomatoes, oregano & buffalo mozzarella
• (VG) Insalata Di Supercereali – quinoa, barley, spelt & seeds with mango, lime & olive oil dressing
My Penne Bufalina is delicious, excellent in its simplicity and packed full of flavour. I'm relieved to know Bibis is as good as ever – and a packed house on a Wednesday night confirms that I'm not the only one to think so.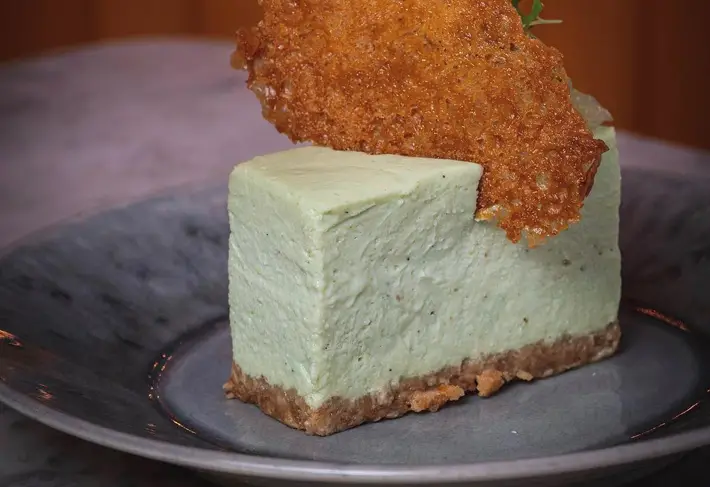 4th stop for desserts – Neighbourhood, Greek St, LS1 5RW – 2 courses for £20
Neighbourhood is a New York inspired restaurant and bar that is probably best known for its instagram-friendly interior – think neon angel wings, black and white striped floor and brightly lit quotes adorning the walls. But if you look beyond that, you'll find a global-inspired sharing menu, which includes fresh sushi, teriyaki salmon and crab mac'n'cheese bites. But it's the desserts that I'm here for, and according to my fellow diners, it should be worth the wait. Brought out with a dramatic fanfare of sparklers, we are presented with:
• Lemon & Lime Sherbet Cheesecake
• Caramel Banana Cake
• NHBD Sundae
• Chocolate Peanut Butter Meltdown
Anyone with a sweet tooth would be bowled over by these creations, but the chocolate peanut butter meltdown is my personal favourite. Even after three delicious courses, I am still able to find room for this scrumptious delight. It rounds off the meal perfectly.
I think it's safe to say that Leeds certainly has something to offer every taste and every budget. As the world returns to some sort of normality, and the hospitality industry gets back on its feet, there has never been a better time to visit new restaurants and return to some old favourites. Eat Leeds' Summer 2021 offers are the perfect excuse to get out and about and expand your culinary horizons… just don't blame us if your waistline expands a little too!
For the full list of participating restaurants head to www.eatleeds.co.uk
Simply click on your chosen restaurant and book direct, quoting 'EatLeeds2021' to redeem the offer
Tharavadu
7-8, Mill Hill, Leeds , LS 15DQ
0113 244 0500
2 courses £10
eatleeds.co.uk/restaurant_directory/tharavadu/
 Chaophraya
20A, Blayds Court, Swinegate, Leeds LS1 4AG
0113 430 0122
eatleeds.co.uk/restaurant_directory/chaophraya/
 Bibis Restaurant
Criterion Place, Sovereign Street, Leeds, LS1 4AG
0113 243 0905
2 courses £15 / Kids Eat Free
eatleeds.co.uk/restaurant_directory/bibis-restaurant/
Neighbourhood
Ground floor, 5 Greek Street, Leeds LS1 5SX
0113 426 0598
2 courses £20
eatleeds.co.uk/restaurant_directory/neighbourhood/