Dry Dock, Leeds – Restaurant Review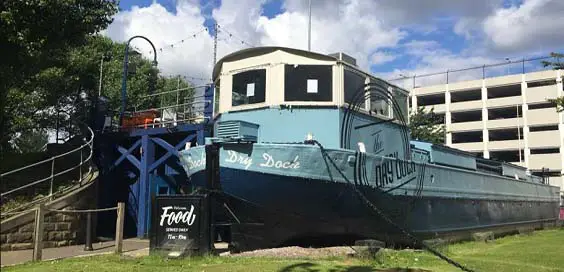 By Kerryn Duckworth
Thousands of Leeds natives drive or walk down Woodhouse Lane every day and no one bats an eyelid. But visitors to Leeds might stare in awe or confusion. What lies in their path is a docked barge. A whole barge situated opposite Leeds Becketts University and Woodhouse Lane Car Park. A refurbished sand and gravel barge, transported from the river Aire in 1993 to a traffic island in the university area to create a unique pub.
Half building structure and half barge, there are many tables to choose from. Booths, benches and tables all within the retaining structure of the long boat and a host of sports playing on the numerous televisions mounted around the perimeter to give the customers something to gaze upon.
With my crew mate in tow, we're welcomed to a table and given the menu – a new and improved menu. This primarily student venue has always welcomed all groups and ages with open arms (I'm very much over student age and have always enjoyed my visits here!) with the usual burgers, wraps and all-day breakfasts, but it has extended its menu to include non 'student' food, including vegan offerings, salads, main courses and sharers aplenty.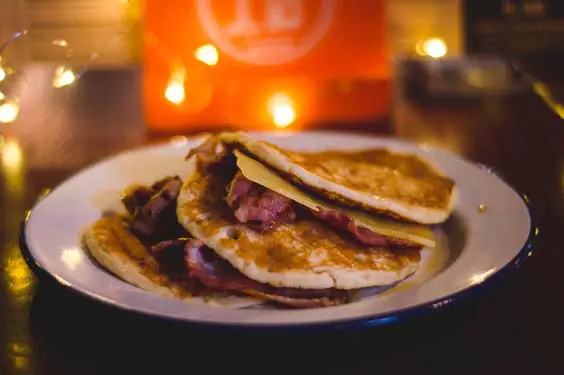 "Remarkable"
There aren't many 'starters' to choose from as this isn't really a place to sit down and waste hours over a 3-course meal, but there are some really good sharer options with the usual and the definitely unusual!
The 'Pachos' sound intriguing – mini poppadums served with mango chutney, sour cream and spring onions amongst other toppings. They are something I've never seen on any menu before. Despite my inquisitive nature wanting to see the outcome of this, my friend and I opt for the 'Grande Nachos' (£7.25) to share. The nachos are topped with the usual sour cream, guacamole, oozing melted cheese, chilli, salsa and jalapenos. Credit where credit's due; the nachos are drowning in all the above – and that's what makes them remarkable. When you have to scoop around with your hands to get to the last nacho, it's worth it!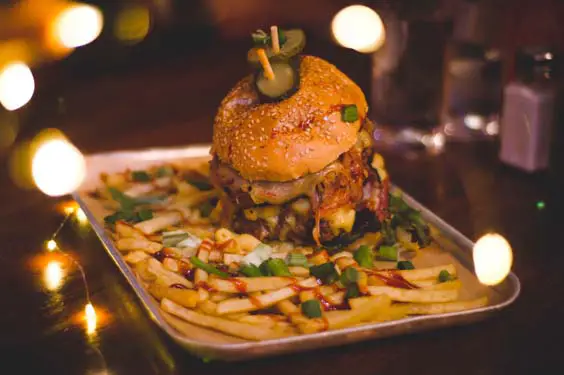 "Smoky"
Our meals are brought to the table soon after, my 'Smothered Chicken' (£6.45) is charred on the grill and juicy and the smoky flavour really comes through. The option of a selection of fries is a treat. Instead of the usual standard or sweet potato fries, I go for the quirky-named 'angry fries' – and angry they are! Fries smothered with Franks Hot Sauce and scattered with blue cheese pieces. Creamy and tangy in equal measures. All this served with lime and chilli coleslaw and some crispy onion rings to create an absolute banger of a meal for the price.
My companion chooses the 'Ribs and Wings' (£11.45); a half rack of BBQ pork ribs and half a dozen wings. The smoky ribs are meaty and succulent and the wings served with the crispiest of skin. Served again with fries, onion rings and slaw.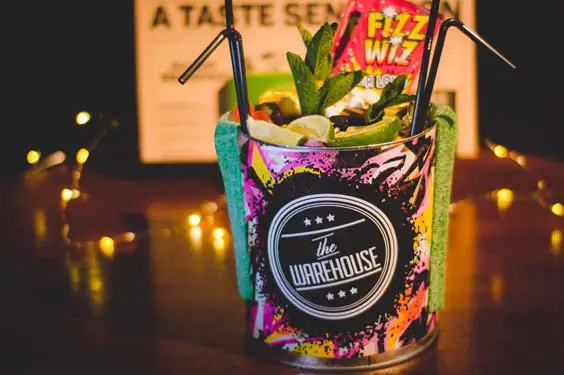 "Quirky"
All this washes down with a Dark Fruit Strongbow cider and a bottle of 5am Saint BrewDog to create some perfect after-work scran.
For a Tuesday night in the summer holidays, there are only a few other tables occupied, however, I know all too well how busy this haunt can be during term times. Either luring the local students in with their value food offerings, including 25p a wing on Wednesdays, or those after-work drinkers or stumblers making it in for the last stop on the Otley Run.
This unique venue tailors not only for the budget students but opens its decks to the ever growing Leeds population for any occasion. To the local Leeds resident this is just the familiar Dry Dock on Woodhouse Lane, but inside it is a quirky and fun venue which everyone should visit for a tipple or two.
Grab your sailors cap, your life jacket and come aboard. After all, it's a barge in the middle of the road in a City Centre – so why wouldn't you?
The Dry Dock, Woodhouse Lane, Leeds, LS2 3AX
Opening Times:
Mon 11am – 11pm, Tues 11am – 2am, Wed 11am – 12am, Thurs 11am – 1am, Fri 11am – 2am,
Sat 11am – 2am, Sun 12pm – 11pm
0113 3912658
social-squirrel.com/thedrydockleeds