Bill's, Leeds – Restaurant Review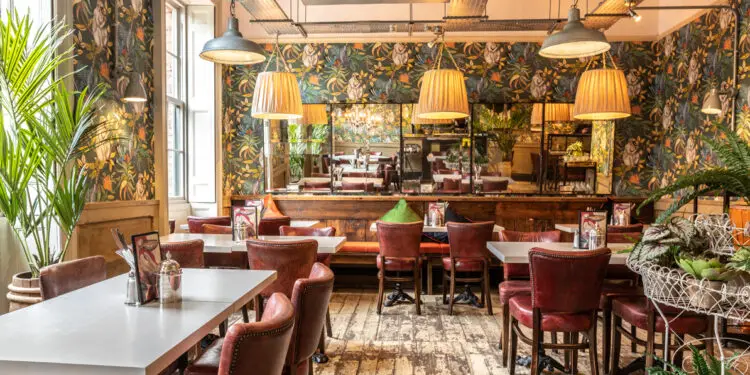 By Matt Callard
I don't know where the three courses I eat at Bill's in Leeds during the first truly hot week of 2021 would rank in my all time favourite dining experiences, but I do know it feels like one of the most pleasurable, one of the most rewarding eat-outs I've ever had.
Ok, so the food might not rate next to the fresh-out-of-the-water fish I once ate in a ramshackle Thai boathouse, or the time Anthony's in Leeds was serving double-Michelin star quality food and nobody really knew it, or when Frances Atkins, head chef from the much-missed Yorke Arms in Ramsgill actually went into her summer garden to pick some of the ingredients for the best Sunday lunch of all time.
No, it doesn't rank in pure food terms alongside these – but it's been nearly 18-months since I've sat inside a restaurant. All that time without the joy of food and conversation, the buzz of good service, the simple pleasure of watching sunny Leeds go by from an adjacent window. All of which means these three courses inside Bill's go down a storm. The atmosphere is good, the service is brilliant and the food, although it has its flaws, feels pretty much heaven sent.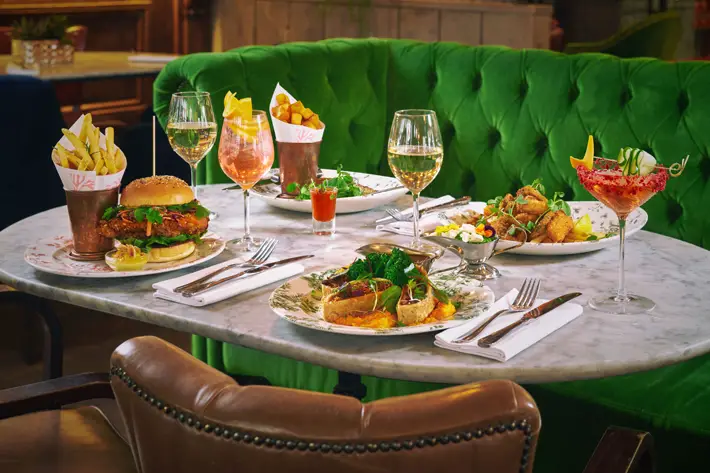 "Characterful and bright"
There's an al fresco section to Bill's Leeds, along busy Albion Place, but we want indoor seats, away from the throng – and we're pleased when the well-ventilated room we're shown into has two big open windows letting in a most welcome breeze (and allowing a crucial bit of people watching too).
We start with drinks that refresh the parts other drinks can't reach. A pair of sparkling elderflowers, packed with ice and garnished with cucumber. As a thirst quencher on the hottest day of the year so far, it's a great, beautifully presented start.
The interior is characterful and bright, with distressed walls, bare floorboards and exposed pipework. It's shabby chic meets industrial and certainly makes for an interesting, open dining space – and the low-hanging chandeliers are spectacular.
Starters came after half an hour on a packed lunchtime sitting. My Calamari (£6.95) was nicely cooked – golden brown crumbs balanced with a nice bit of chilli and spring onion. The zesty lime aioli alongside was a nice surprise. My partner's spiced Tortillas (£4.25) lacked a bit of punch, but we were enjoying the experience so much it hardly mattered.
From the new 'Shake Up the Summer' limited edition menu we shared an indulgent blood orange G&T cocktail called Twistin' the Night Away (£7.50) which really hit the spot too, the drink bursting with orange fizz and just enough bite from the gin.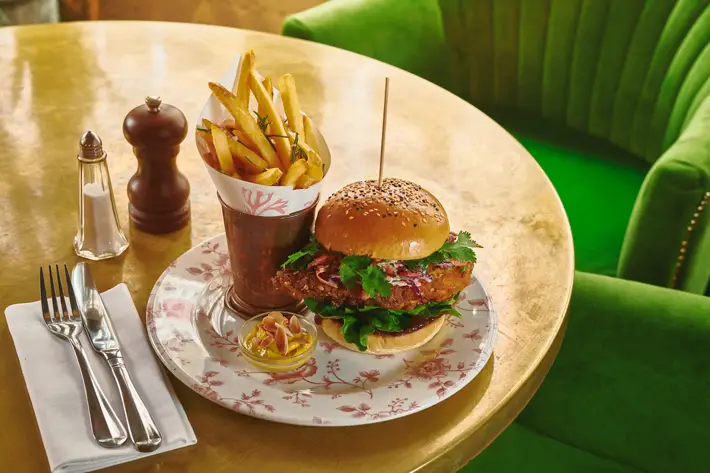 "Incredibly tender"
For mains we bravely eschewed Bill's burger specialities (unlike most of the clientele sat around us) and went slightly off piste. My partner's Chicken Caesar (£12.50) came with two huge chunks of soft, chargrilled chicken, an abudence of lettuce and some nice crispy croutons, but it was under-dressed. My Steak and Eggs (£13.95) were excellent – the slim cut of steak incredibly tender – but the chips were a mixed bunch, some crisp, some wilting. At fourteen quid, you'd expect the three simple ingredients to all be perfectly cooked, but hey, we were enjoying the experience so much by now we were feeling pretty forgiving.
Desserts were actually the stars of the show. My Cheesecake (£7.50) was a real showstopper. Literally an edible flowerpot with red berry cream cheesecake inside, chocolate soil, an edible flower and so-sweet strawberries. I cleaned my plate as fellow diners looked on with awe and envy. My partner's Salted Caramel and Chocolate Tart (£6.50) was even better. Sticky and sweet in all the right places, it was a fine end to a meal we'll never forget.
To finish off, teas came in very attractive red pots with green cups which we sipped with serene delight, so grateful that one of life's great pleasures was, thanks to Bill's, finally back on the menu.
Bill's, 1 Albion Place, Leeds, LS1 6JL
'Shake up the Summer' at Bill's Leeds includes new limited-edition dishes, cocktails and fun-filled live entertainmen
Monday – Tuesday 8am-9:30pm
Wednesday – Friday 8am-10pm
Saturday 8:30am-10pm
Sunday (& Bank Holidays) 9am-10pm
0204 5126644
bills-website.co.uk/restaurants/leeds