Major Dundee (1965) – Film Review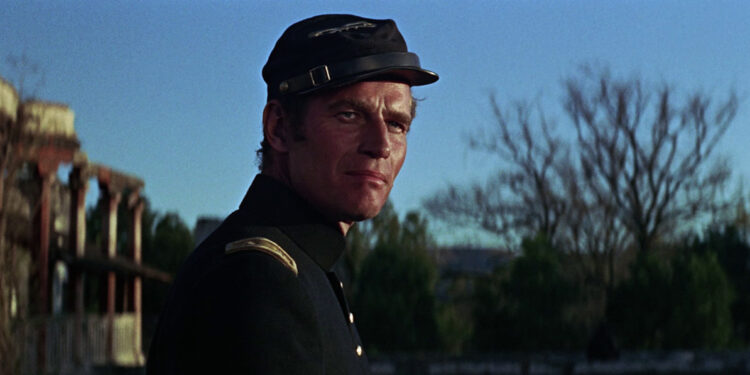 Director: Sam Peckinpah
Cast: Charlton Heston, Richard Harris, Jim Hutton
Certificate: PG
By Sarah Morgan
Ask a film fan to name a Sam Peckinpah western and chances are they'll say The Wild Bunch, and with good reason – it's one of the finest entries in the genre ever made.
But he made other impressive westerns too, including The Ballad of Cable Hogue and Pat Garrett and Billy the Kid. Unfortunately, Major Dundee isn't one of them – but it could have been, had Peckinpah been allowed to see his vision through.
Sadly, the studio took it out of his hands and various cuts were made. A terrible, inappropriate soundtrack was also added, leaving the finished project somewhat disjointed and turning it from an elegy into a rather more gung-ho, Boys' Own tale.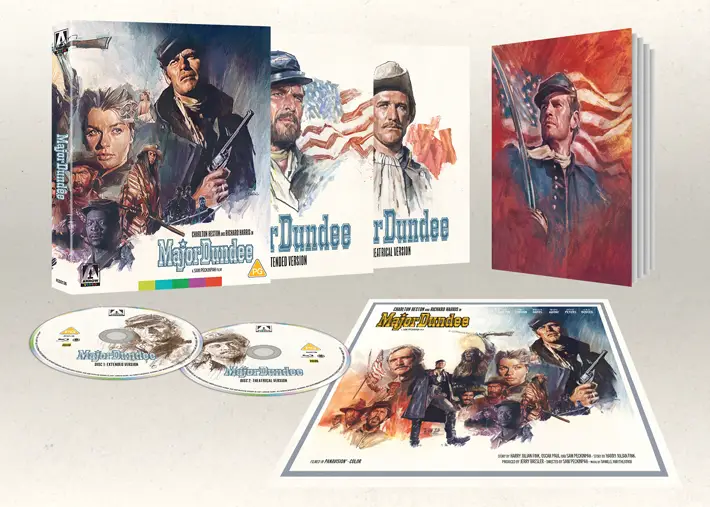 "Uncompromisingly heroic"
This new two-disc Blu-ray edition offers the original theatrical version as well as a more impressive extended cut, which gives a little indication of what Peckinpah originally intended – it's such a shame that the rest of the scenes he filmed are now missing, presumably destroyed.
Dundee is played by Charlton Heston, who is as sturdy and uncompromisingly heroic as ever. Towards the end of the American Civil War, he cobbles together a unit comprised of his soldiers, Confederate prisoners under their guard and Union deserters to take revenge on the Apaches responsible for various atrocities.
Their mission takes them into Mexico and along the way they face numerous obstacles, not least the rivalry between Dundee and Captain Tyreen, his incarcerated former friend. Neither man is willing to budge an inch, despite needing each other.
According to those who worked on the film, there was real tension between Heston and co-star Richard Harris, who plays Tyreen, which is perhaps why their scenes together are the most explosive and compelling.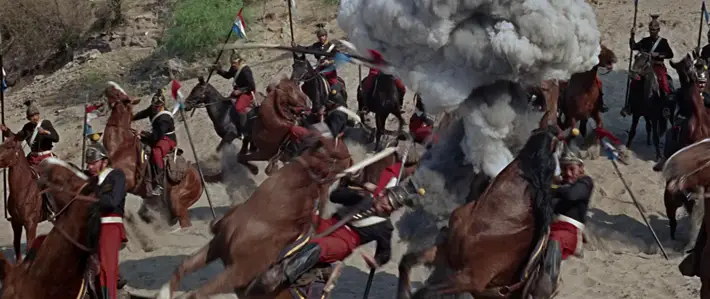 "Heaps of experience"
Peckinpah also delivers some wonderful battle scenes, including one in the grand finale; Major Dundee may have been only his third feature film, but he was able to bring heaps of experience having cut his teeth on numerous TV westerns during the 1950s and 1960s.
Jim Hutton and Brock Peters are among the supporting cast, while James Coburn, Warren Oates, RG Armstrong and LQ Jones, who would all go on to become members of Peckinpah's stock company of actors, also appear. Senta Berger has the thankless task of providing the completely superfluous love interest.
The screenplay was co-written by Harry Julian Fink who, a few years later, helped create a far more enduring big screen character – 'Dirty' Harry Callahan.
As is occasionally the case, the special features are worth buying the set for alone, particularly a documentary about Mike Siegel's Passion & Poetry project, which is undoubtedly the most comprehensive archive of Peckinpah interviews and insights ever collected.
TWO-DISC LIMITED EDITION BLU-RAY CONTENTS:
• The 136-minute Extended Version of the film from a 4K scan, as well as the original 122-minute Theatrical Version
• 60-page perfect bound booklet featuring new writing by Farran Nehme, Roderick Heath and Jeremy Carr plus select archive material
• Limited edition packaging featuring newly commissioned artwork by Tony Stella
• Fold out poster featuring original and newly commissioned artwork by Tony Stella
DISC ONE - EXTENDED VERSION
• High Definition Blu-ray (1080p) presentation from a 4K scan by Sony Pictures
• DTS-HD MA 5.1 surround audio with new score by Christopher Caliendo
• Lossless original mono audio with original score by Daniele Amfitheatrof
• Optional English subtitles for the deaf and hard of hearing
• Audio commentary with Nick Redman, David Weddle, Garner Simmons, Paul Seydor
• Audio commentary by historian and critics Glenn Erickson & Alan K. Rode
• Audio commentary by historian and critic Glenn Erickson
• Moby Dick on Horseback, a brand new visual essay by David Cairns
• Passion & Poetry: The Dundee Odyssey, a feature length documentary about the making of Major Dundee by Mike Siegel, featuring James Coburn, Senta Berger, Mario Adorf, L.Q. Jones, R.G.Armstrong, Gordon Dawson • Passion & Poetry: Peckinpah Anecdotes, nine actors talk about working with legendary director Sam Peckinpah, featuring Kris Kristofferson, Ernest Borgnine, James Coburn, David Warner, Ali MacGraw, L.Q. Jones, Bo Hopkins, R.G. Armstrong, Isela Vega
• Mike Siegel: About the Passion & Poetry Project, in which filmmaker Mike Siegel talks about his beginnings and his ongoing historical project about director Sam Peckinpah
• Extensive stills galleries, featuring rare on set, behind the scenes, and marketing materials
• 2005 re-release trailer
DISC TWO - THEATRICAL VERSION (LIMITED EDITION EXCLUSIVE)
• High Definition Blu-ray (1080p) presentation from a 2K scan
• Lossless original mono audio
• Optional English subtitles for the deaf and hard of hearing
• Riding for a Fall, a vintage behind the scenes featurette
• Extended/deleted scenes
• Silent Outtakes
• Select extended/deleted scenes and outtakes with commentary by historian and critic Glenn Erickson giving context on how they were intended to appear in Peckinpah's vision of the film
• Original US, UK and German theatrical trailers
• Stills gallery
Major Dundee is released on Blu-ray by Arrow, £34.99