Yorkshire Handmade Pies Release Limited Edition Beef Wellington Pie for Pie Week
Yorkshire Handmade Pies are celebrating Pie Week in style with a limited edition Beef Wellington.
The pies feature fine Yorkshire reared grass-fed fillet of beef; wrapped in Italian seasoned and aged Prosciutto Crudo with a mushroom and fresh thyme pâté. The pastry is shortcrust, with a textured rough puff on top.
Chief Pie Maker James Sturdy said: "We have pulled out all the stops with the Beef Wellington to create a pie that we are very proud of. We're using high-quality ingredients, lovingly handmade, and combining a luxurious beef fillet with the highly original pie-eating experience that our customers have come to love. We love to eat pies every day of the week but this is a special treat conveniently and freshly delivered from our bakery into people's homes."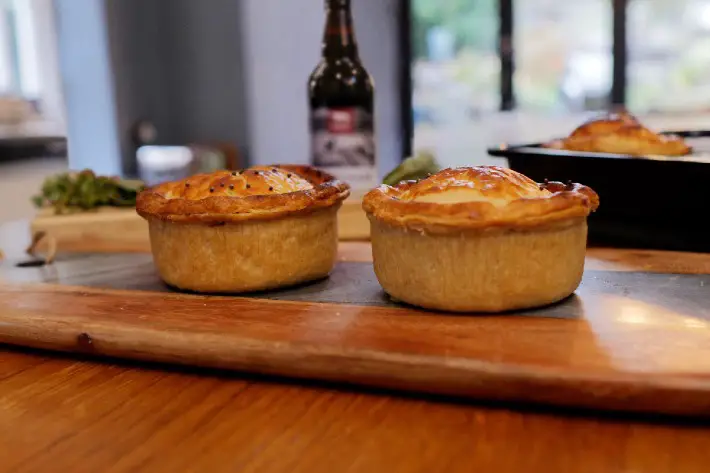 "Third-generation pie maker"
Yorkshire Handmade Pies make classic pies that showcase the incredible ingredients produced in Yorkshire. The Yorkshire Handmade Pies Limited edition Beef Wellington pie is available in cases of 6 and promises to be an all-round best pie-eating experience. Yorkshire Handmade Pies are award-winning freshly made pies, fast-frozen and delivered to your door with 24 – 48 hours. They fit conveniently into your freezer draw to bake and eat whenever you want. Pie week, or not.
James Sturdy is a third-generation pie maker. His great grandfather first started making pies in his village shop nearly a century ago (1930). Inspired by his work James produces authentic, high-quality pies using the best of Yorkshire's ingredients. The pies won 3 awards at the prestigious 2020 British Pie Awards.
Beef Wellington by Yorkshire Handmade Pies retails at £30 for 6 pies. Postage and packing is free for orders of two boxes or more.