King Prawn Stir Fry with British Asparagus, Chilli, Lemongrass and Lime Leaf – Recipe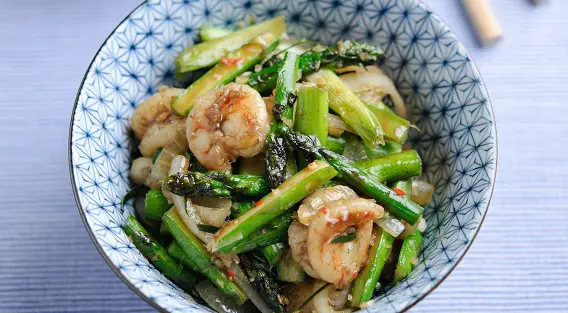 Recipe
Serves 2
Preparation time: 15 minutes
Cooking time: 12 minutes
Ingredients:
Small knob of ginger, peeled and grated
1 stalk of lemon grass, bashed and finely chopped
4 lime leaves, thinly sliced
4 tbsp fish sauce
1-2 tbsp palm sugar or light muscavado sugar
1 tbsp vegetable or groundnut oil
10 raw king prawns, shells off but with tails on if you can
1 small onion, cut into thick slices
1-2 small red Thai birds eye chilli, finely chopped
3 cloves garlic, finely chopped
4 spring onions, cut into thumb length pieces
1 bundle (approx 250g) of British asparagus, chopped in half lengthways then cut into thumb length pieces
Steamed Thai rice to serve
Fresh coriander and/or Thai basil to serve
Method
Mix together the ginger, lemon grass, lime leaves, fish sauce and sugar and put to one side.
Meanwhile heat a wok on high and when it's really hot add in the oil. Once the oil is shimmering, add in the king prawns and stir-fry for 1-2 minutes until the prawns have gone pink with slightly golden edges. Remove with a slotted spoon.
Throw in the onion and stir fry for 2 minutes. Add the chilli, garlic and spring onion and stir-fry for a further 4 minutes until the onions have softened.
Add the prawns back in and the British asparagus and stir fry for a further minute.
Finally pour over the sauce which was prepared earlier, and cook until the sauce becomes sticky (3 minutes).
Serve immediately, topped with the fresh herbs and with the Thai rice.