Burnt Basque Cheescake – Recipe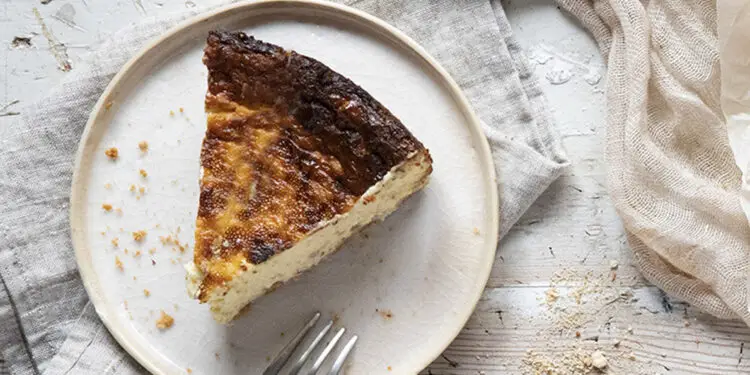 BURNT BASQUE CHEESECAKE | MI TARTA DE QUESO VASCA
Spanish chef, Omar Allibhoy, who previously worked with Ferran Adrià at elBulli and Jason Atherton at Maze says:
"Recently, my wife's friend Sari, brought home for her birthday the best Basque baked cheesecake I have ever tried. It was so good it inspired me, I thought I needed to make one as good or better and discovered on social media that there is a real competition on making the best cheesecake in Spain. All top chefs and home cooks are baking them at the moment, posting about them, which I invite you to take a look at it, there is some stunning creaminess on them. This recipe is very simple but the result is stunning, just keep an eye on the length of time in the oven and take it out when you think it's under cooked, otherwise your instinct will tell you to leave in the oven a bit longer. I would like to add that if you change a quarter of the total weight of the Manchego cheese by blue cheese or a smoked cheese it makes it very distinctive and special."
INGREDIENTS FOR THE BASE:
135g digestive biscuit
70g butter
INGREDIENTS CHEESECAKE:
600g Philadelphia cheese
200g caster sugar
400ml whipping cream
100g Parmesan cheese
5 eggs (300g)
1 tsp vanilla essence
1 tbsp plain flour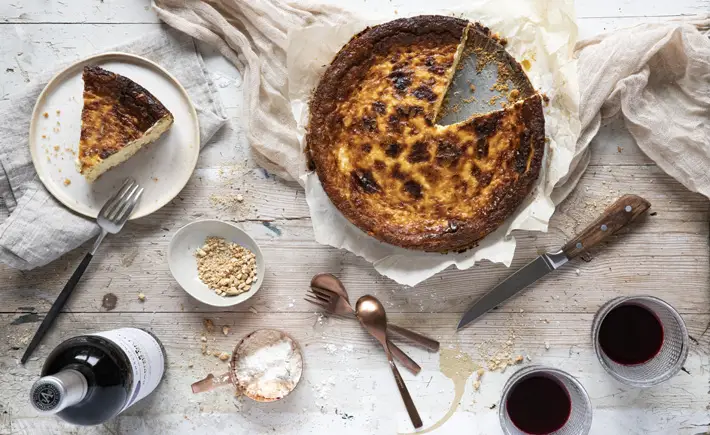 METHOD:
For the base: Melt the butter in a small saucepan over low heat until slightly toasted and pour over the crumbled digestive biscuits. Mix with a spoon until combined.
Place the 26cm springform mould over a baking tray and lined with a wet and scrunched baking paper. Fill the base with the biscuit mix, applying some pressure with a spoon (specially in the corners) and making sure if flat throughout. Place in the fridge for at least 20 minutes while preparing the cheesecake mixture.
For the cheesecake: Finely grate the Parmesan cheese and place all the ingredients in a jug blender. Blitz for a bout 2 minutes or until smooth. You can mix it with a whisk as well or use a hand blender.
Pour the cheesecake mixture into the mould carefully and bake in a preheated oven at 190 degrees for about 40 minutes. The centre of the cake should feel runny and undercooked. Carefully remove from the oven and let it rest at room temperature for 3 hours and it's best enjoyed at room temperature without keeping it in the fridge so you can appreciate the creamy heart of the cake and flavours.
WINE PAIRING:
Barón De Ley Varietales Graciano 2018 (abv 14%), available in Co-op at £12
Barón De Ley Varietales Graciano is a single varietal wine. Graciano is a native and minority grape in Rioja which has character and structure while maintaining an incredible freshness and finesse, clean aromas and dense and velvety palate. The complexity of the grape means it can pair with some pretty interesting and less obvious dishes, like this basque burnt cheesecake, which intense texture blends into this full-bodied wine, while the vanilla flavour from the cheesecake's burnt, caramelised top allows the wine's fruit to pop.