Orange Polenta Cake – Recipe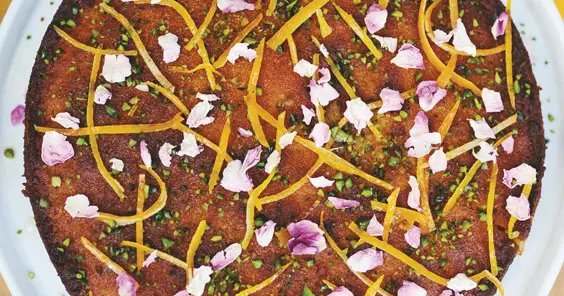 Orange Polenta Cake
Recipe
This is great served with a dollop of sweetened ricotta, possibly flavoured with orange blossom or rose water.
Preparation time: 20 minutes | Cooking time: 55 minutes | Serves 12
Ingredients:
For the cake:
100g ground almonds
200g fine polenta
4g/1 tsp baking powder
250g unsalted butter, softened
250g caster sugar
2 large free-range eggs
2 large oranges, zest and juice
1 small lemon, zest and juice
For the syrup:
1 orange, peel and juice (approximately 100ml)
1 lemon, peel and juice (approximately 50ml)
50ml water
100g caster sugar
To decorate:
Chopped pistachios
Dried rose petals (optional)
Method: Orange Polenta Cake – For the Cake
Preheat the oven to 170°c/160°c fan.
Line a 25cm cake tin with parchment and grease. (Alternatively use 12 small loaf tins and lightly oil, but you will need to reduce the cooking time.)
In a large bowl weigh out the ground almonds, polenta and baking powder.
Whisk until fully combined and set aside.
Zest the oranges and lemon into a bowl and then juice them into the same bowl; set aside.
Beat the butter and sugar together using a stand mixer or electric beater until pale and fluffy.
Add the eggs, a little at a time.
Add half the polenta mix to the butter and eggs along with half the juice and zest.
Beat until completely incorporated. Repeat with the remaining polenta mix and juice and zest and mix until you have an even batter.
Pour the mixture into your tin(s) and bake for around 45-55 minutes, or until a skewer inserted into the cake comes out clean.
While the cake is baking, make the syrup.
Orange Polenta Cake – For the Syrup
Use a peeler to remove the peel from the orange and lemon in long strips and place in a pan.
Cover with fresh water and bring to the boil.
You want to boil these until the peel is very soft.
Remove the peel from the pan and slice into very thin strips.
Tip out the water from the pan, then return the thin peel strips to the pan and add the juice, water and caster sugar for your syrup.
Bring to the boil over a medium-high heat. Boil for around 5 minutes, or until it has thickened ever so slightly.
Again remove the peel from the syrup and set aside.
To finish Pour the warm syrup over the hot cake.
Scatter the pieces of orange and lemon peel over the top of the cake.
Chop some pistachios and sprinkle over the top of the cake to decorate.
You could also add some dried rose petals, which look very pretty and are available in international supermarkets.
Recipe courtesy of The Forge Bakehouse, Sheffield. Taken from 'The Sheffield Cookbook: Second Helpings' available for £14.95 from Meze Publishing