Cuban Chicken and Chorizo – Recipe (Pollo Y Chorizo)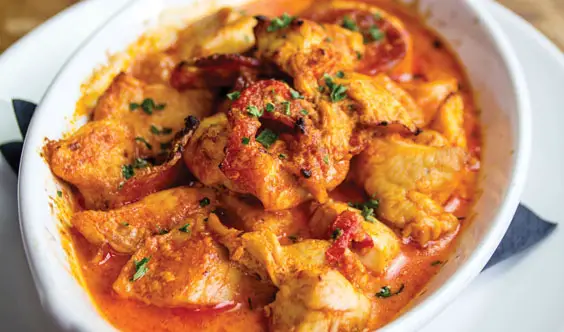 Cuban Chicken and Chorizo (Pollo Y Chorizo)
Recipe
Chicken breast pieces and sliced red peppers covered in a creamy tomato and paprika sauce, topped with chorizo sausage.
Preparation time: 10 minutes | Cooking time: 30-40 minutes | Serves 2
Ingredients:
2 chicken breasts
1 tbsp olive oil
2 red peppers, sliced
25g chorizo, sliced
150ml double cream
2 tbsp smoked paprika
A handful of parsley, chopped
Salt and pepper
Cuban Chicken and Chorizo: Method
Cut the chicken into strips and place into a hot pan with the olive oil.
When the chicken is sealed and has browned nicely, add the red peppers and smoked paprika then season with salt and pepper to taste.
After the peppers have softened slightly add the double cream and turn the heat down to a light simmer.
Add the chorizo and simmer for 20-30 minutes.
Finally place into a serving dish and garnish with the chopped parsley.
Recipe courtesy of Cubana Tapas Bar, Sheffield. Taken from 'The Sheffield Cookbook: Second Helpings' available for £14.95 from Meze Publishing