Triumph Scrambler – Review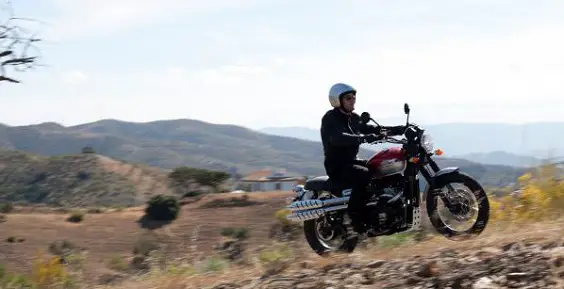 Triumph Scrambler
Motorbike Review
by Liam Bird
The weather gods are not being kind to me. There's an amber Met-office warning of heavy rain for this evening and the skies have turned a very moody grey.
Typical! It's been like this virtually every day since Triumph dropped off their Scrambler. I popped out for a ride last night and after three-miles or so I turned round and retreated back to the warmth and dry of the garage. Forget any ideas of Rebel Without a Cause, by the time I'd wobbled backed through the deluge I looked more like a rat without a raincoat.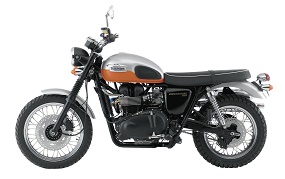 The great British summer being what it is (and my lack of any effective wet-weather riding gear notwithstanding) has at least given me time to admire the Scrambler's looks – usually when I've been chamois-ing it down. It takes its inspiration from the stripped-down desert bikes that are based on the twin cylinder Triumphs of the 1960s.
Now, as they were then, the Scrambler gains twin upswept exhausts, short mud-guards front and rear, a skid plate and knobblier, chunkier tyres. Its looks are unashamedly retro, and if you've ever stumbled across an old picture of Steve McQueen competing in the 1964 Six Day Trial it won't take you too long to work out where the idea for this bike originally came from.
"Beautiful exhausts"
So, then, it's a race-replica? Well, yes, and no. Race-replica these days is a term more usually attributed to the fully-faired 200bhp+ road-going superbikes like those of the Isle-of-Man TT. The Triumph Scrambler, despite its gravel-road going capabilities, is far removed from that.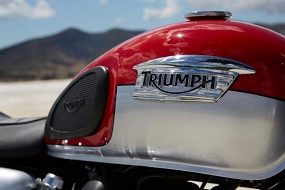 Nevertheless, the Triumph Scrambler it's no relic from past. From a distance you'd be forgiven if you thought the Scrambler still used carburetors, and there's even what looks like a choke. The reality is the 865cc eight-valve engine is fuel-injected and that little black knob is what's known as a fast idle. Double-overhead cams make for quieter, more efficient and smoother running. Triumph have also gone to great lengths to make those beautiful exhausts meet all the modern noise requirements. But by fitting the Scrambler with a crankshaft with a 270 degree firing order they've also given it an exhaust note all of its own. Press the starter and the 58bhp air-cooled twin soon settles into its offbeat bob-bob-bob idle. It sounds beautiful.
The riding position is upright, and the wide, flat seat low – handy as I'm barely 5' 7" with my boots on. My riding skills are a tad rusty too, but it's here where the Triumph Scrambler flatters. There's enough performance to entertain a more experienced and far less fair-weather rider than me, and yet there's enough precision and progression in all the controls so as not to intimidate someone looking for their first big-bike.
"Easy to control"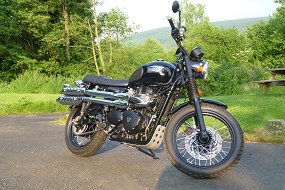 It's heavy, but it doesn't feel cumbersome. The wide flat handlebars make the Scrambler feel stable and easy to control while the twin rear shocks (chromed no-less!) iron out the worst of the bumps. The brakes aren't grabby and you don't feel like you're going to be blown off the back when you open the throttle. Or at least that's what I've discovered so far. My desperate bid to avoid the showers continues.
Triumph have built the Scrambler to "evoke the spirit of freedom and escape, carefree times when all you needed was a bike and somewhere to ride." They have made a good job of it.
The Scrambler's the kind of bike you pop down the shops on, take out on a Sunday morning just for the hell of it, or just as easily, ride off into the sunset.
If we get another good one before they turn up next Tuesday to take it back, I might just try.
Triumph Scrambler 900cc
Engine: 865cc DOHC, parallel twin, with 270 degree firing order
Power:   58 bhp @6,800rpm
Torque: 50 lbft @ 4,750rpm
Transmission:   5-speed. Wet multi-plate clutch, x ring chain
Performance: 0-62mph 6.2 sec
Max Speed: 125 mph
MPG: 72 (combined).
Price: from £7,899